Talented Sumter edge rusher Monteque Rhames commits to South Carolina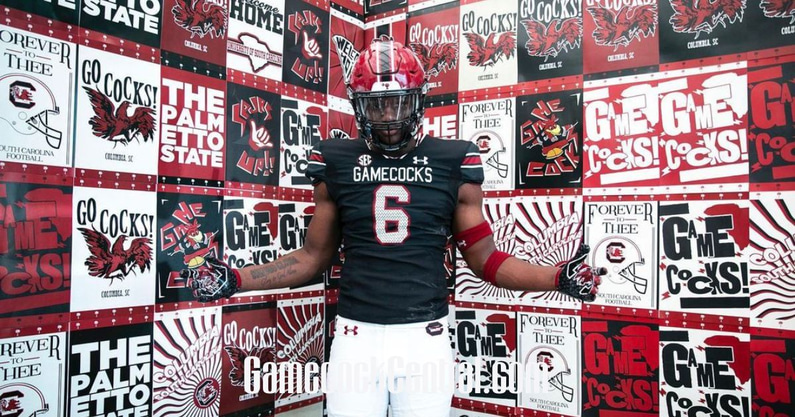 Sumter (S.C.) class of 2023 On3Consensus four-star EDGE Monteque Rhames has taken countless recruiting visits to Columbia — now he'll join the South Carolina football program for good.
Rhames, a long-time top target for the Gamecocks, announced a pledge to the program Saturday evening, giving them a high-level pass-rusher who should have every opportunity to play early.
ALSO SEE: Inside the commitment of Monteque Rhames
[Get four months of Gamecock Central for $1!]
The 6-foot-5, 244-pounder chooses South Carolina over a final eight of Coastal Carolina, Florida State, Georgia, Michigan, NC State, Virginia Tech and UCF — as well as Alabama which offered the talented pass-rusher after he announced his top schools.
The On3 Consensus – a complete and equally weighted industry-generated average that utilizes all four major recruiting media companies – has Rhames as the No. 331 overall player in the country, No. 38 EDGE in the nation and No. 4 player from the state of South Carolina in the class of 2023.
The commitment of Rhames serves as a major recruiting win for first-year South Carolina outside linebackers/defensive ends coach Sterling Lucas.
After Rhames' former primary recruiter, Mike Peterson, left for Florida, Lucas stepped right in and did a phenomenal job recruiting the Sumter standout.
 Mike Peterson appeared to have South Carolina in a good early spot for Rhames. And his replacement, Lucas, has picked up right where Peterson left off when he went to Florida.
"Even better," Rhames said in late March of his recruitment under Lucas compared to Peterson. "Right now, like sometimes when I go there, he'll pull up my film and he'll already have it (showing) things that I do wrong, things I need to fix, and stuff like that."
[Join us Aug. 20 at Steel Hands Brewing for the 2022 Gamecock Central Kickoff Party]
It's no surprise the Gamecocks have him as such an important target. This past offseason, Carolina lost both EDGE starters J.J. Enagbare and Aaron Sterling. After this season, Jordan Strachan will be out of eligibility and Jordan Burch will be NFL Draft eligible.
While South Carolina always showed him plenty of love, it was certainly reciprocated by Rhames, who took more unofficial visits to the school than any prospect in recent memory. From camp days, to gameday visits, to junior days, football practices, cookouts, and everything in between, Rhames has been a mainstay in Columbia.
"They practice like us, they've got the same name as us with the Gamecock thing. It's a lot of similarities to what we do now, all that," Rhames told Gamecock Central in late March. "There are a little different plays and stuff like that, but I like the things they do. I talk to almost the whole staff when I go there."
Prior to his commitment, the Gamecocks were the heavy favorite for Rhames according to the On3 Recruiting Prediction Machine, or RPM.
Rhames is the 14th commitment in the 2023 South Carolina football class and the seventh who is considered a four-star prospect in the On3Consensus.