Alabama tight end Kamron Sandlin commits to Gamecocks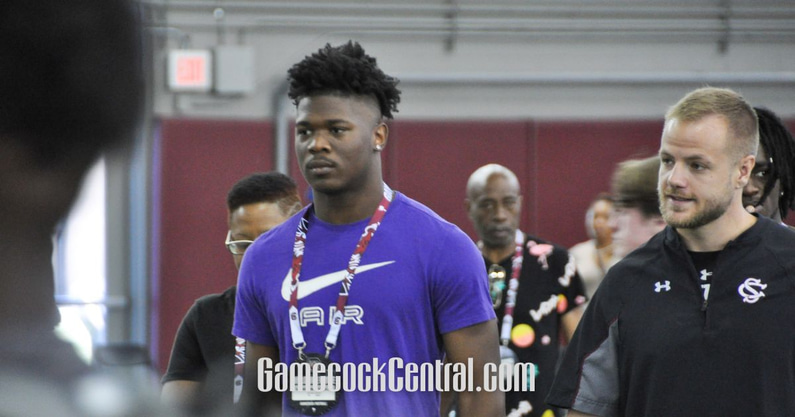 Anniston (Ala.) athlete Kamron Sandlin said he was nearly brought to tears when he learned what he called shocking news of a South Carolina football offer last month.
Now he'll be a part of the program.
The 6-foot-4, 220-pounder, who plays quarterback in high school but will play tight end for the Gamecocks, announced his pledge to Carolina today.
Sandlin chooses the Gamecocks over Power 5 offers from Mississippi State and Kentucky.
Sandlin, who was in Columbia for the last two days, was recruited to Carolina by tight ends coach Jody Wright.
The big-bodied playmaker has not yet received a ranking on On3 but is ranked a three-star quarterback on Rivals.com.
Sandlin's commitment to South Carolina comes as the Gamecocks are on a whirlwind recruiting tear this month.
Shane Beamer and Co. have landed six public commits in the last week.
Fort Myers (Fla.) Lehigh four-star ATH Kelton Henderson, Jacksonville (Fla.) The Bolles School three-star tight end Connor Cox and Perry (Fla.) Taylor County three-star DB Cameron Upshaw all pledged to South Carolina on Sunday.
Eaton (Ga.) four-star DB Jalon Kilgore also committed to the staff that day before going public on Wednesday evening during a ceremony at his church.
Earlier that day, Rock Hill (S.C.) Legion Collegiate three-star ATH Judge Collier told the staff he wanted to be a Gamecock before announcing his intentions on Saturday.
The Gamecocks now have eight total public commitments with the six in this piece joining Atlanta (Ga) Pace Academy On3 four-star OL Trovon Baugh and Laurel (Md.) St. John's three-star DB Zahbari Sandy on the South Carolina 2023 commit list.