Sheldon Brown voted number 26 in 107.5 the Game's top 30 countdown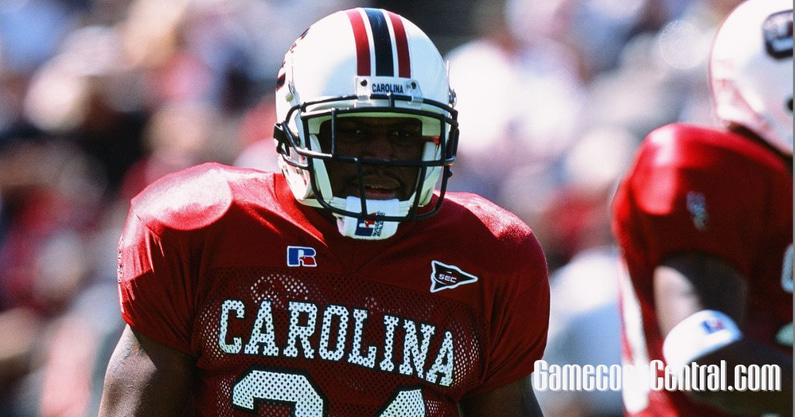 107.5 the Game continued its countdown of the 30 best South Carolina football players during the 30 years the Gamecocks have been in the SEC. Former defensive back Sheldon Brown clocked in at No. 26 as voted by fans.
"I'm kind of speechless, there have been some really good players to come through the University of South Carolina," Brown said, "I'm honored to be mentioned in that group of players, but I had a lot of adversity."
As a freshman, Brown and the Gamecocks went 1-10. The school decided to move on from head coach Brad Scott to bring in the legendary Lou Holtz in 1999. The Gamecocks did not win a single game during Holtz's first season.
"I knew my teammates and the way they practiced, the way they worked so I knew we would be successful in whatever avenue we chose in life," Brown told 107.5 the Game about the hard times.
In Holtz's second season, the Gamecocks made one of the biggest turnarounds in college football history. The team went 8-4 overall (5-3 in the SEC) and made it to the Outback bowl. In a back and forth affair against Ohio State, the Gamecocks sealed the win with a pair of scores in the 4th quarter. Brown led the Gamecocks in interceptions with four and was named to the 2000 All-American team.
Brown said that Holtz's old-school coaching style had a tremendous impact on him in life.
"Coaches like that are priceless, I could never thank all of those old-school coaches enough for what they helped me endure mentally in life," Brown said.
As a senior, Brown and the Gamecocks had another winning season finishing 9-3. South Carolina finished with yet another win against Ohio State in the Outback bowl 31-28.
Regarding a career highlight, Brown shared a touching story about his grandmother. During his redshirt year, Brown's grandmother had a stroke and the family was close to pulling the plug. She recovered and was finally able to attend a game during Brown's senior year.
The game was his final at Williams-Brice Stadium and against rival Clemson. He had two interceptions, his only interceptions of the year, and was named the defensive player of the game.
All-in-all Brown finished his career as a Gamecock with nine interceptions for 169 yards. He was a part of the biggest turnaround in program history after going 1-21 as a freshman and sophomore.
The Philadelphia Eagles selected Brown in the second round (59th overall) in the 2002 NFL draft. He went on to have an 11-year NFL career spending eight seasons in Philadelphia and then three years with Cleveland Browns. Brown played in 175 games and had 26 interceptions with four of those being returned for touchdowns.