Dowell Loggains offers four-star big-play QB from Mississippi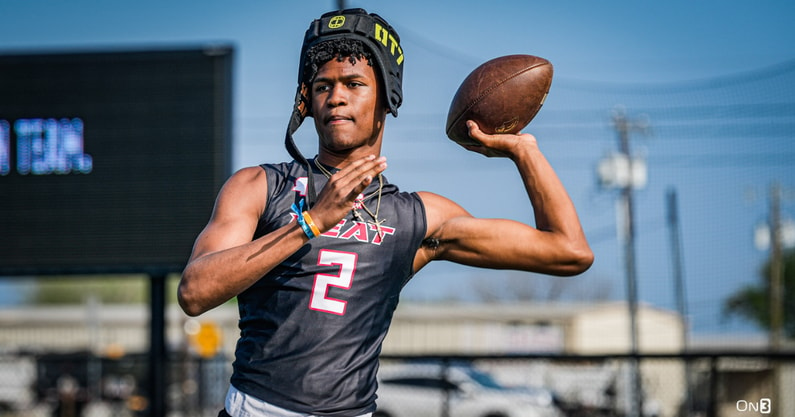 When Lucedale (Miss.) George County four-star quarterback Deuce Knight visited South Carolina for its spring game, there seemed to be some heavy indications that the Gamecocks might ultimately offer.
That offer took place a little over a month later when South Carolina offensive coordinator and quarterbacks coach Dowell Loggains offered the class of 2025 big-play quarterback after watching him throw during the spring evaluation period.
[Win a mini helmet autographed by Spencer Rattler]
While Knight obviously made a big impression on Loggains to land the offer, South Carolina also left an impression on the highly regarded passer when he was in Columbia for the first time last month.
"I'm big on first impressions and I had a great first impression of everything," Knight told On3's Sam Spiegelman after his visit. "Listening to everybody, they let me know that South Carolina was one of the top schools in the nation for academics and that they're very passionate about football. The campus is beautiful and Coach Loggains and Coach Beamer always have the same amount of energy I hear over the phone, and I was impressed about that."
[Get 6 months of GamecockCentral for only $29.99!]
"What caught my eye is how coach Loggains came out and he called a shot play the first play of the game," he added. "Even though it was an incompletion, it shows how much he trusts his guys to make plays and how he took shots a lot in the game."
While Loggains and Knight have been primarily communicating over the phone, the spring game visit was an opportunity for them to get to know each other in person.
"The coaches were so excited to get me on campus, walking around the facility for the first part of the visit I didn't have my name tag on and every coach who saw me knew me — even the defensive coaches — so that impressed me," Knight continued. "Coach Loggains made the visit fun with his energy and by just being him he's a cool guy and he jokes with his guys. Even in the meetings, they have fun but still get everything they need to do done."
[Get South Carolina football news and analysis via email]
Knight is the No. 86 overall prospect and No. 6 quarterback in the 2025 cycle, according to the On3 Industry Ranking, a weighted average that utilizes all four major recruiting media companies. He is also the No. 3 prospect in Mississippi.
As a sophomore, Knight threw for 1,929 yards and 11 touchdowns in nine games while rushing for for 488 yards and 12 touchdowns.
Knight is one of three 2025 quarterbacks to land an offer from South Carolina on Thursday as Findlay (Oh.) four-star quarterback Ryan Montgomery and Columbia (S.C.) Richland Northeast QB Will Wilson also picked up an offer from Loggains.