Corey Rucker practices Tuesday; Long list of Gamecocks still 'questionable'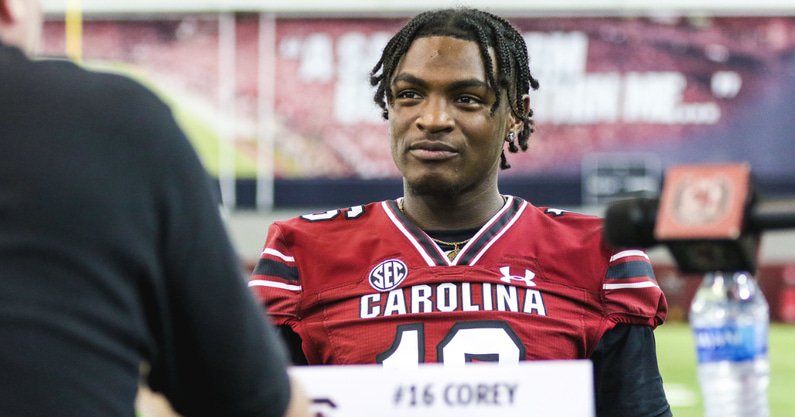 There was a welcome sight on the South Carolina practice field this morning, head football coach Shane Beamer said Tuesday during his weekly press conference as he previewed the Gamecocks' matchup with Charlotte.
"From an injury standpoint, Corey Rucker practiced today," Beamer said. "It was great to see him out there. I know he was excited to get out there."
Special: Get a year of Gamecock Central for $10 or a month for $1!
As for everyone else that's been banged up, things seem less certain heading into Saturday night's game.
Defensive back Cam Smith, defensive tackle Boogie Huntley, defensive back David Spaulding, defensive back R.J. Roderick and offensive tackle Jaylen Nichols all missed this past Saturday's game with Georgia while defensive backs Darius Rush and Devonni Reed added their names to the injured list during the game.
"Everyone (else) that you're going to ask me about, that didn't play last week or the ones that got hurt during the game, like Rush and Devonni, honestly, I would say that every single one of them are questionable as we stand here today," Beamer said. "And that's not coachspeak; I can't sit here and guarantee that they're all going to play and I can't sit here and tell you that they're not gonna play. Some of them practiced today limited, some of them didn't do much today, but they're all going to have a chance to play Saturday, so we'll see how tomorrow goes. That includes Cam. That includes, obviously, anybody but Mo Kaba, Jordan Strachan and Chad Terrell who are season-ending. So keeping our fingers crossed that we're going to get them all back."
WIN! Framed picture of Williams-Brice Stadium signed by George Rogers
If the Gamecocks could get any of those guys back it would be an obvious potential boost to a defense that has been banged up and battered in SEC play for the last two games against Arkansas and UGA.
Both Spaulding and Roderick missed both games while Smith and Huntley were injured against the Razorbacks. Huntley returned to the field that day but did not play this past week.
Rucker, a transfer from Arkansas State, has not played this season after suffering an injury that put him in a walking boot in preseason practice.
Click here to follow the Gamecock Central YouTube page!