VIDEO: Shane Beamer previews Clemson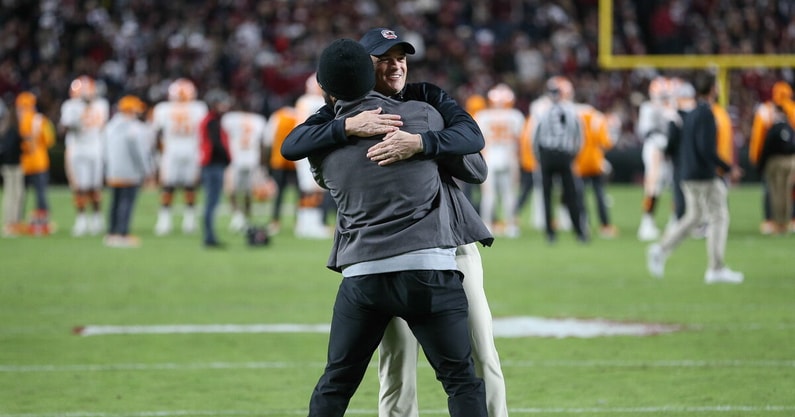 South Carolina football coach Shane Beamer meets with the media today at 1:30 to preview the Gamecocks' Week 13 matchup against Clemson.
The Gamecocks and Tigers are set to square off at noon on Saturday in Clemson with ABC carrying the action.
Check out the video of Beamer below.
•Get your 'Cocky Top' t-shirt from BreakingT!
South Carolina bowl projections: Week 13
By Michael Sauls
South Carolina football needed a big win on Saturday to help its bowl stock and the Gamecocks went out and did just that. 
A dominant 63-38 win over No. 5 Tennessee with representatives from the Reliquest, Gator and Sugar Bowls in attendance was exactly what South Carolina needed during bowl audition season.
The newest bowl projections have been released over the last few days and after the Las Vegas Bowl was the favorite last week, the ReliaQuest Bowl and Gator Bowl are the favorites this week. 
The ReliaQuest Bowl was called the Outback Bowl until this year, if South Carolina is picked for that game it would be the first time they played in it since 2018. 
The Music City Bowl and the Gator Bowl are also two common bowls the Gamecocks are projected to play in. 
For the sake of your holiday travel plans, South Carolina is only projected to play in one bowl game before Christmas, the rest come anywhere from five to eight days after. 
Here's what this week's bowl projections look like: 
Subscribe to Gamecock Central until the 2023 football season for only $10!
Action Network: TaxSlayer Gator Bowl (Dec. 30) vs Notre Dame
Athlon Sports: ReliaQuest Bowl (Jan. 2) vs Iowa
CBS: ReliaQuest Bowl (Jan. 2) vs Iowa
College Football News: Las Vegas Bowl (Dec. 17) vs Utah
ESPN (Kyle Bonagura): TaxSlayer Gator Bowl (Dec. 30) vs Notre Dame
ESPN (Mark Schlabach): ReliaQuest Bowl (Jan. 2) vs Iowa
Saturday Down South: Music City Bowl (Dec. 31) vs Purdue
Sporting News: Music City Bowl (Dec. 31) vs Iowa
Sports Illustrated: TaxSlayer Gator Bowl (Dec. 30) vs Illinois
Win a framed print of 'The Taunt' (D.J. Swearinger)
South Carolina got to bowl eligibility with wins in the non-conference against Georgia State, Charlotte and also South Carolina State. The Gamecocks also have four league wins currently against Kentucky, Texas A&M, Vanderbilt and Tennessee.
This is South Carolina's fifth bowl game in the last eight seasons and first time going to consecutive bowls since playing in three straight from 2016 to 2018. 
The Gamecocks have one regular-season game left, a matchup with in-state rival Clemson. The Tigers are ranked No. 9 and are 10-1 so far this year. Clemson has won the last seven games in the series. 
Last week, ESPN's Matchup Predictor gave South Carolina a 9.9 percent chance to upset Clemson. This week, the Gamecocks' odds have moved up to 11.1 percent. 
This year's rendition of the Palmetto Bowl will be broadcast on ABC and kickoff is slated for noon.