New Jersey DB sets official visit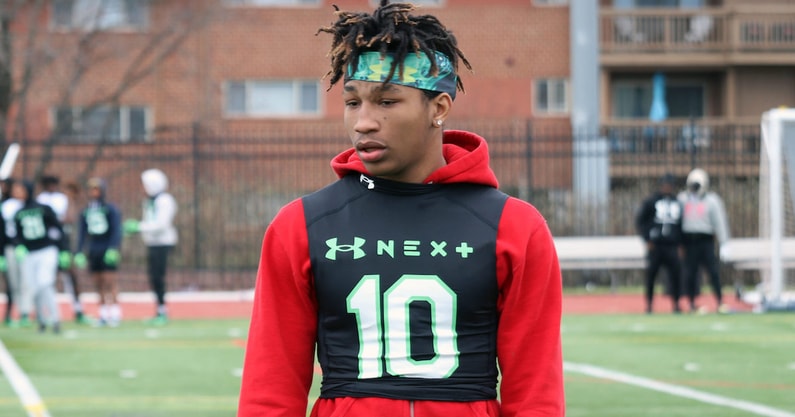 One of the state of New Jersey's top prospects for the 2024 class plans on getting an in-depth look at Shane Beamer's South Carolina Gamecocks this summer.
Oradell (New Jersey) Bergen Catholic product Kaj Sanders has set an official visit to Columbia for the weekend of June 2, he said via social media on Thursday.
[Spring Ball Special! $10 for 4 months of Gamecock Central!]
The On3 Industry Ranking, a proprietary algorithm that compiles ratings and rankings from all four primary recruiting media services, ranks Sanders as a three-star prospect.
The On3 Industry Ranking weights the primary recruiting media services based on past performance data, and overall scouting and recruiting coverage investment.
[Get South Carolina football news and analysis via email]
The 6-foot, 175-pounder checked out the Gamecocks back in January for an unofficial visit, a trip that drew strong reviews from him in a previous conversation.
USC assistants Pete Lembo and Torrian Gray have been heavily involved in the recruitment so far and have made an impression on Sanders.
"Coach Gray and Coach Lembo, they're really good people," Sanders told GamecockCentral.com back in February. "Coach Gray, you can tell he knows what he's talking about. He's a really good coach."
On3's individual rankings are the highest in the industry for Sanders, tabbing him as a four-star prospect, the number 7 prospect in New Jersey, and the number 32 safety nationally.
The current leader for Sanders according to the On3 Recruiting Prediction Machine (RPM) is Penn State, which has just over a 34 percent chance of landing him.
[Subscribe for free to Gamecock Central's YouTube page!]
Sanders also has an official visit planned to see the Nittany Lions for the weekend of June 24.
The junior standout has over 20 scholarship offers, and he's previously visited Penn State, Rutgers, Boston College, Duke, Georgia Tech, and Notre Dame.
Relationships are going to play a key role in Sanders' recruitment, and a few programs seem to be ahead of the curve there.
"I have a pretty good relationships with Penn State South Carolina, Notre Dame, and Duke. Those are probably my four best relationships," Sanders told GC last month.
Sanders has been eyeing a full slate of official visits during the summer along with a possible summer commitment in the month of July.
During the 2023 season, the Gamecocks target tallied 40 tackles, six pass deflections, and three interceptions according to BlueWhiteIllustrated.com.