VIDEO: Exclusive with South Carolina QB Jalen Daniels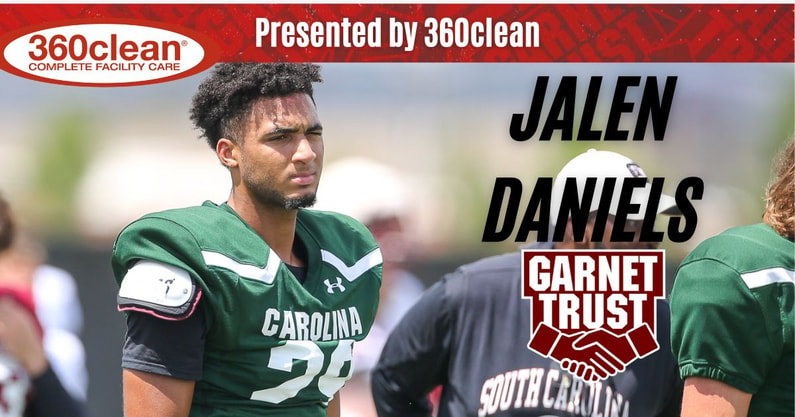 South Carolina freshman quarterback Jalen Daniels took the road less traveled in joining the Gamecock football program.
A Mesa, Az. native, Daniels did not start playing football until he was a freshman in high school and spent the first part of his career behind quarterbacks who would ultimately go on to play college ball.
The 6-foot-4, 215-pounder transferred to Lincoln High School in San Diego, Calif., for his senior season where he completed 63 percent of his passes for 2,442 yards and 18 touchdowns.
The South Carolina staff discovered Daniels through quarterback Spencer Rattler due to the two now-teammates training with the same QB coach, Mike Giovando of Elev8QBAcademy in Arizona.
In the latest in Gamecock Central's series of exclusive Garnet Trust interviews — presented by 360clean — we sat down with the Daniels to discuss his journey to South Carolina, his experience so far, and his goals moving forward.
Check out the video below and, as always, fans can support South Carolina student-athletes via NIL deals like this one by joining the Garnet Trust.
Special: Get one year of Gamecock Central for $10 or one month for $1!
Watch on YouTube | Apple Podcasts | Spotify | Megaphone | TuneIn Radio | PlayerFM | Stitcher | RSS feed
Click here to subscribe to the Gamecock Central YouTube page for FREE!
Foundation launches to support USC student-athletes, charities
Leadership behind Garnet Trust, an NIL collective that connects fans and businesses with University of South Carolina student-athletes, announces today the formation of Garnet Trust Foundation, a 501(c)(3) entity established to support South Carolina-based charities and nonprofit organizations to highlight their positive endeavors through the use of name, image and likeness (NIL) of student-athletes.
Garnet Trust Foundation is backed by a seasoned board of directors, which includes notable alumni, former University of South Carolina student-athletes and influential businesspeople.
Click here to follow the Gamecock Central YouTube page!
"While NIL opportunities have changed the game in many ways for collegiate athletics, we are excited to flip the script by working with student-athletes to give back to the incredible organizations and causes that serve our local communities," said Barry Bodiford, chairman of the board of directors for Garnet Trust Foundation. "It's our honor to come alongside impressive charities and nonprofits that deserve and need more resources, and to work with student-athletes who share our heart for giving back to South Carolina."
An initial list of organizations benefiting from the work of Garnet Trust Foundation will be announced soon. Charities and nonprofits seeking consideration as beneficiaries of the program can contact the organization through its website.
Student-athletes who participate will be responsible for generating deliverables that highlight the organizations' efforts, including content development, community appearances, social media engagement, and other marketing and communications activities.
Receive breaking news and in-depth analysis via email
The Garnet Trust Foundation board of directors include:
Barry Bodiford, Founder and CEO of 360clean
Markeshia Grant, Founder and Personal Development Coach at Savvy Skills, LLC and former
University of South Carolina Women's Basketball player
Candace Knox, Retired from Planning and System Development at Palmetto Health (now Prisma Health)
Marcus Lattimore, Health Educator with the Multnomah County Health Department and former University of South Carolina Football player
Ken Long, Retired President of Long's Drugs
Tim Packer, CPA, Tax Supervisor at Dean Dorton
Brent Skinner, Owner of BP Skinner Clothiers
"After realizing that NIL is here to stay, I am extremely excited to be involved with so many quality, passionate and likeminded Gamecock people to lead this organization to raise and spend money to support our student athletes," said board member Ken Long. "This is an organization that every fan can support at any level they are comfortable with and know that the money will be used to support all the student-athletes who make sacrifices and work so hard to represent our university. This money will make all sports programs better and is another step forward to being more competitive in our conference and on a national level. My hope is that all Gamecock fans will recognize the necessity of a fully funded NIL program to compete at this high level in all sports."
Special: Get a year of Gamecock Central for $10!
"The coaches and athletic department at the University of South Carolina have created a culture that focuses on giving back and putting others first," added Jeremy Smith, who leads the operations of Garnet Trust Foundation. "We're thankful that our student-athletes are paving the way for new avenues of NIL that promote philanthropy and service."
The mission of Garnet Trust Foundation is to help promote, support and advance charitable organizations and causes, educate the general public regarding these charitable organizations and causes, and to make positive impacts on communities, by utilizing the names, images and likenesses (NIL) and notoriety of University of South Carolina student-athletes.
More information is available at GarnetTrustFoundation.org.