VIDEO: Spencer Rattler, Gamecocks preview Clemson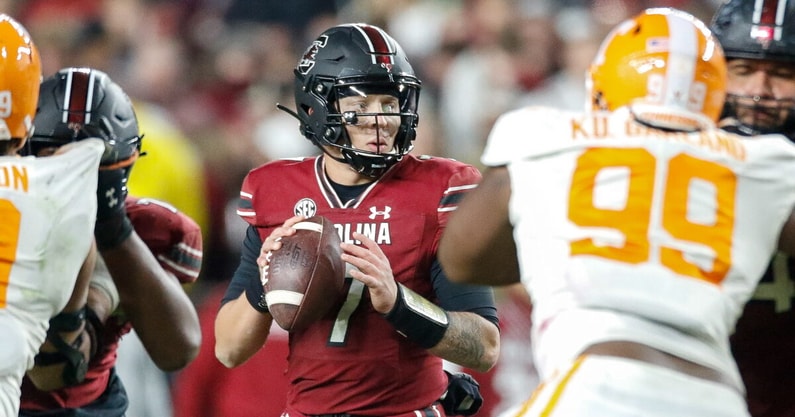 South Carolina football players Spencer Rattler, Darius Rush, Nate Adkins, and Tonka Hemingway all met with the media on Tuesday to preview the Gamecocks' rivalry matchup with Clemson.
Check out the videos below…
• Become a Garnet Trust member: Support and connect with USC student-athletes
• Get your 'Cocky Top' t-shirt from BreakingT!
• Win a framed print of 'The Taunt' (D.J. Swearinger)
• Subscribe (for free) to the Gamecock Central YouTube page!
Shane Beamer: Gamecocks optimistic on Marshawn Lloyd, CBS playing vs. Clemson
As rivalry week officially arrives for South Carolina football, MarShawn and CBS Watch continues.
The Gamecocks remain in relatively strong shape on the injury front going into Saturday's matchup with Clemson but are still hoping to add top running backs MarShawn Lloyd and Christian Beal-Smith back to the field.
Head coach Shane Beamer said on Sunday that both are considered questionable for this week but he offered a more optimistic update on Tuesday during his afternoon press conference.
"We're in good shape," Beamer said. "MarShawn and CBS were both out there at practice today, hopefully when we come in tomorrow morning, they will have responded well to what they did in practice today and feel good. That was part of the issue a couple of weeks ago. MarShawn practiced and (the injury) just didn't respond the way he wanted it to the next day. So we're optimistic that he'll feel great tomorrow morning. But when we came in on Sunday, he told me he was playing this week. He and CBS both did, so hopefully they'll continue to trend in the right direction because I know they both want to play and we're going to need them."
Lloyd, the Gamecocks' lead back and top offensive threat, has missed the last three games after suffering a significant thigh bruise against Missouri.
Beal-Smith has been in and out of the lineup all season long after dealing with a preseason football injury and missed the game at Florida and Saturday's win over Tennessee.
Prior to the injury, Lloyd had emerged as South Carolina's leading rusher and arguably most valuable player, rushing for 556 yards and nine touchdowns on 100 carries.
The Gamecocks had several players go down at various times during a physical matchup with the Volunteers but all appeared to return to action at later points in the game.
South Carolina defeated Tennessee 63-38 in the matchup, dashing the Vols' College Football Playoff hopes.
The Gamecocks and Tigers are set for a noon kickoff on ABC at Clemson.