Gamecocks WR Juice Wells signs NIL deal with Garnet Trust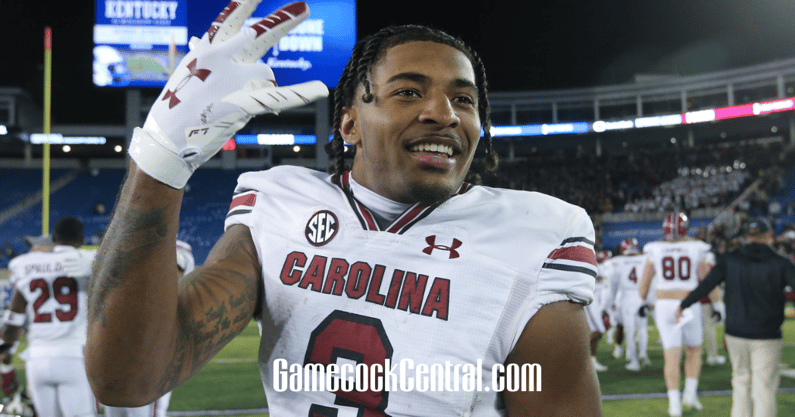 Garnet Trust announced on Wednesday that it has signed South Carolina Gamecocks wide receiver Antwane "Juice" Wells Jr. to a name, image, and likeness (NIL) agreement.
"I am grateful for the opportunity to work with this great organization," Wells said in a statement included in the release. "I am looking forward to continuing to connect with Gamecock fans – the best in the country – and to making a difference in the community."
Subscribe to Gamecock Central until Aug. 31 for only $29.99
"We are excited to work with Juice in 2023 and are thankful to our members and supporters for making this possible," said Jeremy Smith, Director of Operations for Garnet Trust. "We cannot wait to see the influence that Juice has both on and off the field this season."
The agreement with Wells calls for him to provide content deliverables, plus in-person and digital appearances and charitable work on behalf of the Garnet Trust Foundation.
Become a NIL supporter of your South Carolina Gamecocks!
Garnet Trust also announced its signing this week of Gamecocks quarterback Spencer Rattler to an NIL deal.
A transfer from James Madison, Wells Jr. made an immediate impact on the South Carolina program with a highly productive 2022 season. He finished the season with 68 catches for 928 yards and 6 touchdown receptions.
The third-year collegiate receiver announced earlier this month his plans to return to Columbia for another season in 2023.
Wells Jr. previously spent two seasons at James Madison. He broke multiple single-season records with the Dukes as a sophomore, including receiving yards (1,250), receiving touchdowns (15) and receptions (83). He earned FCS second-team All-American honors.
Wells Jr. had four games during the 2023 season in which finished with at least 110 yards. He saved his best performances for the final two games, catching 11 passes for 177 yards and against Tennessee and adding 9 more catches and 2 touchdowns in a rivalry win over Clemson.
Subscribe (for free) to the Gamecock Central YouTube page!
Garnet Trust, a NIL collective launched in November of 2021, is a platform for USC fans to connect with University of South Carolina student-athletes through name, image, and likeness deals. Athletes contracted by the organization are compensated for written and video content, plus event appearances, autographed memorabilia, and other initiatives.
Garnet Trust Foundation was created in October 2022 with a mission to help promote, support, and advance charitable organizations and causes utilizing the NIL and notoriety of USC student-athletes