Michael Braswell, South Carolina clutch late in win over Georgia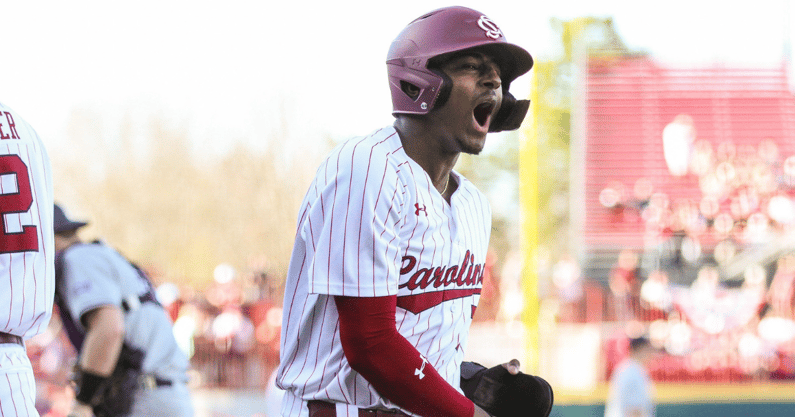 Michael Braswell spent the majority of South Carolina's non-conference slate on the bench, waiting for his opportunity. 
He got it Saturday and he delivered. 
With the Gamecocks trailing by a run in the ninth, Braswell connected, slicing a two-strike, go-ahead double to right field to give the Gamecocks a 5-4 win in game one of the doubleheader. 
[Spring Ball Special! $10 for 4 months of Gamecock Central!]
The Gamecocks found a way to come back in dramatic fashion, watching a two-run lead evaporate thanks to three unanswered runs from the Bulldogs over two innings in the sixth and seventh. 
South Carolina (18-1, 1-0 SEC) couldn't muster much in the middle part of the game, wasting a two-on, no-out chance in the eighth inning before Braswell's heroics in the ninth. 
Things got hairy in the ninth with Eli Jerzembeck giving up a leadoff double, but Michael Braswell and Braylen Wimmer made two nice defensive plays to set up James Hicks getting a groundout to end the game and pick up a save. 
It was a fantastic college baseball game with South Carolina jumping out to an early 3-1 lead thanks to a pair of solo home runs from Cole Messina and Ethan Petry paired with a Will McGillis RBI double. 
[Become an NIL supporter of your South Carolina Gamecocks!]
But Georgia stormed back, tying the game in the sixth thanks to a two-out, two-run home from Parks Harber. Georgia took the lead in the seventh with a leadoff double, sac bunt then a sacrifice fly. 
It marked the end of what was a great start early for Will Sanders who sputtered down the stretch. 
The lone blemish for Sanders early was a solo home run allowed in the second inning, and he would motor his way through the first five innings without much nose. 
Georgia would start hitless in its first nine at-bats with runners on base and 0-for-6 with runners in scoring position. The Bulldogs' first hit with a runner on base was Harber's blast in the seventh. 
Sanders, despite pitching out of trouble early, ultimately allowed four runs–all earned–in seven innings on seven hits with six strikeouts to just one walk. 
[Subscribe for free to Gamecock Central's YouTube page!]
But South Carolina's pitching clamped down late, allowing just two hits over two scoreless innings with one strikeout and one walk. 
Georgia was still 2-for-16 with runners on base and 1-for-11 with runners in scoring position. 
South Carolina wasn't much better, going 2-for-13 and 2-for-10 respectively but the biggest coming with Braswell's big knock in the ninth. 
[Get South Carolina baseball news and analysis via email]
Up next: Game two of the series and doubleheader kicks off in about an hour with South Carolina starting Noah Hall.