South Carolina powers past Kentucky in series opener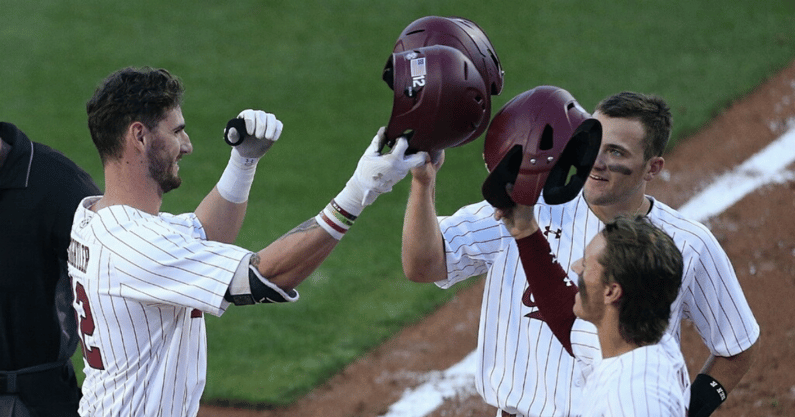 Andrew Eyster made contact with a ball and admired it as it flew out of Founders Park in a jiffy. South Carolina's slugger started his home run trot and flipped his bat, enjoying what is one of his final games ever in his home stadium.
But in the grander scheme of things for the Gamecocks, it was the latest in a line of big hits South Carolina used to wallop Kentucky 11-3 Friday night.
"The bat flip? I won't say I ever really pimped a home run. That one, I knew it off the bat. Not like it was some crazy, majestic bomb. I just knew it," Eyster said. "And I'm like, 'How many more times am I going to get to do this? Flip it a little bit.' It wasn't that bad. For my standards, it was a little bit of a pimp job."
The Gamecocks started early offensively, using an Eyster RBI single to take a lead. They wouldn't trail again, playing five in the second inning and led the rest of the way.
Knotted at one run apiece, Jalen Vasquez cranked a first-pitch home run, the first of his career, to right field. Josiah Sightler followed a few batters later, launching his team-best 12th home run of the season, a three-run shot.
Sightler's remarkable tear continues, slashing .380/.443/.859 with nine home runs in SEC play since the start of April.
The Gamecocks tacked on another in the third with a Brandt Belk infield single. Then it was Eyster's home run. The Gamecocks plated at least one run in the first four innings.
Michael Braswell put the game on ice late. He laced a bases-clearing double to right field to put things effectively out of reach. The freshman finished his day with four hits, three to the opposite field, with three RBI.
Six of the Gamecocks' nine starters notched hits with four—Eyster, Sightler, Braswell and Braylen Wimmer—picking up multi-hit days.
South Carolina's now at least nine runs in three of its last five games. The Gamecocks notched double-digit hits in six of the Gamecocks' last seven games.
"Coach Caillet's been working with us and we've been improving steadily over the course of a season. Now we're clicking at the right time," Braswell said. "If we can keep performing like we're performing now I think we can do some things and hopefully do some things in the playoffs. It's been huge. Big credit to coach Caillet for helping us and keeping us steady."
But it wasn't just the offense; South Carolina (25-23, 11-14 SEC) arguably played its most well-rounded game of the year with solid pitching and some really good defensive plays as well.
Brett Thomas had one of his best career outings, giving up a pair of runs on three hits over four innings while Cade Austin continues to pitch well. The freshman tossed three innings of one-hit baseball followed by two innings from John Gilreath where he gave up one run.
South Carolina's pitching staff combined for 10 strikeouts to just four walks.
But defensively is where the Gamecocks shined. They gunned two runners down at the plate. One was on an RBI single, started by Eyster, and another on a delayed steal of home with Braswell.
"We've had some really good ones throughout the year. We've had some high highs and low lows," Mark Kingston said. "Today was on the shortlist of when you need a game on a Friday night it's right there. This team is going to fight. There's no question about that. This team is going to fight until the very end."
The win keeps whatever postseason hopes South Carolina has alive. The Gamecocks go for a much-needed series win Saturday at noon with Noah Hall on the mound.
It doesn't seem like the pressure is getting to them, though, with South Carolina players seemingly having fun in the dugout and trying to create some positive momentum down the stretch.
"If you're losing, you don't want to be in there doing jumping jacks. It's a very fine line. When you're struggling, you don't want to mope around but you don't want to look like you're enjoying it. There's always a fine line when how a team is behaving," Kingston said.
"We've talked to this team all year as the game beats you down you still have to find that joy and passion for the game. when you score 11 runs, it's going to look like you're having more fun."