South Carolina women's basketball: Gamecocks' defense could make history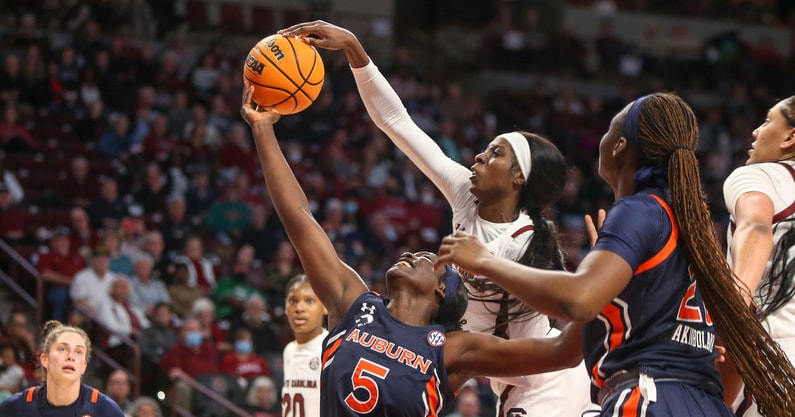 South Carolina Women's Basketball: News • Recruiting • Schedule • Roster • Stats • SEC • Polls • Scholarships
South Carolina won the national championship last season behind a historically strong defense. This season the Gamecocks are even better.
South Carolina gave up 50.7 points per game last season, third in the country, and improved that to 45.5 in the NCAA tournament, the second-lowest mark in tournament history. Opponents shot just 33.2% against South Carolina, the second-lowest percentage in the nation last season.
The Gamecocks' defensive dominance and versatility stole the spotlight in the Final Four when Brea Beal and Destanni Henderson shut down Hailey Van Lith and Paige Bueckers, respectively.
But South Carolina's strength was its frontline. Led by Defensive Player of the Year Aliyah Boston, South Carolina led the country in blocked shots (7.4 per game) and rebounds margin (17.7 per game) while finishing third in total rebounds (47.86).
Not only is South Carolina's defense even better this season, but it is also on pace to be the best ever.
South Carolina is allowing opponents to shoot 28.7%, which would break the all-time record of 30.0% (2010 UConn). The Gamecocks are allowing 45.7 points per game, which would break the all-time record of 46.2 points per game (2010 UConn). 
After a "down" year blocking shots, South Carolina is averaging 9.8 blocks per game this season. That easily leads the nation and would shatter the all-time record of 8.6 blocks per game, set by, you guessed it, South Carolina in 2020.
Subscribe to Gamecock Central until Aug. 31 for only $29.99
South Carolina leads the nation in rebounding at 51.1 per game. The rebounding margin of 22.6 would break the all-time record set by Baylor in 2017 (20.7 per game).
As noted in The Athletic, South Carolina's defensive rating is five points per possession better than any other team in the country.
Arkansas coach Mike Neighbors was the latest coach to see his team obliterated by the South Carolina buzz saw, a 92-46 loss. He described the challenge of going against South Carolina.
"They can switch and still keep you in front and contest. We can do all we want to try to simulate that, we can find all the brooms and Wiffle ball bats, it's not the same when it's Aliyah Boston and (Kamilla) Cardoso and (Laeticia) Amihere. I mean you keep going down the list. Brea Beal. All those kids can contest you," he said. "They're impossible to prepare for. You can't find enough men's practice players on your campus to simulate a roster this deep, and this talented, and this cohesive."
Therein lies the difference between last year and this year. Boston and Beal have led the defense for four seasons. After seeing firsthand that defense can win a championship, there has been buy-in from every player on the roster. 
Become a "FAM" Member and support South Carolina women's basketball players
"We make a concerted effort to defend," Dawn Staley said recently. "We don't like when people score on us, so we take it really personally. We're made up that way."
Cardoso has returned to the form that won her ACC Defensive Player of the Year as a freshman at Syracuse. Sania Feagin and Ashlyn Watkins have been outstanding off the bench. Moving Amihere to guard has minimized her defensive shortcomings while maximizing her unique abilities. 
The biggest change might be at guard. As good as Henderson was, Kierra Fletcher and Raven Johnson have been an upgrade. Fletcher is physical and savvy, while Johnson is surprisingly good at blocking shots and has quick hands that help her apply pressure full court. 
Subscribe (for free) to the Gamecock Central YouTube page!
And Zia Cooke has turned into a strong defender. Cooke's buy-in began in the tournament last season when it became apparent the Gamecocks needed her to defend more than score. This season she has been good enough that Staley has occasionally turned to Cooke to guard the other team's best guard.
"Zia, from the very beginning, from practice one, made a very concerted effort to play every play," Staley said. "The way you see her displaying it out there on the floor is what she's been like in practice. Those are those habits and it's a beautiful thing to see. I'm super proud of her and her commitment to her."
Defense remains South Carolina's calling card, but what has to be terrifying to opposing coaches is the Gamecock offense. Last season, South Carolina had the lowest scoring average of any champion. 
This season, South Carolina is averaging 82.9 points per game on 47.55% shooting. Those are better numbers than the great 2020 team, and the points per game would be a school record.
In case you got turned off by all the numbers, here's the abridged version. Best defense in NCAA history? Yes. Bet offense in school history? Yes. Same team? Yes.