South Carolina women's basketball notebook: Aliyah Boston honored in Virgin Islands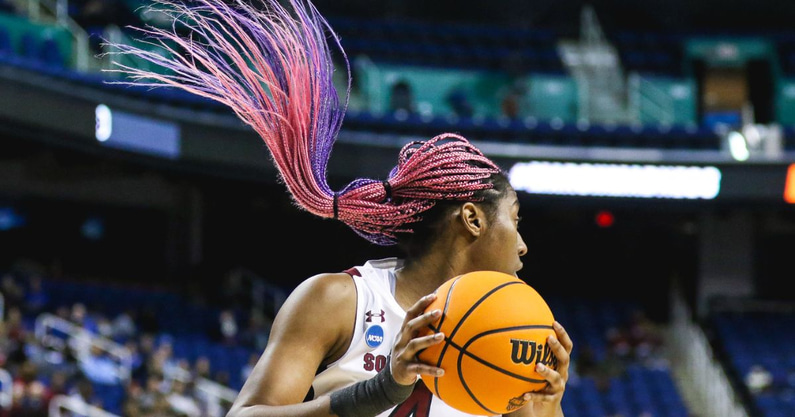 South Carolina women's basketball mega-star Aliyah Boston was honored in the Virgin Islands, the WNBA is considering expansion, and how could NIL money play into the decisions of top draft picks?
LINK: Read about it all in this week's WBB notebook
Not a subscriber? Click here to subscribe now with a 7-day free trial
South Carolina women's basketball in the WNBA: Week 4
Kaela Davis was back on the transaction report and it was a busy week in Las Vegas for former Gamecocks.
Kaela Davis
Kaela Davis' transaction wire odyssey continued this week. 
To recap: On Wednesday before the season began, Davis was waived by Chicago. Two days later, just hours before Chicago's season-opener, the Sky resigned Davis to a hardship contract (Davis didn't even show up on the league transaction list until the next day). She played 10 minutes that night against Los Angeles but was released on May 9, before Chicago's next game. Davis was out of work for less than a week and was signed to another hardship contract by Seattle that Friday. She did not appear in a game for Seattle and was waived again on May 18.
Then on May 28, with several Storm players in health and safety protocols, the Storm resigned Davis. Davis played 18 minutes in the Storm's blowout win over the Liberty on May 29, scoring 11 points to go with two rebounds and two steals. It would be her only game – Davis was waived June 2 to make room for returning players.
In two games this season (one with Chicago and one with Seattle), Davis is averaging 14.0 minutes, 5.5 points, 1.5 rebounds, and 1.0 steals. 
Dallas Wings (6-5)
Allisha Gray (11 games, 11 starts, 32.3 mpg, 14.6 ppg, 5.8 rpg, 1.8 apg, 1.0 spg, 1.2 bpg)
Gray continued her career season with a pair of big scoring nights. If Dallas can get back to winning she might have an All-Star case.
Last week:
at Los Angeles (93-91 loss): 27 minutes*, 10 points, 6 rebounds, 3 assists, 2 steals
at Seattle (68-51 win): 35 minutes*, 18 points, 7 rebounds, 2 assists, 2 steals
at Las Vegas (84-78 loss): 37 minutes*, 24 points, 9 rebounds
Tyasha Harris (10 games, 1 start, 16.1 mpg, 4.6 ppg, 3.2 apg, 0.9 rpg)
Earlier this season, it seemed like Dallas still didn't know what to do with Harris. But now the coaching staff seems to have decided on a role for Harris, her minutes have gotten more consistent, and her production has followed.
Last week:
at Los Angeles (93-91 loss): 12 minutes, 8 points, rebound, assist
at Seattle (68-51 win): 21 minutes, 3 points, 4 assists, 3 steals
at Las Vegas (84-78 loss): 18 minutes, 7 points, 5 assists, rebound
Upcoming:
Friday vs Seattle (8:00 ET, CBS Sports Network)
Sunday vs Seattle (4:00 ET)