Spencer Rattler signs NIL deal with Garnet Trust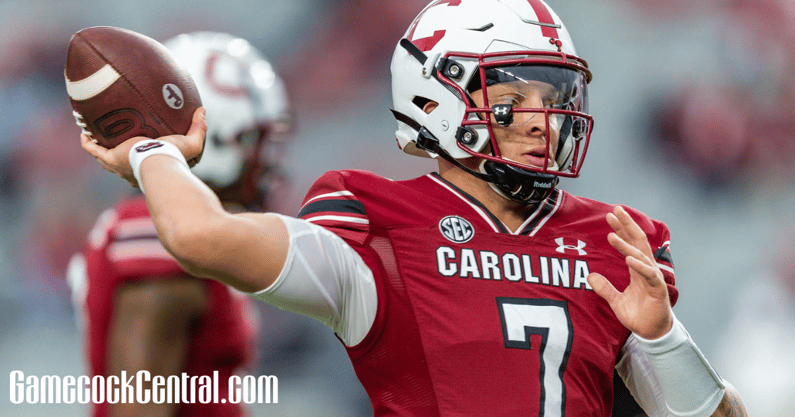 Garnet Trust announced on Tuesday morning that it had signed a name, image, and likeness (NIL) agreement with South Carolina Gamecocks quarterback Spencer Rattler.
"I want to thank Garnet Trust, its members and its contributors for making this opportunity possible," said Rattler in the release announcing the deal. "I have loved my time in Columbia and look forward to continuing to connect with the greatest fan base in all of college sports."
Subscribe to Gamecock Central until Aug. 31 for only $29.99
"We are thrilled to be able to work once again with Spencer, a cornerstone of the program, who wanted to return to Columbia to finish business," said Jeremy Smith, who directs operations for Garnet Trust. "We are also thankful to the members of Garnet Trust and supporters of the Garnet Trust Foundation for allowing Spencer and other student-athletes across all programs to contribute to the culture that our coaches are building."
The announcement notes that, as part of the agreement, Rattler will be responsible for digital content deliverables, in-person appearances, and charitable work on behalf of Garnet Trust Foundation.
Become a NIL supporter of your South Carolina Gamecocks!
Garnet Trust Foundation was created in October 2022 with a mission to help promote, support, and advance charitable organizations and causes utilizing the NIL and notoriety of USC student-athletes.
"It definitely feels great to be back," Rattler said recently in an exclusive Garnet Trust interview with Gamecock Central's Chris Clark. "Coach Beamer and Coach (Dowell) Loggains and what they've been talking about, our goals this upcoming season, Juice (Wells) coming back, and a lot of other key parts coming back. I'm super excited. It's definitely a blessing being here, I love it here, the fans are great, everything is great, so it was a good decision."
Subscribe (for free) to the Gamecock Central YouTube page!
A former five-star prospect in the 2019 class, Rattler arrived in Columbia as a transfer from Oklahoma and immediately won the Gamecocks' starting job.
During the 2022 season, he threw for 3,026 yards and 18 touchdowns, completing 66 percent of his passes. He was also a leader of South Carolina's efforts to defeat back-to-back top 10 opponents in November, taking down Tennessee at home and Clemson on the road.
Garnet Trust, a NIL collective launched in November of 2021, is a platform for USC fans to connect with University of South Carolina student-athletes through name, image, and likeness deals. Athletes contracted by the organization are compensated for written and video content, plus event appearances, autographed memorabilia, and other initiatives.