Spencer Rattler signs NIL deal with Garnet Trust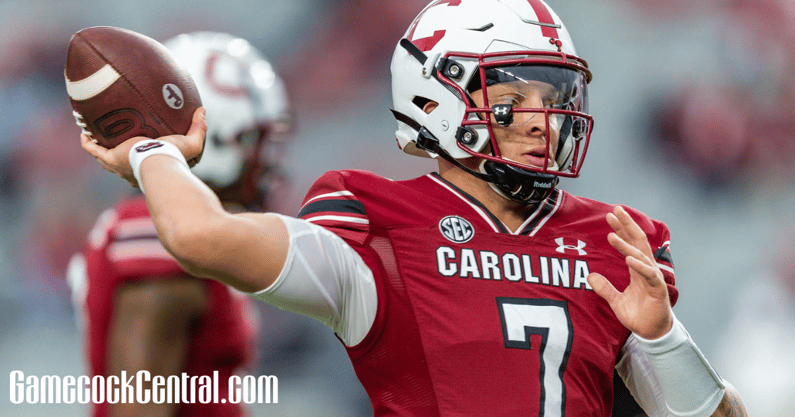 Pac-12 athletes will soon have the opportunity capitalize upon their NIL rights by earning compensation while providing commentary of their own game highlights. On Tuesday, the media enablement platform Curastory and the technology company Tempus Ex Machina announced a partnership that involves the Pac-12 Conference.
Starting April 9, Pac-12 football players will have the opportunity to monetize their commentary of their highlights. They'll post as early as Sunday morning after a Saturday game. Men's and women's basketball players will be the next athletes in the conference who have the opportunity. Other sports will follow.
Every athlete in the conference can use the platform for their social media posts, independent of their athletic highlights.
"We have a lot of tools essentially allowing video creators to build businesses around their videos," Curastory CEO Tiffany Kelly said in a video interview. "I mean anyone can post a video on TikTok for free but when you really start to get viewership and people wanting more content, how do you go from normal posting to honestly just an avid person that's really good at media and getting deals and running ads and just kind of the whole thing?"
Curastory claims Pac-12 athletes could earn $36 million per year
Kelly said Pac-12 football players will have the opportunity to earn nearly $3 million combined, based on the players posting one video per week during the season.
If the more than 6,000 athletes across all of the conference's athletic programs used the platform to monetize their all of their normal social media videos during a school year, Kelly said they could earn roughly $36 million combined, "which is just insane and just (shows) the value that a lot of these athletes have."
It's the next evolution of a previous partnership announced last August that involved the Pac-12, Opendorse, Tempus Ex and Twitter. Starting in the 2022 season, Pac-12 football players had the opportunity to earn compensation by posting two game highlights per week on Twitter.
The players earned ad-supported revenue.
As the definition and state of amateurism are on shaky ground, Pac-12 athletes being able to monetize the conference's highlights is a small step towards college athletes having more direct access to the revenue produced in the multi-billion dollar industry of college athletics.
This partnership doesn't represent direct revenue sharing but it does allow athletes to monetize not only their highlights, but also their commentary of them.
How the partnership with Curastory works
Curastory allows content creators to monetize ad reads, where they will talk about a product for one to two minutes before returning to their original content. Kelly compared it to an ad read on a podcast, where a podcast host is also the one who reads the ad copy.
Kelly said content creators and brand representatives don't communicate directly on Curastory. Content creators have the ability to review the scripts for potential ad reads. They can then accept the ones they want.
While Curastory offers content creators an auto-accept feature for ad reads, Kelly said the settings for athletes' accounts will be set to review since certain industries or products such as gambling or CBD are regulated in the NIL landscape. There's also a toggle button where content creators can choose to not accept ad reads regarding regulated industries.
Kelly said many of the brands will be relevant to college athletes and their content, such as nutrition or fitness companies and mental health apps. Kelly described the ads as programmatic media buys, where Curastory tries to match brands with their target audiences.
The media enablement platform provides editing, music licensing and one-click distribution tools. Tempus Ex's FusionFeed technology will provide highlights from game broadcasts and athletes will have the ability to edit clips within Curastory.
"I think there's a lot of (commentary) in the press, 'Do NIL. Do NIL,'" Kelly said. "But no one's really kind of giving them the practical application of how to actually edit a video."
'Gen Z's just way different'
Athletes can record videos in which they comment on their highlights, which can be displayed on top of the highlights in the final version. Curastory's customer success team will provide assistance to the athletes if needed.
Kelly estimated athletes might spend an hour or two per week recording and editing videos.
"Once they get into the hang of things, it's really kind of up to them to get creative, as much as they want," Kelly said.
Athletes can then post directly to social media platforms such as Facebook, TikTok and YouTube, while Curastory will track insights from their posts.
Kelly said Curastory analyzed roughly 75,000 athletes from 166 schools, publishing a report that focused on roughly 700 college athletes whom Kelly said are "actually" content creators.
Of those athletes, 124 are in the Pac-12. Roughly 85 percent of the athletes are women. The report estimated former Oregon basketball player Sedona Prince earned $108,000 in ad-driven revenue.
"The Pac-12's actually doing extremely well," Kelly said. "Just their 12 schools, there's a lot of student-athletes there that are just kind of crushing content creation, like editing on their own. I mean, Gen Z's just way different and just doing really, really well.
"We'll be there to assist but I actually think they will kind of take this and run with it."
Kelly said Pac-12 athletes will have access to highlights if they're involved in a play, which could provide an opportunity for role players or reserves to show their personality, if not their on-field performance.
"I feel like the ones that will excel are kind of the ones that are really, really leaning into content creation, which aren't necessarily the ones that are starters and playing on every single down," Kelly said.
Compensation will be based on performance. Kelly said athletes will receive a minimum of $30 for every 1,000 views a video receives.
Benefits of this partnership and the previous one that involved Opendorse, the Pac-12, Tempus Ex and Twitter include team-wide access to an NIL opportunity and the ability for athletes to monetize on-field performance. However, they also require athletes to post on social media after losses. Athletes who have other NIL opportunities might consider the per-post revenue to be low, too, especially if they spend several hours recording and editing videos.