VIDEO: Spencer Rattler speaks on return to South Carolina in Garnet Trust Exclusive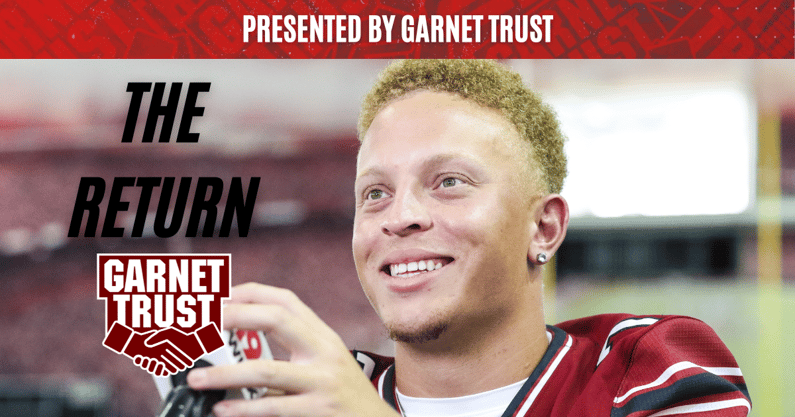 South Carolina quarterback Spencer Rattler announced earlier this week that he would be returning to Columbia for the 2023 season, giving the Gamecocks' offense a big boost in the process.
In this exclusive Garnet Trust Interview, Rattler sits down with Gamecock Central's Chris Clark to discuss his reasoning for returning to the Gamecocks.
In the interview, Rattler discusses the decision-making process, the impact of Juice Wells' return, his conversations with Shane Beamer, and what he expects from the new Dowell Loggains-led offense.
Check out the full video below!
• Become a NIL supporter of your South Carolina Gamecocks!
• Subscribe (for free) to the Gamecock Central YouTube page!
About Garnet Trust
Garnet Trust is the platform for fans and businesses to connect with and support University of South Carolina student-athletes through name, image, and likeness deals. Garnet Trust is not affiliated with the University. Learn more about Garnet Trust at https://www.garnettrust.com/.
Spencer Rattler speaks on return to South Carolina: 'I love it here'
After a deliberate and in-depth decision-making process, Spencer Rattler is officially back at the reins of the South Carolina football offense.
The former five-star quarterback who transferred to South Carolina last offseason from Oklahoma was once assumed to be a one-and-done player in Columbia.
But feeling he has more to prove and finding a comfort level with Shane Beamer's program, Rattler announced on Tuesday night with a Wolf of Wall Street "I'm not leaving" video that he's back for the 2023 season.
"It definitely feels great to be back," Rattler said Wednesday in an exclusive Garnet Trust interview with Gamecock Central's Chris Clark. "Coach Beamer and Coach (Dowell) Loggains and what they've been talking about, our goals this upcoming season, Juice (Wells) coming back, and a lot of other key parts coming back. I'm super excited. It's definitely a blessing being here, I love it here, the fans are great, everything is great, so it was a good decision."
Rattler, who finished his first season at South Carolina with 3,012 yards while completing 112 of 273 passes, ended the regular season with an open mind about returning to Columbia.
He first made the decision to play in South Carolina's bowl game at the end of the year before carefully weighing the pros and cons of a return vs. making the jump to the NFL.
• Become a NIL supporter of your South Carolina Gamecocks!