Spencer Rattler's decision looms to stay or leave South Carolina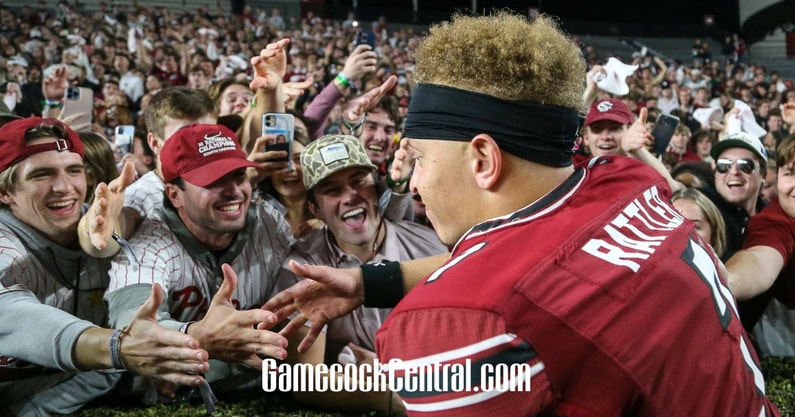 South Carolina quarterback Spencer Rattler delivered a performance for the ages on Saturday night against Tennessee. For the second time in Rattler's career, many are left wondering what his future holds.
"You know my focus right now is on finishing this last game or two, and then we'll go from there," Rattler said.
Subscribe to Gamecock Central until the 2023 football season for only $10!
After struggling early on in the year, many doubted if Rattler had done enough to get drafted. Then came Tennessee. Rattler's performance Saturday caught the eye of everyone, not to mention NFL scouts.
"I mean, he made some amazing throws on Saturday night he really did. You go back and watch the tape and are more amazed by it. Those NFL teams see that, and certainly I don't know when it will be, but when he chooses to go on to the next level he's got a great football future in front of him," head coach Shane Beamer said.
Beamer always gives his players his best advice when considering their futures. As for Rattler, Beamer pitched what NFL teams could be getting in his quarterback if he decides to leave.
Get your 'Cocky Top' t-shirt from BreakingT!
"They're getting a fantastic human being first of all," Beamer said. "They're getting a great teammate, they'd be getting a guy who works really, really hard during the week to be his very best on Saturday. A guy that understands, 'okay, maybe I don't understand this quite as well, or maybe I don't do this maybe as well as I want to' and works really, really hard to improve on those things. And then they would be getting a guy with just unbelievable talent."
Rattler technically still has two years of eligibility left. The common belief when he arrived at South Carolina in January was that it would be a one-year deal, but he has never said that, and it's not clear where he would currently project in the draft.
But as the potential end of his South Carolina tenure looms, Rattler took some time to reflect on what he'd like to be remembered by if this is it.
"Not back down from competition. (I) could've went to the Pac-12 or somewhere like that," Rattler said. "There's defenses here that get you better as a player. I wanted to come here and win a lot of big games, which we have been doing, and we've still got games to finish out. I wanted to improve in all areas but really just help this program, and I feel like we've done a good job, and we've gotta finish out even stronger. We're still going that's the focus — laser focus."
Subscribe (for free) to the Gamecock Central YouTube page!
Rattler and the Gamecocks' 63-38 blowout of Tennessee is certainly one he and the fans will never forget. If the next two games are the final ones of his career at Carolina, Rattler hopes he will be remembered for making an impact.
"It's something I wanted to do when I came here was leave a mark," Rattler said. "Like I said, as a team, we certainly have big games ahead of us, especially with this one coming up this Saturday. That was just a step for what we wanted to finish out like. It's definitely a blessing to leave a mark like that at this university."