Video Breakdown: 4-star DB Jalon Kilgore commits to South Carolina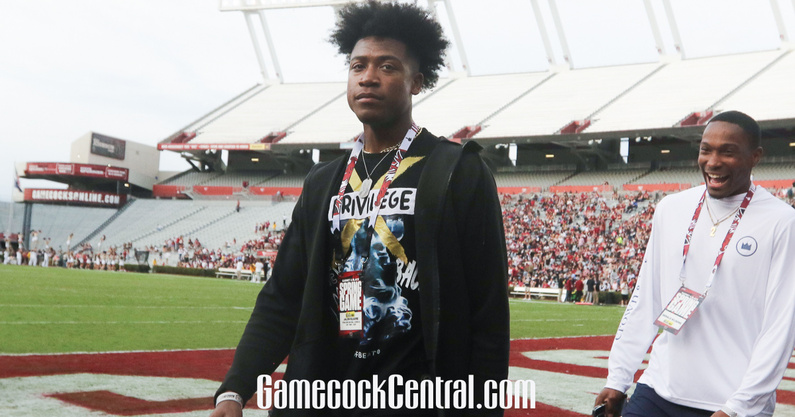 This past Sunday, South Carolina landed four new commitments. But of the four, only three of them went public that day.
Fortunately, we didn't have to wait long before that fourth commit went public because at six this evening, four-star defensive back Jalon Kilgore announced that he has committed to the Gamecocks.
Rated the 31st top safety in the nation for the class of 2023, this is a massive get for USC. The Georgia native chooses the Gamecocks over a long list of Power 5 schools including Clemson, Oklahoma, Florida and Ole Miss.
When Shane Beamer and this coaching staff arrived a year-and-a-half ago we heard a lot about how aggressive they would be when it came to recruiting. This is a prime example of that as South Carolina was the first Power 5 team in the land to offer Kilgore a scholarship.
Now it shouldn't come as a surprise that his commitment took place over the weekend when he was on campus for an official visit, marking his fourth overall visit to USC, including the day of the spring game in April.
This past weekend was the first of two major June official visit weekends for the Gamecocks. USC hosted 13 official visitors on campus on the weekend of June 17.
List of Gamecocks' official visitors from June 17
Four-star DL Kelby Collins
6 – 5 / 278
Gardendale (Gardendale, AL)
On3Consensus: 94.3 rating, No. 51 overall, No. 7 DL.
Four-star QB Dylan Lonergan
6-1 / 220
Brookwood (Snellville, GA)
On3Consensus: 93.0 rating, No. 82 overall, No. 8 QB.
Four-star WR Jaden Greathouse
6-2 / 219
Westlake (Austin, TX)
On3Consensus: 92.0 rating, No. 123 overall, No. 21 WR.
Four-star EDGE Desmond Umeozulu
6 -6 / 222
Charles Herbert Flowers (Upper Marlboro, MD)
On3Consensus: 91.2 rating, No. 163 overall, No. 22 EDGE.
Four-star EDGE Jaybron Harvey
6-2.5 / 215
Southern (Durham, NC)
On3Consensus: 90.60 rating, No. 212 overall, No. 26 EDGE.
Four-star RB Dontavius Braswell
5-11 / 190
Washington County (Sandersville, GA)
On3Consensus: 89.67 rating, No. 292 overall, No. 19 RB.
Four-star WR Carmelo Taylor
5-11 / 165
Patrick Henry (Roanoke, VA)
On3Consensus: 89.50 rating, No. 309 overall, No. 45 WR.
Four-star S Jalon Kilgore
6-1 / 190
Putnam County (Eatonton, GA)
On3Consensus: 89.00 rating, No. 370 overall, No. 31 S.
Four-star ATH/WR Kelton Henderson
6-0 / 180
Lehigh Senior (Fort Myers, FL)
On3Consensus: 88.90 rating, No. 380 overall, No. 20 ATH.
Three-star (On3 four-star) OL Oluwatosin Babalade
6-5 / 300
DeMatha Catholic (Hyattsville, MD)
On3Consensus: 87.67 rating, No. 523 overall, No. 37 OT.
Three-star TE Connor Cox
6-5 / 220 pounds
The Bolles School (Jacksonville, FL)
On3Consensus: 87.00 rating, No. 622 overall, No. 32 TE.
Three-star CB Braylon Johnson
6-0 / 167
Highland Springs (Highland Springs, VA)
On3Consensus: 85.50 rating, No. 836 overall, No. 69 S.
Three-star S Cameron Upshaw
6-2 / 165
Taylor County (Perry, FL)
On3Consensus: 84.67 rating, No. 962 overall, No. 81 S.