Video Breakdown: ATH Judge Collier commits to South Carolina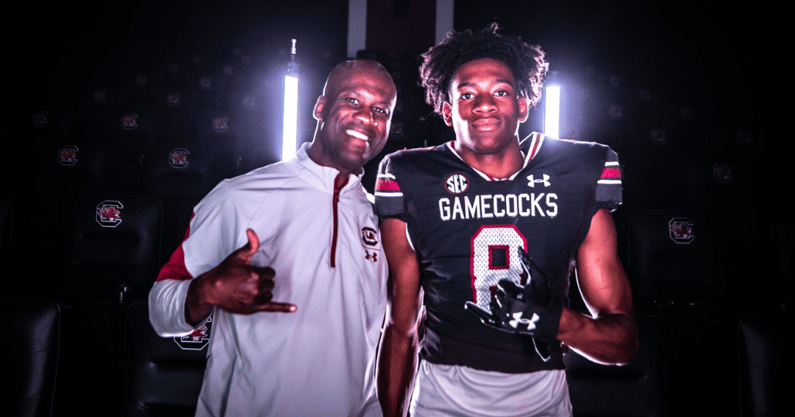 Just days after South Carolina landed four new commitments, Shane Beamer took to Twitter a little before noon on Wednesday to announce another "Welcome Home."
Three-star athlete Judge Collier from Football City USA, Rock Hill, SC, has committed to the Gamecocks. He becomes the seventh public commitment in the 2023 class and fifth since Sunday.
At 6-2, 192 pounds, Collier has played on both sides of the ball at Legion Collegiate but according to Gamecock Central recruiting insider Wes Mitchell, it's believed that Collier will play defensive back for the Gamecocks. Mitchell went on to add that Collier is expected back South Carolina's campus soon and is the type of in-state talent that USC should always take a long look at.
When evaluating his tape, what really stood out to me about Collier's tape is that he understands angles, recognizes route concepts and does a tremendous job of working back into phase when out of phase. What will help him see the field even quicker is his ability to make an impact on special teams as a gunner, something he's demonstrated both on kickoff and on punt return.
Last week was the first of two major June official visit weekends for the Gamecocks. USC hosted 13 official visitors on campus on the weekend of June 11.
South Carolina's in the midst of a fantastic recruiting stretch with seven commitments since Sunday, including one in the 2024 class. Before Collier's commitment the Gamecocks were the No. 31 class in teh country with two blue-chip prospects.
List of Gamecocks' official visitors from June 11
Four-star DL Kelby Collins
6 – 5 / 278
Gardendale (Gardendale, AL)
On3Consensus: 94.3 rating, No. 51 overall, No. 7 DL.
Four-star QB Dylan Lonergan
6-1 / 220
Brookwood (Snellville, GA)
On3Consensus: 93.0 rating, No. 82 overall, No. 8 QB.
Four-star WR Jaden Greathouse
6-2 / 219
Westlake (Austin, TX)
On3Consensus: 92.0 rating, No. 123 overall, No. 21 WR.
Four-star EDGE Desmond Umeozulu
6 -6 / 222
Charles Herbert Flowers (Upper Marlboro, MD)
On3Consensus: 91.2 rating, No. 163 overall, No. 22 EDGE.
Four-star EDGE Jaybron Harvey
6-2.5 / 215
Southern (Durham, NC)
On3Consensus: 90.60 rating, No. 212 overall, No. 26 EDGE.
Four-star RB Dontavius Braswell
5-11 / 190
Washington County (Sandersville, GA)
On3Consensus: 89.67 rating, No. 292 overall, No. 19 RB.
Four-star WR Carmelo Taylor
5-11 / 165
Patrick Henry (Roanoke, VA)
On3Consensus: 89.50 rating, No. 309 overall, No. 45 WR.
Four-star S Jalon Kilgore
6-1 / 190
Putnam County (Eatonton, GA)
On3Consensus: 89.00 rating, No. 370 overall, No. 31 S.
Four-star ATH/WR Kelton Henderson
6-0 / 180
Lehigh Senior (Fort Myers, FL)
On3Consensus: 88.90 rating, No. 380 overall, No. 20 ATH.
Three-star (On3 four-star) OL Oluwatosin Babalade
6-5 / 300
DeMatha Catholic (Hyattsville, MD)
On3Consensus: 87.67 rating, No. 523 overall, No. 37 OT.
Three-star TE Connor Cox
6-5 / 220 pounds
The Bolles School (Jacksonville, FL)
On3Consensus: 87.00 rating, No. 622 overall, No. 32 TE.
Three-star CB Braylon Johnson
6-0 / 167
Highland Springs (Highland Springs, VA)
On3Consensus: 85.50 rating, No. 836 overall, No. 69 S.
Three-star S Cameron Upshaw
6-2 / 165
Taylor County (Perry, FL)
On3Consensus: 84.67 rating, No. 962 overall, No. 81 S.