Video: Installation of new LED lights with garnet lighting capabilities underway at Williams-Brice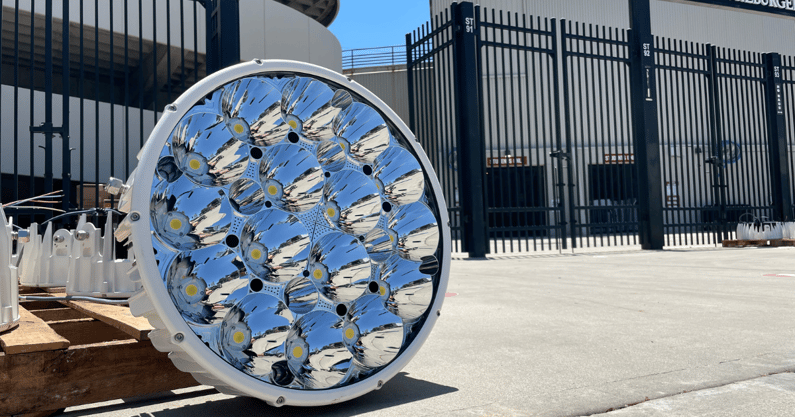 With just over three months to go until the kickoff to a new season of South Carolina football, the latest renovations at Williams-Brice Stadium are underway.
On Monday, workers began to bring down over 300 of the old lights of the home of the Gamecocks before replacing them with brand new state of the art LED stadium lights. According to Joe Corpai, project manager of Ephesus Cooper Lighting Solutions, his team will be installing just over 250 of those lights, which will have the capabilities to light Williams-Brice up garnet. As of Tuesday afternoon, the crew was still removing the old lights but are hoping that the project will be completed by the end of the week.
The LED stadium light upgrade is part of South Carolina's next phase in a series of renovations to Williams-Brice Stadium. In addition to the lights, the renovations include expansion of the west main concourse, new elevators and new ribbon boards throughout the stadium.
"We have a great home for football, but there are things that can be done to help modernize the stadium to create more excitement and a better fan experience," South Carolina Director of Athletics Ray Tanner said in a press release in October of 2021. "We have ambitious goals, and we're thankful that our Board is supportive of our initiatives so we can get started quickly.  When you consider we just did the largest stadium renovation ever in 2020 and now we are tackling ribbon boards, stadium lights, concourse expansion and new elevators, it's starting to make a big difference."
Discuss South Carolina football on The Insiders Forum!
---
GamecockCentral.com, now on the On3 Network, is your one-stop source for complete, in-depth coverage for South Carolina Gamecocks Athletics!
Click here to subscribe to Gamecock Central today with a 7-day free trial!
It's your risk-free opportunity to try – or retry – Gamecock Central.
** You can cancel or pause your membership online at any time of the day or night without going through the hurdles of emails, online chats, or calls to a customer service group.
If you're a current Gamecock Central subscriber and need help with anything or have any questions, please let us know: [email protected]