What Shane Beamer, players said previewing Clemson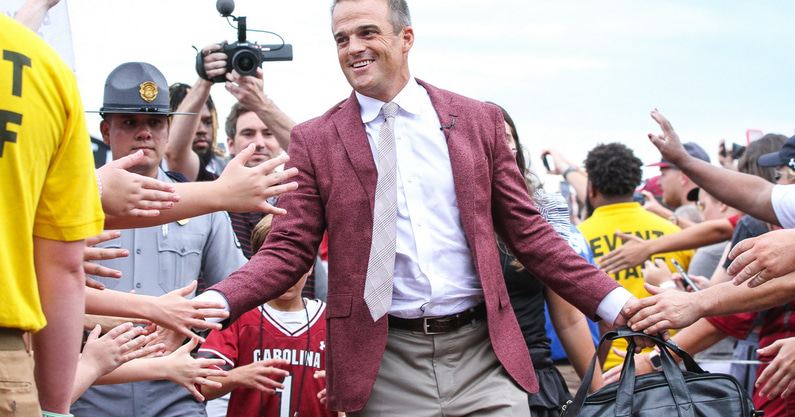 South Carolina held its weekly media availability with Shane Beamer and a host of players meeting with the media.
Here's what they had to say previewing Clemson and the annual rivalry week.
• Subscribe to Gamecock Central until the 2023 football season for only $10!
–Other than opening weekend, this is his favorite weekends of the year with all the rivalry games going on.
–Want to thank the fans for the amazing atmosphere Saturday but also for what they created "all season. To sell out every single Saturday home game." He watches as much college football as he can and sees a lot of empty seats and sees pregame walks that have very few people. Every single Gamecock Walk was "unreal." Said the atmosphere was awesome at each game and wants the fans to know they don't take it for granted. Saturday night was "very, very special." Said it was a "four-hour infomercial all things Gamecock athletics."
–Sends his thoughts to Hendon Hooker. Said he's a fantastic player and person. Pulling for him to recover better and stronger. Said his best football is ahead of him.
–Lloyd and CBS were out there today at practice. Hopefully, they respond the way they want/need them to. Optimistic they'll play. Lloyd and CBS both said they're playing this week. They'll need them to.
–Said they think Clemson is playing its best football. It's another 10-win year, another potential ACC title. They get everyone's best shot in the league and to get 10 wins is "remarkable." They're extremely talented, extremely well-coached. Said last week might have been their best week. Have dynamic receivers, veteran offensive line. That front seven might be the best they've faced this year. Have some weapons in the return game as well.
–Been blessed to be part of some iconic rivalries in his career but "this one is right at the top." Normal week for them. They'll practice in the morning. Will practice Tuesday, Wednesday and Thursday. They won't have to change their routine for this week. Mentions if guys can't get home some are going to coaches' houses.
–Followed this rivalry for a while, even growing up. You get into it as an assistant coach at South Carolina and realize how heated and passionate this rivalry can be.
–Said how they move forward is to "quit talking about it." He told Justin King to stop putting out Tennessee videos. Told him to get it out Sunday and Monday because when players get in the facilities it's full steam ahead. Didn't do a great job of that last year moving on from Auburn last year. Have to build on last week but it's about moving on. Whatever they did Saturday becomes even more special if they can go up to Clemson and win.
–Sees a lot of similarities in terms of Spencer Rattler and DJU and each battling adversity after being a very hyped recruit. The quarterback gets a lot of criticism. People criticize DJU and all he does is go out there and win 10 games this year. One of the better scoring offenses in the country. Seems DJU stays poised, similar to Rattler. Both are coming off really good games. Rattler was fantastic Saturday and been fantastic off the field since the "day he got here."
–Going for it on fourth down is a mix of gut feel and game plan. Analytics is prevalent in college football and they do pay attention to some of those when to go for it or not. They went for it and decided not to punt on fourth and manageable. Did that and wanted to be aggressive. Helps Satt to call plays too knowing if they go for it on fourth. Then the gut plays into it. Every game is different but "we always want to be different and attack."
–In terms of what the response has been like, said he hasn't been in the community really because he's been insulated with the facilities. Jokes Emily Beamer, his wife, got a standing ovation at pilates this week. His kids had a better day at school Monday. Said the win was special and rewarding but it's a week-to-week business.
–Asked what happened or changed offensively, said it's simple" they played really well. They didn't do wholesale changes but the game plan–both offensively and defensively–was a little smaller compared to previous games. They really narrowed down what they were doing. The less you do, the more looks you can rep against in practice. Then Rattler played "really, really, really well." It wasn't a lot of new plays. The last touchdown to Brooks was the exact same play they were criticized for running against Georgia on fourth down. Rattler throws behind him then and it's a bad play then executes on Saturday and it's a great call. Ran a little bit more DK Joyner but executed better top to bottom.
–If Rattler does leave for professional football, NFL teams are getting a hard worker, teammate and "unbelievable talent." He made some amazing throws against Tennessee that are even more impressive watching it again. NFL teams see that. He doesn't know when it'll be but when Rattler does opt for pro ball after South Carolina he has a great future.
–Hunter Beamer grew up a Dabo Swinney fan. There's a respect for him but Hunter doesn't like to lose so that interest has waned. Said Hunter and his youngest daughter are really competitive. Brandon Streeter knows the family really well (he and Beamer have known each other since high school).
–In terms of being able to run the ball against Clemson, that's "huge." Clemson is going to do its best to not let Rattler get comfortable and can do that with that front seven. Clemson is a "different level" compared to Tennessee from a disruptive stance. To help Rattler they have to run the ball.
–That 2010 game when they went up there and having the Antonio Allen pick-six was great. That was a "really cool night." They had just clinched the SEC East and still want to beat your rival. To do that in "pretty good fashion" was a good memory.
–In terms of having to go up there and win on the road, it's mental toughness. It's going to be a rocking environment and have to handle that road environment better. They laid an egg at Florida and can't do that this week.
–In terms of what can improve, said it's really about improving techniques and fundamentals. Said there were some bad protection and footwork on some run plays. Nothing "probably glaring when you play as well as we did" but it's the fundamental part of it. Had too many penalties and some pre-snap penalties. Can't have that at Clemson. Through nine games they weren't really penalized and in the last two games they went from fifth to the bottom. That's not like them. Have to clean that up.
–The portal opening up next week adds another layer for South Carolina. Also mentions the recruiting calendar is a little different where they don't go out on the road immediately after the final game. Said they'll spend that week after the Clemson game meeting with players. They'll be on the road a week later than last year. It can affect bowl prep. They've tried to prepare with the recruiting staff for that.
–Asked about Clemson turning it over a bit the last three games. Said that's something they've noticed and pay attention to but Clemson probably saying the same thing about South Carolina. One of the things he was proud of is they protected the ball against Tennessee. Said they see some potential fumble opportunities in tape and talk about in film sessions with the team. That's an emphasis for them.
–Wasn't anything new for South Carolina offensively, mostly just some plays where he was the hot read and first guy Rattler looked for.
• Get your 'Cocky Top' t-shirt from BreakingT!
–Did a lot of protection at ETSU but not a ton in the backfield. Said the coaching staff did a good job coaching it.
–Said you see what they're capable of when they execute. Have to approach things the same way.
–Clemson defensively, the front seven is really good. Every defensive lineman can be playing in the NFL. They play with a ton of intensity and South Carolina has to match that.
–Jaheim Bell runs really hard. He's 6-3, 230 and runs like a running back. He's very physical and passionate when he has the ball in his hands.
–Can't really focus on the spotlight. Have to go out and do your job. Have to "put the ball down and go play." It's the next game and opportunity no matter if you win or lose the last week.
–Called Rattler "unstoppable" last week. Said when you're seeing everything click, definitely gives them a confidence boost. Going to have to wash it.
–Team went for it on fourth early and showed some aggression from the staff. Called that a "tone-setter" for the rest of the game.
• Win a framed print of 'The Taunt' (D.J. Swearinger)
–Asked about special teams, when that unit is making plays and flipping the field it's big for "both sides of the ball."
–Going to be a crazy environment and looking forward to the opportunity to go up there. Trying to have a great week of practice and they're focusing on them.
–Have to celebrate those wins and be happy but when Monday and Tuesday come around have to refoucs and focus on themselves. Did some good but can clean things up.
–Called a good game and everyone was on the same page. That's what they are focused this week.
–Went through some camps coming up with DJU and had some of the similar struggles during their careers. Calls them a great player and does a lot of good things. Calls him "my guy."
–Asked about what was different Saturday, they lowered the personnel groups and didn't have as many guys in and out. Called plays and trusted it. It was simple stuff they repped throughout the week and they were rolling. It was fun.
–No signs in the facility about beating the Tigers, Clemson. Said it's all about South Carolina.
–Have to handle Clemson up front first and foremost. They'll do their best to handle them.
• Become a Garnet Trust member: Support and connect with USC student-athletes
–Asked about his future, said his focus is "on the next game or two" and not worried about what's next.
–That offensive line did great and protected him. Guys gave him time to throw and blocked for backs and did a "hell of a job." That kind of went unnoticed but that was the MVP of the game. They did a great job.
–Didn't back down from competition. He could have gone to a lesser conference but went to the SEC and won some big games. Wanted to improve in all areas and helped this program. Still going and that's "laser focused."
–Building that trust in preseason with Juice Wells and through these 10-11 games. Definitely one of the best receivers in the SEC.
–Said Terrell Owens and Archie Manning texted him. Mentions team has the spotlight on them again but they can't rest on comfort. Have to tune out the positivity and just get back to work.
–Calls this week just a "step to what we want."
–Juice and Rattler spent some time over the summer working with Rattler's trainer and personal coach. They made that chemistry closer and Wells is a "special dude."
–Thankful for his family, the situation he's in right now and "everybody in his circle."
–Team was really happy about the aggressive game plan. They operated essentially a down ahead. Converted two fourth downs in that game and definitely calms everyone down when you're operating knowing they're going a lot on fourth down.
–Happy for Satterfield but happy to go back to work and put a game plan together. Said they want to play for him because he goes all out for them.
–Said Beamer, Gray and White all talked to them about being on an island. For them to put that onus on them, it's a mentality of "let's go do it. We're corners for a reason."
• Subscribe (for free) to the Gamecock Central YouTube page!
–Having that kind of performance, they knew they were a tempo team and can't have any mistakes. That first drive they misfit a gap and led to a score. Just have to execute with those guys and aligned. They're a "great team, no doubt about it."
–With Emmanwori going out early, it's just next man up. Peyton Williams came in and played well. Just next man up.
–Clemson has a great group of receivers who can run afterwards.
–Calls this a "state championship." Complimentary of Clemson too saying the Tigers are a "great team" and they have 10 wins for a reason. Have to understand what you need to do to go out there and execute.
–DJU is a great passer and runner. Just about focusing on what they can do to stop him in both facets.
–Calls last year's loss a "devastating loss." Said they're a great team and they're going to run the ball and throw the ball.