What South Carolina fans can be thankful for this Thanksgiving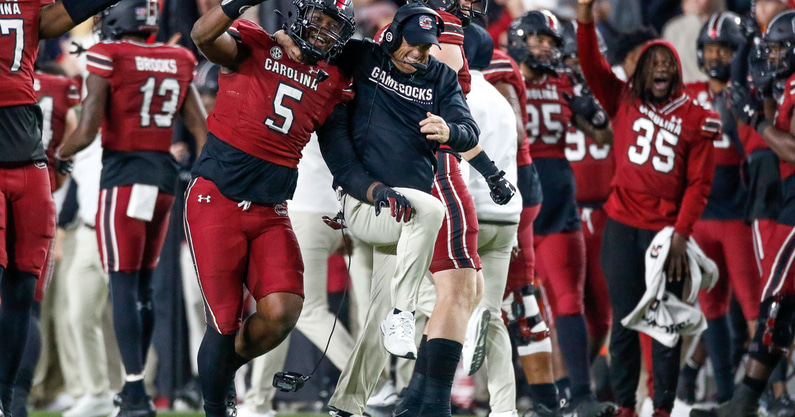 It's Thanksgiving and, while South Carolina is preparing for Clemson, fans can reflect on a few things Gamecock fans can be thankful for. 
Pete Lembo 
The Broyles Award semifinalist has turned the Gamecocks' special teams unit into arguably the best in the country. That unit has been elite in nearly every game and helped turn the tide in a few games. 
•Subscribe to Gamecock Central until the 2023 football season for only $10!
Lembo's helped develop Kai Kroeger into one of the best punters in the country and turned Mitch Jeter into one of the best placekickers in the league. South Carolina's had to rely on the special teams unit at times this year, and every time that unit has delivered. 
Give credit to Lembo for helping make that a massively important piece of what South Carolina does.
The Rattler-to-Wells connection
In the big offensive games this year, Rattler and Wells have combined a ton and have turned into a pretty reliable connection inside South Carolina's offense. 
Wells is just the sixth South Carolina receiver to have at least three games in a single season with 110 yards receiving on at least four catches. Rattler, obviously, is coming off one of the best passing performances in program history. 
When South Carolina's offense is clicking, those two are usually finding each other frequently. Enjoy that connection while it lasts, cause it might not be around forever. 
Williams-Brice lights
The biggest off-the-field addition for South Carolina this offseason, the Gamecocks have really utilized the new LED lights to their advantage. 
It's enhanced the Gamecocks' entrances–both 2001 and Sandstorm–and South Carolina's video team has set those to a few in-game videos as well. Not only do those things help the in-game atmosphere, it also helps in recruiting too. 
•Win a framed print of 'The Taunt' (D.J. Swearinger)
Having a better game day atmosphere is great for the fans but helps South Carolina, even more, sell that experience to recruits across the country. 
A few historic wins
It hasn't all been sunshine and rainbows for the Gamecocks this season. A home loss to Missouri and getting blown out at Florida aren't things to write home about. But the Gamecocks have a few landmark victories this season in year two under Shane Beamer. 
South Carolina went up to Kentucky and beat a then-ranked Wildcats team for the program's first win in Lexington in a decade. The Gamecocks followed that up with the first win over Texas A&M ever.
•Become a Garnet Trust member: Support and connect with USC student-athletes
The cherry on top, before the Clemson game, was the Gamecocks upsetting then-No. 5 Tenessee in blowout fashion. It's the team's second win over an AP top-five team over the last four seasons. 
There have certainly been frustrations this year, those are wins to hang a hat on at the end of the year.