A closer look at Tennessee's recruiting connections in the state of Florida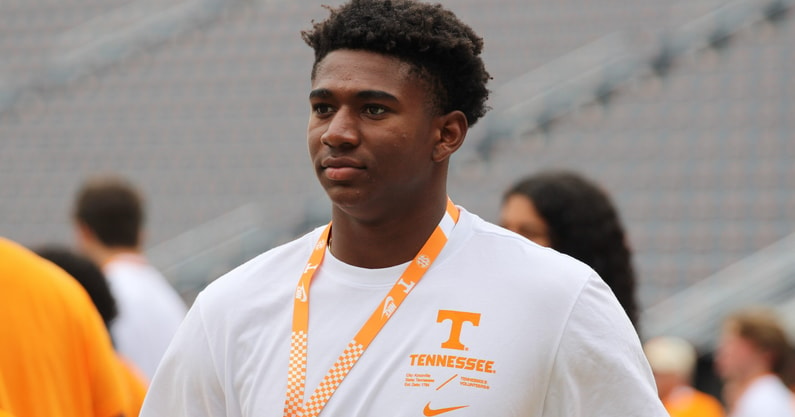 No. 11 Tennessee (2-0) will travel to Florida (1-1) on Saturday for another installment of one of the best rivalries in the SEC. The two teams have battled it out on the gridiron 52 total times. While Saturday will provide another on-field chapter, the two are frequent competitors off the field on the recruiting front. Volquest takes a look at current Vols from the Sunshine State, some notable VFLs to leave the state and head to Rocky Top, and the status of the two teams going head to head on the trail in this recruiting cycle.
A look at current Vols from the state of Florida
The state of Florida is a long-standing recruiting hotbed, and when Tennessee shows up to Gainesville on Saturday, they will have five former Sunshine State prospects on the roster. Three of those players, quarterback Joe Milton III, offensive tackle John Campbell, and offensive tackle Gerald Mincey all made their way to Knoxville via the transfer portal. All three will play meaningful snaps on Saturday for Tennessee. 
Elsewhere, offensive tackle Brian Grant and cornerback De'Shawn Rucker signed with Tennessee out of high school. Both are current reserve guys for Tennessee. 
Five Notable VFLs from the state of Florida
Note: This does not include all Vols to come from the state.
QB Tony Robinson
Robinson had an all-SEC season in 1984, and he had am overall productive career during his time on Rocky Top. Robinson completed 253 passes for 3,332 yards and 23 touchdowns. He added four rushing touchdowns during his career. 
RB Travis Henry
Henry's career total 3,078 yards is still good for Tennessee's all-time rushing record. He was vital during the Vols 1998 national championship run as he emerged after an injury to star running back Jamal Lewis. Henry rushed for over 100 yards on 15 occasions. He tallied 26 career rushing touchdowns. Henry spent multiple seasons in the NFL after being drafted in the second round by the Buffalo Bills in the 2001 NFL Draft. He earned a Pro Bowl selection in 2002. 
WR Alvin Harper
Harper caught 102 passes for over 1500 yards and 16 touchdowns as a Vol. He was drafted by the Cowboys with the 12th pick in 1991. He was productive as a pro, hauling in 191 passes for 3,473 yards and 21 touchdowns. 
LB Curt Magitt
When healhy, Magitt was productive during his time on Rocky Top. He recorded 141 total tackles, including 28.5 for loss and 13.5 sacks. Magitt was voted to the Freshman All-SEC team by the league's coaches in 2011. He earned second-team all-conference in 2015. 
LB Steve Kiner
Kiner was a star for the Vols during his time on Rocky Top. Kiner was a selected as All-SEC and All-American in 1968 and 1969. He was voted the SEC Defensive Player of the Year in 1969. Kiner went on to play in the NFL from 1970-78. He played in 114 games in the league. 
Tennessee-Florida head-to-head on the trail in the 2024 cycle
Tennessee and Florida are frequent competitors on the recruiting trail. This cycle, there has not been as much action, but the two teams have still squared off on occasion. 
Four-star DL Amaris Williams
Williams committed to the Gators in June, just one week before he was expected to take an official visit to Tennessee. While he remains committed to Florida, Tennessee continues to work in this recruitment, and Williams tells Volquest, he will most likely visit Knoxville at some point this fall. 
Four-star TE Jonathan Echols
Echols committed to Tennessee in July of 2022, and he has remained committed since. But Florida worked to make that difficult. The Gators hosted the four-star on an official visit and tried to flip him, but after returning to Knoxville later in June, Echols shut his recruitment down and remains firmly locked in with Tennessee. 
Four-star TE Amir Jackson
Tennessee wants to add two tight ends in this class, and they took a deep look at Amir Jackson over the summer. He made his way to campus at the end of May for 865Live, but he took an official visit to Gainesville just shortly thereafter, and the Gators locked him down before he was able to return to Tennessee. 
Four-star EDGE Jordan Ross
Florida had all of the momentum for the elite EDGE at one point, but Tennessee stayed steady and played the long game to land the standout prospect from the state of Alabama. Ross visited both schools on official visits in June. He announced his decision to choose Tennessee in August.