Four quick takes on a wild one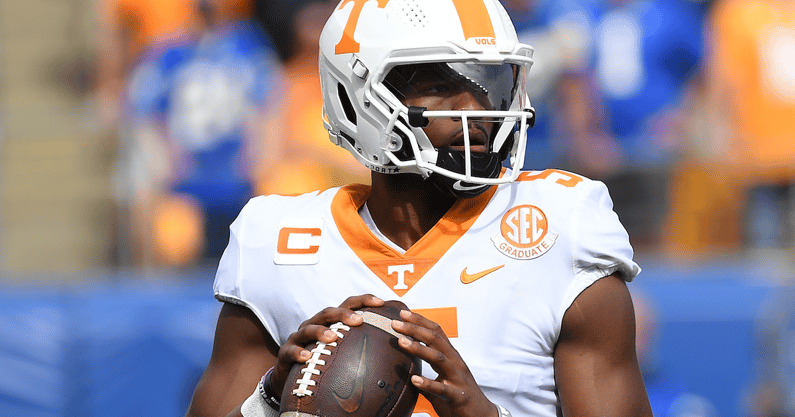 It was a wild one in Pittsburgh today but Tennessee managed to escape with a 34-27 win. Here are four quick takes on Tennessee's first win over a ranked opponent on the road since 2006.
1 — Survived a disaster start — Tennessee showed some resiliency today, weathering a brutal start in the first quarter. The Vols didn't look ready to play early and were fortunate to not find themselves down worst than 10-0.
Tennessee went three and out on its first two drives and just didn't look in sync early on. The normally reliable Hendon Hooker was a little off in the early going with some overthrows and Pitt's front seven looked a little salty
The Panthers offense hit the ground running with 10 points on its first two possessions, highlighted by a 76 yard touchdown run from Israel Abankanda.
Pitt was threatening to make it 17-0 before Trevon Flowers made the biggest play of his career, intercepting a tipped pass in the back of the end zone after Pitt had reached the Vols' 21 yard line on its third possession.
That play was a game changer.
Tennessee took advantage of the turnover by putting together a 10 play 80 yard touchdown drive that cut the lead to 10-7 and totally changed the complexion of the game.
The Vols definitely weren't out of the woods yet, Pitt would extend its lead to 17-7 on the ensuing possession but the offense started to get on track in its final possession of the first quarter.
In hindsight, the Vols' ability to force a field goal after Pitt reached the Tennessee 12 yard line on their second possession was big.
2 — Second quarter surge — It was an uneven afternoon for Tennessee on both sides of the football, but they did enough things right in the second quarter that they were able to escape with a win. That's somewhat ironic given the well documented struggles the Vols had in the second quarter in 2021.
Hooker was 5-of-7 passing for 116 yards in the quarter and hooked up with Cedric Tillman on a 52 yard bomb that set up one score.
Tennessee ran 17 plays in the quarter and scored 17 points. Not a bad percentage. The Vols turned a 17-7 deficit with with 13:25 left in the half into a 24-17 halftime lead.
After a very rough start to the game the defense got off the field on three straight possessions, including a fourth down stop after Pitt had reached the Tennessee 27.
That second quarter is a credit to Josh Heupel and his staff. Very little went Tennessee's way in the first quarter, and on the road it can be tough to get things headed in the other direction after that kind of start.
The Vols didn't rattle though and after that second quarter they had control of the game going into halftime. Now, what they did in the third quarter is another story, squandering a couple of chances to put the thing away, but thanks to the second quarter they had enough cushion to head back to Knoxville with a win.
Tennessee's struggles in the second half, when they managed just three points in the second half, only served to highlight how big those 17 second quarter points were
3 — Defense is going to drive some fans nuts — I will give Tennessee's defense a big tip of the cap after that one today. Things couldn't have started much worse than they did, but the Vols regrouped and did enough to win.
Pitt's first three drives all went deep into Tennessee territory and the Vols were fortunate that those drives resulted in just 10 points.
The second quarter didn't start much better when Pitt tight end Gavin Bartholomew went 57 yards for a touchdown, hurtling a Tennessee defender in the process, to put the Panthers up 17-7.
The Vols responded though, running off 17 unanswered points to take a 24-17 lead into the half.
After Bartholomew's touchdown Pitt had three more possessions in the second quarter. In those three possessions the Vols had a stop on 4th & 3 from their own 27; forced a punt and on the final possession of the half got a strip sack from Tyler Baron that resulted in a field goal and a seven point halftime lead.
All told in the first half Pitt went for 281 yards of total offense, yet thanks to two forced turnovers the Vols led by seven at the half.
Another big plus for the defense was the pressure they were able to put on Kedon Slovis. The Vols had two packs in the first half but got to Slovis many more times than that and put some big hits on him. Slovis didn't return to the game in the second half after Baron slung him to the turf late in the second quarter.
Tennessee still needs to do a better job in getting home with four pass rushers but it was a nice bounce back after not coming up with a sack in week one.
Tyler Baron showed up all day long. He recorded one big sack but created a lot of pressure.
Tennessee finished with four sacks on the day.
4 — Quick hits — There were a ton of big plays on both sides today but none was bigger than Trevon Flowers sacking Nick Patti for a loss of 12 yards in overtime, forcing Pitt to go for it on 4th and goal from their 21.
Big day for Cedric Tillman with nine catches for 162 yards and a score. Could have been an enormous day but Tillman had a drop on what would have been another long touchdown catch.
Jalin Hyatt had himself a day with a career high 11 catches that resulted in 77 yards.
Hooker now owns the Tennessee school record with 167 pass attempts without an interception.
Incredibly bad day for the Vols' special teams. They had a punt blocked in the third quarter and then Trevon Flowers had a muff and a fumble on a punt return that Pitt recovered on the Vols' 39 yard line.
Big kick from Chase McGrath with a career long 51 yard field goal to give Tennessee a seven point lead with 8:57 left in the game.
Huge play by Bru McCoy on the Vols' first possession of the fourth quarter when on 3rd & 8 he caught a ball short of the sticks and fought for extra yardage to pick up the first down and keep the drive alive.
Tough day for the offensive line. Tennessee never ran the ball with any consistency, finishing with 91 yards on 35 carries and Hooker was frequently under pressure. He was sacked three times and flushed from the pocket on numerous occasions.
On first watch seemed like Kamal Hadden did a nice job in his first start. He was second on the team with seven tackles and had a pass break up.
Aaron Beasley had a second straight nice game, notching a team high 14 tackles.
Tennessee tipped as many passes today as I can remember in a game. Jeremy Banks got his hands on a couple. Omari Thomas also had at least two deflections.
After throwing completions to seven different receivers last week Huepel and Alex Golesh reverted to their 2021 form, severely shortening the rotation.
Only the three starting wideouts; McCoy, Cedric Tillman and Jalin Hyatt caught balls against the Panthers.
Tennessee got a huge break early in the fourth quarter with Pitt facing 2nd and goal from the Vols' five yard line. Panthers' wideout Jarred Wayne was called for holding on a quarterback scramble, a penalty that backed Pitt up outside the 10 yard line. Just a boneheaded play that essentially took four points off the board when Pitt was forced to kick a field goal two plays later.
Tennessee benefitted from two huge replay reviews today. One negated a Pitt interception at the end of the first half and the Vols would kick a field goal two plays later. In overtime a play that was ruled a catch on the field was overturned on replay taking away a first down.