Tennessee linked to Indiana State in updated D1 Baseball, Baseball America regional projections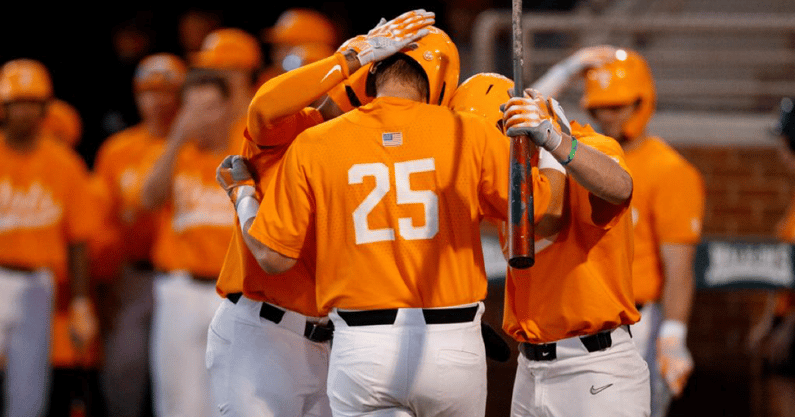 Tennessee baseball remains as a No. 2 seed in the latest D1 Baseball Field of 64 Projections, released Thursday morning. Though the Vols stay on the two-line, the destination has changed since earlier in the week as Tennessee is now projected to the Terre Haute regional with host Indiana State.  
D1 Baseball plans to release daily projections leading up to Selection Monday. Conference tournaments are going on all around the country as we speak, thus there could be a lot of movements over the next four days.
Though Tennessee was one-and-done in Hoover at the SEC Baseball Tournament, three contending teams from the Big 12 have not done themselves any favors. The top-eight seeds look to have some finality to them, but seeds 9-16 is very much in the air.
D1 Baseball tabbed Tennessee as the 2-seed in Coral Gables on Monday of this week. As of Thursday, however, the destination has changed to Terre Haute, Ind. With host Indiana State (1), UC Irvine (3) and Wright State (4). The Vols would be the second seed in this exercise and act as the highest-ranking 2-seed in the field, projected to the lowest-ranked host site.
The Terre Haute regional is paired with Wake Forest (1) and the Winston-Salem regional for Supers. Worth noting, UC Irving is on the 'Last Four In' list and would be Tennessee first opponent in this regional setup.
The publication still boasts Wake Forest (1), Florida (2), Arkansas (3), LSU (4), Clemson (5), Stanford (6), Vanderbilt (7) and Virginia (8). Seeds 9-16 are Coastal Carolina (9), Auburn (10), Alabama (11), Kentucky (12), Miami (13), Boston College (14), South Carolina (15) and Indiana State (16) as of Thursday.
Baseball America also has Tennessee Terre Haute bound
Baseball America also has Tennessee projected to the Terre Haute Regional in Thursdays update. It's once again the highest 2-seed in the field, as it's linked to the lowest-rated host site in Indiana State. The difference between this model and that of D1 Baseball is that the Vols would be squaring off with Iowa (3) instead of UC Irving. Indiana State (1), the Vols and Wright State (4) remain consistent with that of D1 Baseball's.
Tennessee's region (Terre Haute) is once again paired with Winston-Salem with top-seeded Wake Forest, Campbell (2), UNC Wilmington (3) and Saint Louis (4).
Baseball America has the same top-eight seeds, though Clemson and Stanford are flipped at seeds five and six. Coastal Carolina (9), Kentucky (10), Miami (11), Auburn (12), South Carolina (13), Alabama (14) and Boston College (15) rounded out the rest of the field.
The Vols had hosting implications on their shoulders entering the week of play, but a 3-0 shutout loss to Texas A&M in the opening round of the SEC Tournament likely negated any chance. Tennessee slipped down to No. 24 in the RPI following the loss but has since moved back up three spots to No. 21.
Every team will learn their fate once conference tournaments conclude when Selection Monday airs on May 29 (ESPN 2) at noon eastern time.