Josh Heupel's approach unwavering as the focus of college football is on Rocky Top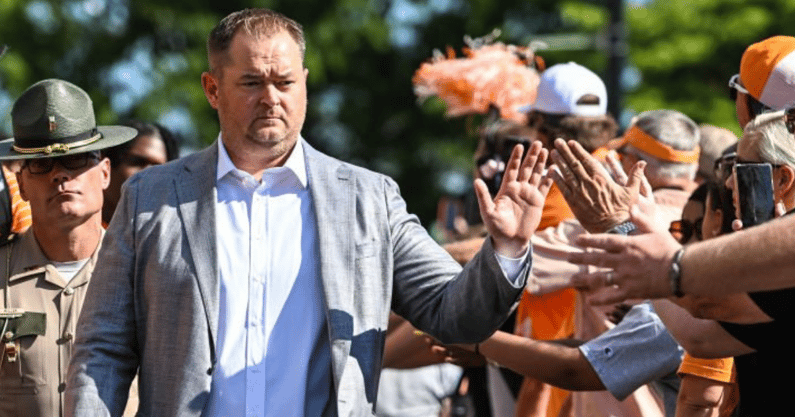 Tennessee has been the darling team all week in the match up versus Florida. The Vols are heavy favorites and it seems everyone expects the Vols to win. 
Thursday when I did SportsTalk with John Wilkerson and Jimmy Hyams, one caller asked me to talk him off the ledge of the Vols losing because of the history of this series. Another suggested there's no reason Tennessee shouldn't be a three touchdown favorite. 
Both were dead serious and kind of sums things up for the Vol fans. I'm in the gotta see it to believe it camp. Rob Lewis is in the Vols cruise camp. 
None of us have a say in anything that happens on Saturday, which is what makes Josh Heupel's mindset with his team this week a story. He doesn't care what anyone thinks and isn't hiding himself or his team from any of chatter or 'rat poison' as a couple of SEC coaches like to call it. 
Heupel has been no different this week than he was Pittsburgh week despite his team dealing with injuries. In fact, I would say Heupel was more worked up last week ahead of the Akron game than he has been this week. 
And maybe it's just a quarterback thing. Former Tennessee quarterback Casey Clausen, who beat Florida twice at Florida, said Sunday night on the Rocky Top Rewind, the approach to big games is simple. Just play. 
"I think the key thing is just play the game. They put on their helmets just like we put on our helmets. That was a line back in the day because Florida had our number. At the end of the day it's whichever team makes more plays. Take the coaches out of it. Take the schemes out of it, whichever team makes the most plays is going to win," Clausen said. 
The Vols head coach, who played in his fair share of big rivalry games as an Oklahoma quarterback, has delivered that message clearly to his team in part simply by normalcy. Heupel feels there's really no other option. There's no hiding from the prognostications. There's no hiding from the spotlight. In other words, just embrace the moment and go play. 
"Because it is impossible to block out the noise in today's world," Heupel offered when asked about his approach. "It is absolutely impossible. So, they are going to see it and hear it. You can't let it affect what matters, which is the preparation. Everybody is going to want to win on game day. You have to do what it takes to win. I think that is important. Our kids should be, and are excited about this one. It is always big when we play Florida. So, embrace that at the beginning of the week, and then be consistent. If you guys were out at practice, you know the energy. You have heard me speak, it is not a whole lot different. We are business-like in our approach. Our kids have a much better understanding of how to prepare, and now we have to finish it and go play."
Heupel and his staff have changed nothing about the week. They haven't limited media interviews. They haven't messed with their routines. The approach is simply, it's game four on the schedule. 
That's no slight on Florida at all, but it's Heupel's way of trying to make sure the moment is not too big. 
"I don't believe that," Heupel said when asked if his team had a mental hurdle about this game. "Each week is different, each day is different, each season is. For us, we're however many months into our program, right here right now, and our kids are extremely confident, as they should be. They prepare the right way, they work hard, we have continued to grow. They know that the preparation is going to be the most important thing. It is going to be a great atmosphere. We have got to be able to control our emotions during the course of the football game but compete and not go up and down during the course of the game."
It's a match up that has many brimming with confidence and others simply scared from the past, but for those between the white lines a match up that's next on the list, it just happens to be one where the college football world is watching.