How it Happened: Vols ease by Bulldogs for 10-0 home-opener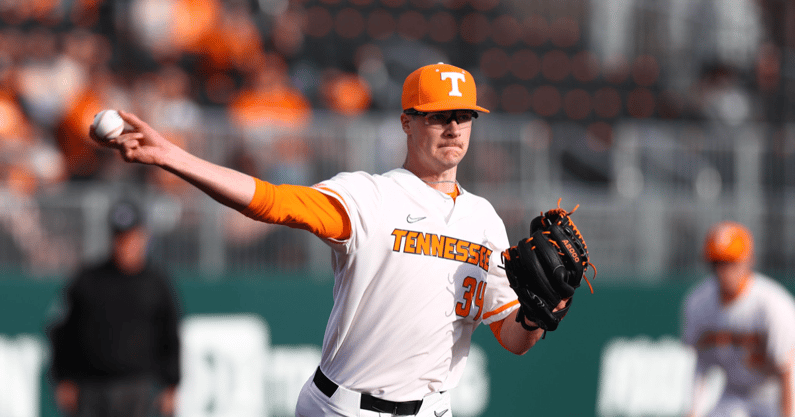 Tennessee wasted no time with fireworks at the home ballpark, walking it off over Alabama A&M 10-0 in run-rule fashion thanks to a two-run homer from Ryan Miller.
The Vols scored 10 runs off 10 hits in the outing while the Bulldogs were held to just three hits on the night, leaving seven men on base.
These two teams will be at it again Wednesday for another 4:30 pm ET first pitch. Find out how it all happened Tuesday evening below.
Alabama A&M was not in the 2022 NCAA postseason picture, finishing 14-35 overall on the year with a 10-20 mark in Southwestern Athletic Conference play. The Bulldogs were picked to finish fifth this season in the SWAC Eastern Division and received no preseason all-conference accolades.  
Scoring Summary / Game summary
Bottom 1st: Jared Dickey reached on an infield single. Christian Moore doubled to left, putting runners at second and third with no outs. Blake Burke walked to load the bases. Griffin Merritt flied out to shallow right-center. Zane Denton flied out to shallow-right field, brings in Dickey from third. Moore and Burke moved up 90 feet. Play went under review and concluded Dickey was out at the plate. Double-play ends the inning.
0 R, 2 H, 0 E, 2 LOB
Bottom 3rd: Jared Dickey led off with a double into the right field corner. Christian Moore walked. Blake Burke followed with a three-run home run to dead center field. Griffin Merritt flew out to shallow center field. Zane Denton grounded out. Cal Stark flew out.
3 R, 2 H, 0 E, 0 LOB
Top 4th: Chevalier Dorris walked and then stole second base. Jared Tribett walked. Jake Fitzgibbons then rebounded by striking out two and inducing a popout right in front of home plate to escape the jam.
0 R, 0 H, 0 E, 2 LOB
Bottom 5th: Jared Dickey walked to first, leading off the frame. Christian Moore struck out. Blake Burke singled to right on a hit-and-run and Dickey made it to third base. Burke was then caught in a rundown between first and second, allowing Dickey to score from third base. Everyone was safe. Griffin Merritt was hit by a pitch. Burke advanced to third on a wild pitch. Zane Denton grounded out at first, scored Burke form third. Cal Stark grounded out to third to end the inning.
2 Runs, 1 Hit, 0 Errors, 1 LOB
Bottom 6th: Kavares Tears pinched hit for Austen Jaslove for his first career at-bat and doubled int the gap in right-center field. He made his way over to third base on a Christian Scott groundout and then came home on the two-run blast off the bat of Jared Dickey. Logan Chambers (pinch-hit) walked. Ethan Payne (pinch-hit) doubles to center field, scoring Chambers. Griffin Merritt lined out to short to end the frame.  
3 Runs, 3 Hits, 0 Errors, 1 LOB
Bottom 8th: Reese Chapman led off the inning with a walk, advanced to second base on a wild pitch and then came around to score on Ryan Miller's pinch-hit two-run home run that won the game.
Postgame Video
The Final Stats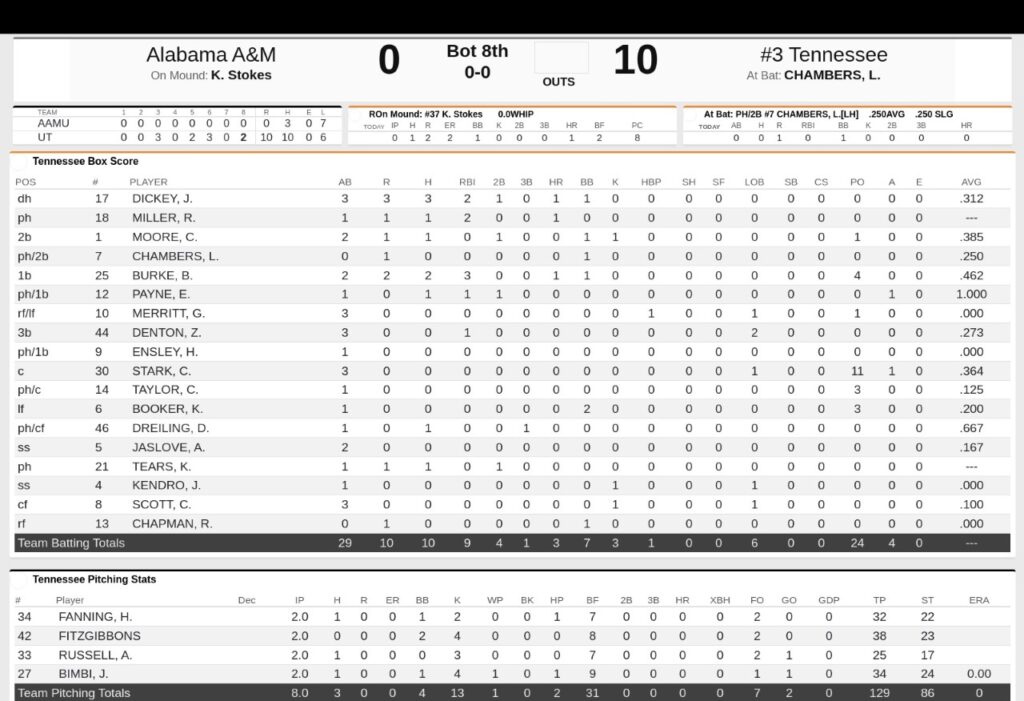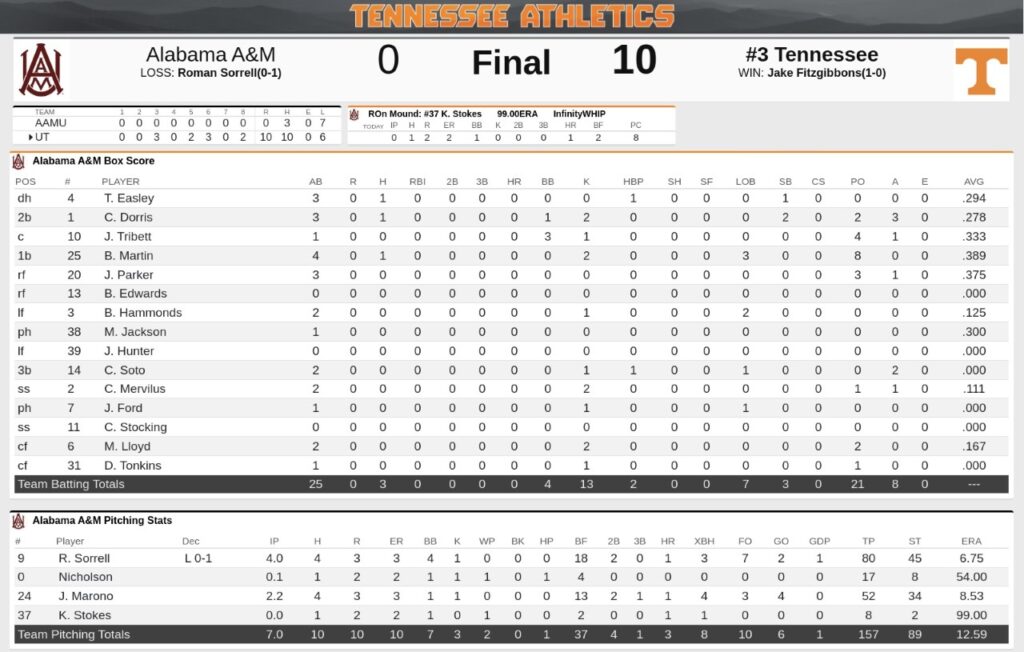 Tennessee in the polls this week
D1 Baseball – No. 3
Perfect Game – No. 5
Baseball America – No. 6
Collegiate Baseball – No. 11
NCBWA – No. 11
Tennessee's game schedule this week
Tuesday: No. 3 Tennessee 10, Alabama A&M 0 | 8 innings
Wednesday: No. 3 Tennessee vs. Alabama A&M | 4:30 pm ET | SEC Network+
Friday: No. 3 Tennessee vs. Dayton | 4:30 pm ET | SEC Network+
Saturday: No. 3 Tennessee vs. Dayton | 2 pm ET | SEC Network+
Sunday: No. 3 Tennessee vs. Dayton | 1 pm ET | SEC Network+