'They just have to go play like it': Despite SEC Tournament loss, Tennessee still 'an Omaha team'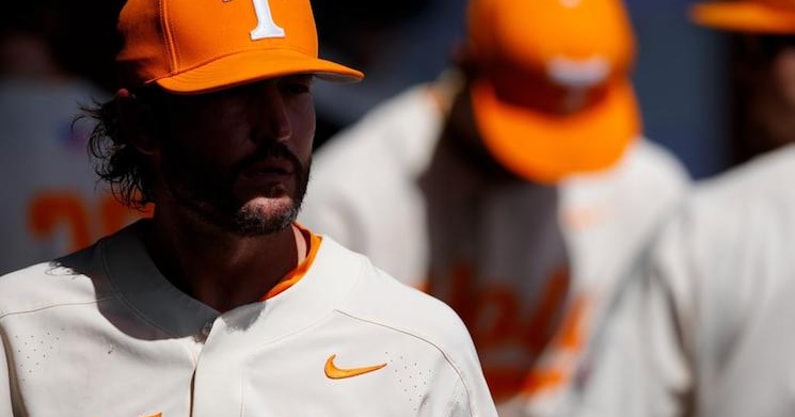 Jim Schlossnagle's Texas A&M baseball team made quick work of Tennessee on Tuesday in Hoover, sending the Vols home from the SEC Tournament with a one-hit shutout, winning 3-0 in the first round in Hoover.
Still, he said he believes big things could still be in store for Tennessee as the college baseball postseason continues.
"I have a lot of respect for Tennessee," Schlossnagle said during his postgame press conference on Tuesday. "They're an aggressive swinging team. I think the general game plan, they can really hit against anybody, but their numbers are a lot better, especially their extra base hit numbers are a lot better against right-handed pitching than they are against left-handed pitching, even the right-handed hitters.
"This is certainly a different ballpark and different environment than their ballpark. That's not to say they can't beat our rear ends. That's an Omaha team. It's an Omaha team. They just have to go play like it."
Texas A&M sent Tennessee home from SEC Tournament with one-hit shutout
A&M starter Troy Wansing went eight innings against Tennessee, giving up just one hit and striking out seven before a two-hour rain delay stopped the game late. Evan Aschenbeck pitched a perfect ninth to end it for the Aggies after the lengthy stoppage in play.
The only hit for Tennessee came from Christian Scott. Maui Ahuna was 0-for-4 while the other seven Vols in the lineup went 0-for-3. Scott finished 1-for-3.
"It was outstanding pitching," Schlossnagle said, "but also we had some things go our way today for sure."
Former Tennessee coach Dave Serrano not only agrees with Schlossnagle but was willing to take it even further when he called into Josh & Swain on Tuesday in Knoxville, before the 3-0 loss to the Aggies. 
"I said a month ago to the people close around me that I felt Tennessee was the team that was going to win it all," Serrano said. 
Then he laid out his reasons. Tennessee had a special season last year, winning a program record 57 games, an SEC championship and earning the No. 1 overall seed in the NCAA Tournament.
"Those (seasons) don't come along very often," Serrano said.
While this Tennessee team has struggled to establish consistency in multiple areas, Serrano pointed to the 2003 and 2004 Cal State Fullerton teams, back when he was the pitching coach and recruiting coordinator for the Titans.
"In 2003, that was our best team," Serrano said, "and we fell short of winning a national championship. We got back to Omaha in 2004 with a good team, but not as great of a team, and we won it all. That year we started 13-15 and there was a lot of doubters, just like there's been a lot of doubters in this (Tennessee) fanbase, (asking) what's going on with this team."
Dave Serrano: 'I would not want to be a team that matches up against Tennessee in a regional, super regional or in Omaha'
Tennessee dropped its first two games of the season, against Arizona and Grand Canyon, and started 5-10 in SEC play, including getting swept at Missouri to start the conference schedule.
The Vols rebounded by going 11-4 over their final 15 SEC games during the regular season, picking up series wins over Vanderbilt, Mississippi State, Kentucky and South Carolina.
"I just think it took some time for this team to come together," Serrano said. "They had a lot of talented transfers and I think what we're seeing now, with the way (Chase) Dollander pitched on Saturday (at South Carolina), it was dominant. 
"It was probably his best outing of the year, even though that was the game they ended up losing because (Chase) Burns had a little bit of a hiccup coming out of the bullpen, which is unusual. But I just think there are so many things clicking."
Tennessee likely won't host an NCAA Tournament Regional like it did the last two seasons, but the Vols are still projected as a No. 2 seed in regional play. 
Both Baseball America and D1Baseabll has Tennessee as the No. 2 seed in the Indiana State regional, with Indiana State as the 16th overall seed in the field and the lowest-seeded team hosting. 
"In my opinion, I've seen everybody around the country this year," Serrano said, "and I just think when it comes to tournament time, I think Tennessee is going to be very tough to beat. And in my opinion, and I'm not being biased, in my opinion they're going to be the last team standing … you look where they're at now, I would not want to be a team that matches up against Tennessee in a regional, super regional or in Omaha."