Tennessee seniors have decision to make on extra year of eligibility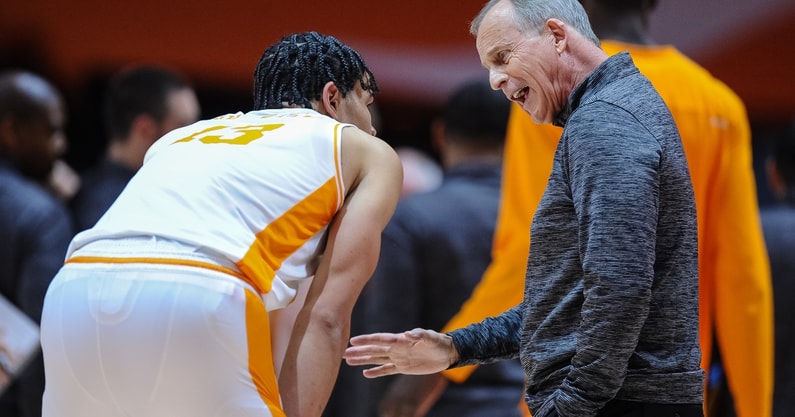 Tennessee basketball will honor five seniors at midcourt at Thompson-Boling Arena Tuesday night. But even after the Vols wrap up the home schedule against Arkansas, Josiah-Jordan James, Santiago Vescovi, Olivier Nkamhoua and Uros Plavsic will have decisions to make.
The four all have a remaining year of eligibility dating back to the COVID season — the only exception is gradate-transfer shooting guard Tyreke Key — and could return to Tennessee for a fifth year should they chose to do so. 
Those conversations aren't taking place right now. 
At the moment, No. 12 Tennessee (21-8, 10-6 SEC) has too much left to play for, staring with the Senior Night matchup against Arkansas (19-10, 8-8) on Tuesday (9 p.m. Eastern Time; ESPN2).
"I think what those guys want to do right now is win," Tennessee coach Rick Barnes said before practice on Monday. "They understand this time of year, because they've been through it more than anybody, these next couple weeks, how important they are and how it's such a fine line between winning and losing.
"But I don't think their thoughts are anywhere besides trying to make this basketball team the best it can be with what we have left."
Four senior Vols have extra year of eligibility remaining
The regular-season schedule ends Saturday afternoon at Auburn, with Tennessee, currently fourth in the SEC standings, looking to secure a top-four finish and a double-bye in the SEC Tournament. 
The Vols are projected as a No. 3 seed in the NCAA Tournament as a top-ten overall seed according to the latest bracketology update from ESPN.
When all that is in the rearview mirror, and the dust has settled on the 2022-23 season, the conversations about what's next will happen.
"There will come a time for that," Barnes said. "There will be. Right now, I don't think, and again I've said to you before, this team has been resilient. This team has shown some real maturity in some difficult times when it's tough obviously. 
"The fact is there's a time for all that and right now the time is that we still have basketball games to play here over the next couple weeks and we hope we can string it out as long as we can."
James was a five-star prospect in the 2019 recruiting cycle, picking Tennessee over Duke and Clemson and giving Barnes his first five-star signee as head coach of the Vols. He has averaged 8.9 points, 5.8 rebounds and 2.1 assists in 101 career games at Tennessee.
James said last week that he was keeping the option open to return to the Vols, while also planning to go through NBA Draft workouts.
"I'm not shutting that door on the potential of coming back for a fifth year next year," James said during a speaking engagement at the Big Orange Tip-Off Club in Knoxville. "But after the season, I'll go do pre-draft workouts. I wasn't able to do it last year because I had to have knee surgery, just a small scope, that actually lingered to the beginning of this year."
Vescovi joined Tennessee midseason in 2019-20, was starting for the Vols a week after arriving on campus and has been a staple in the lineup ever since. He's averaged 11.4 points, 4.1 rebounds and 3.2 assists over 107 games. He hit 102 3-point shots last season, becoming only the second Tennessee player to do so, joining Chris Lofton. 
Nkamhoua was a three-star prospect in the 2019 class and Plavsic was a four-star center, signing with Arizona State before transferring to Tennessee. Nkamhoua has averaged 6.2 points and 3.7 points in 105 games while Plavsic has averaged 3.7 points and 2.9 rebounds in 94 games.
Up Next: No. 12 Tennessee vs. Arkansas, Tuesday, 9 p.m. ET, ESPN2
"You think about it, it was a transition class," Barnes said … "those guys came in and a bunch of them had to be thrust out there right from the beginning to perform at a high level in this league … they had to come in and deal with not only trying to keep us continue what we were doing but trying to get it to another level and knowing that the league itself was better."
Tennessee finished 17-14 in 2019-20, when the current senior class were freshmen. The Vols won 18 games in 2020-21, during the COVID season, then went 27-8 last season, winning an SEC Tournament championship for the first time since 1979. 
"They've all had to deal with some adversity along the way," Barnes said. "Some injuries here, there, other things. They've stuck together and think they have a great deal of respect for themselves as a team and teammates. I do know this, they have fallen in love with the University of Tennessee and Vol Nation. 
"The good things people should be saying about them is more than worthy to be said because they love this place and truly have given everything to help us try to be one of the best basketball programs in the country."