A look at the statistical improbability of No. 6 Tennessee's 86-85 loss to Missouri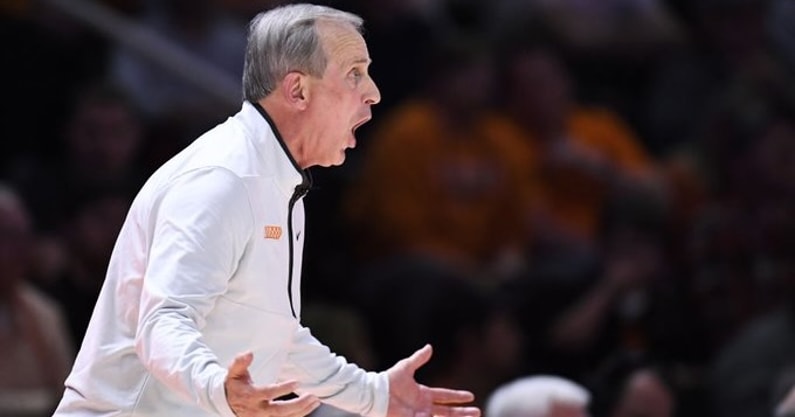 The odds of Tennessee losing back-to-back games on buzzer-beating shots had to be astronomical. But it happened Wednesday against Vanderbilt, in the 66-65 loss at Memorial Gymnasium in Nashville, then again Saturday night at Thompson-Boling Arena, when Missouri uncorked a deep, running three in desperation to win the game as time expired, handing the Vols an 86-85 loss.
But there was another statistical improbability that became reality when Missouri DeAndre Gholston hit his miracle shot to sink Tennessee. 
The Vols, scoring 85 points while shooting 45.3 percent from the field and 42.9 percent from the 3-point line, averaged 1.42 points per possession against Missouri. According to college basketball stat analyst Bart Torvik, it was the highest points per possession for a losing team in Division I basketball since 2019.
Not only that, over the last 15 seasons, teams that had averaged 1.4 points per possession had won 1,169 of 1,173 such games, a win percentage of 99.7. The Vols on Saturday night became only the fifth team to lose with that kind of offensive production.
The back-to-back losses at Vanderbilt and against Missouri were Tennessee's first consecutive losses over the last 59 games, dating back to the loss to Alabama in the 2021 SEC Tournament, then the loss to Oregon State in the first round of the NCAA Tournament.
It was the first time Tennessee had lost two straight games by a single point since December 2010 and the first time the Vols had done so in SEC games since February 1981.
Vols scored 85 points on 45.3 percent shooting from the floor, 12-28 from 3-point line
Tennessee (19-6, 8-4 SEC) scored the 85 points on 45.3 percent shooting from the field, going 24 of 53, and went 12-for-28 at the 3-point line while facing a defense that ranked No. 214 nationally in adjusted efficiency, according to KenPom.com.
The Tigers are now third nationally in adjusted offensive efficiency after scoring 86 points against the Vols, the most they have allowed all season and the most since Colorado scored 78 in November at Bridgestone Arena in Nashville. 
Tennessee rallied from down 17 points with 17 minutes left to build what was as much as a six-point lead in the second half against Missouri. Senior transfer guard Tyreke Key scored a season-high 23 points to get the Vols back in the game. 
He erupted for 21 points in the second half alone — more than he had scored in any game this season — on 5-for-7 shooting from the 3-point line and 6-for-6 at the foul line.
Santiago Vescovi scored 17 points and hit two free throws with 7.1 seconds left to give Tennessee a three-point lead. After Missouri hit one of two free throws, getting the deficit back to two, Vescovi missed two free throws with 4.2 seconds left, leaving the door open for the Tigers.
Freshman power forward Tobe Awaka was called for a lane violation on the second free throw, giving Missouri an inbound on the far end of the court with 4.2 seconds left.
Up Next: No. 6 Tennessee vs. No. 3 Alabama, Wednesday, 7 p.m. ET, SEC Network
Gholston scored 18 points and Kobe Brown scored a team-high 21 for Missouri. Sean East II had 17 points and D'Moi Hodge scored 14 before fouling out.
Mizzou finished the game shooting 52.6 percent from the field and went 14-from the 3-point line, the most threes Tennessee has allowed this season. Vanderbilt's 10 made threes Wednesday were the most the Vols had previously allowed, after not giving up more than eight over the first 23 games.
Tennessee still has the No. 1 defense in adjusted efficiency and is still No. 13-point percentage allowed at 24.2 percent, despite Missouri and Vanderbilt combining to go 24-for-51 from three.