Tennessee Basketball: Rick Barnes breaks down four new Vols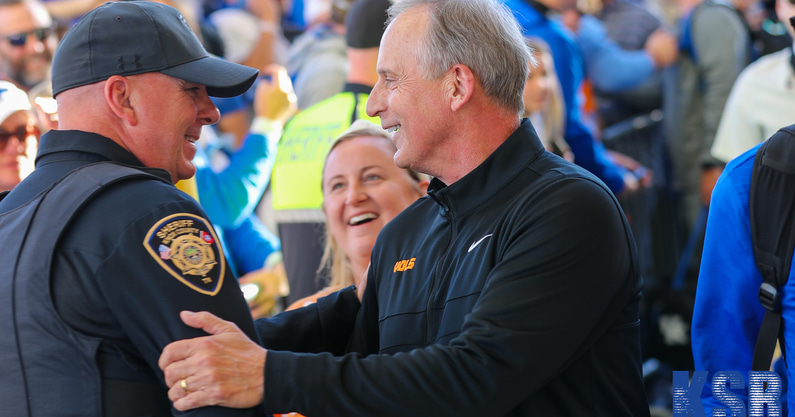 Tennessee and head coach Rick Barnes went four-for-four on the first day of college basketball's early signing period, signing each of the four recruits committed to the Vols in the 2023 class.
Here's what Barnes said about each prospect after they officially joined the Tennessee basketball program:
Four-star center JP Estrella
JP Estrella, the highest-rated prospect in the class, committed to Tennessee on September 2, picking the Vols over Syracuse and Iowa.
Estrella, the 6-foot-11, 210-pound center out of South Portland, Maine, climbed all the way to No. 21 overall in the 2023 class in the On3 ratings when the rankings were updated earlier this week. He's ranked No. 6 among power forwards and No. 1 in player out of Main.
Rick Barnes on JP Estrella: "J.P. is a guy we initially fell in love with due to his versatility. We love his entire family, really. On the court, his ability to handle, pass and shoot the basketball at his size made him a priority for us in this recruiting class. He was 6-2 as a high school freshman, and that guard skill-set—now that he's grown to 6-11—has remained intact despite his massive growth spurt.
"He's still just scratching the surface of realizing the player he will become, but his rise from being an under-the-radar prospect to one of the best big men in the country has been fun to watch. We believe J.P. can develop into a force for us in the SEC."
Four-star shooting guard Freddie Dilione
Freddie Dilione committed to Tennessee on September 9, continuing the recruiting momentum for the Vols on the heels of Estrella commitment days earlier. Dilione picked Tennessee over Wake Forest, VCU, Virginia and Alabama.
Dilione, a 6-foot-5, 195-pound guard from Fayetteville, N.C., is ranked No. 56 nationally in the 2023 class. He's No. 10 among shooting guards and No. 1 in the state of North Carolina.
Rick Barnes on Freddie Dilione: "Freddie is another guy we're thrilled about adding—he is the definition of a 'Tennessee guard. He comes from an amazing and supportive family. Our recruitment of Freddie began when he attended our Elite Camp in the summer of 2021. And as his recruitment continued, it became clear that he fit our culture extremely well. We love Freddie's versatility on both sides of the floor. As a playmaker, he does a great job of making his teammates better, and he can score in so many different ways. He's going to be a lot of fun to coach."
Four-star small forward Cameron Carr
Cameron Carr committed to Tennessee on Tuesday, picking the Vols over Northwestern and Kansas State, among others. He's the son of Chris Carr, a former second-round pick in the NBA Draft who spent six years in the league.
Carr is ranked by On3 as the No. 112 overall prospect in the 2023 recruiting cycle. He's the No. 23 small forward nationally and the No. 2 player in the state of Missouri, where he attends Link Academy. He's a product of the MOKAN Elite AAU program.
Rick Barnes on Cameron Carr: "Cam has that 'pedigree' we talk about a lot as a staff. His dad had a lengthy NBA career. His sister plays basketball in the SEC. He's been around high-level basketball his entire life. He recently had a six-inch growth spurt, so his ceiling continues to rise.
 
"It's exciting to think about his potential impact on our program. He's already an elite shot maker who's game off-the-bounce is evolving. We really like his IQ and feel for the game, and we're confident his work ethic will lead to him getting better and better."
Three-star power forward Cade Phillips
Alabama power forward Cade Phillips was one of the first names in the class, committing to the Vols in May. He picked Tennessee over Alabama, Georgia, Georgia Tech, Stanford and Florida State.
Phillips, a 6-foot-9, 200-pound prospect from Rainbow City, Ala., is roommates with Carr at Link Academy in Missouri. Phillips is ranked No. 147 in the 2023 class in the On3 consensus. He's ranked No. 30 among power forwards and No. 1 in the state of Alabama.
Rick Barnes on Cade Phillips: "We're all very excited to welcome Cade and his family into our Tennessee basketball family. He's been blessed with a terrific support system surrounding him, and he's an impressive athlete who fits really well into the style of basketball we want to play. Cade has great hands and quick feet around the rim. We also love his toughness. We believe, in time, he will grow into a player who provides tremendous upside and versatility on both ends of the floor."