Former UCF QB McKenzie Milton joins Tennessee Football coaching staff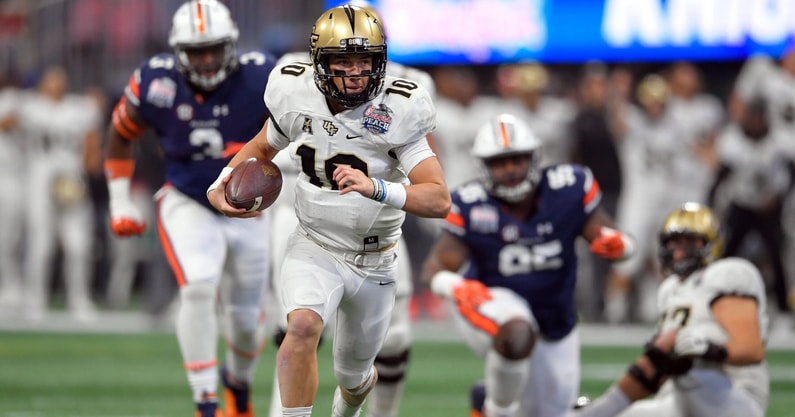 Former Central Florida and Florida State quarterback McKenzie Milton is joining Josh Heupel's Tennessee Football coaching staff as an offensive analyst, the Vols announced on Thursday afternoon. Milton played for Heupel at UCF before transferring to Florida State after Heupel left for Tennessee.
"McKenzie represents everything that is great about college football," Heupel said in a press release. "His perseverance, determination and leadership are attributes that made him successful as a player and will no doubt translate to him being an outstanding future coach. 
"He's always been a student of the game and understands the why behind what we do. We are thrilled to welcome McKenzie, Jany and Madden to Rocky Top."
In three seasons on the field at UCF, Milton passed for 8,683 yards and 72 touchdowns. He accounted for 9,761 yards of total offense, third most in UCF history, Milton combined for 92 touchdowns at UCF and completed 61.8 completion percentage.
McKenzie Milton: 'I look forward to helping the program in any way I can'
"I couldn't be more excited about starting my coaching career at Tennessee and reuniting with Coach Heupel," Milton said. "I am grateful to Coach Heupel and Director of Athletics Danny White for giving me this opportunity. Their leadership makes a difference. I look forward to helping the program in any way I can."
Milton as a freshman in 2016 at UCF passed for 1,983 yards, 10 touchdowns and seven interceptions. He had 4,037 passing yards, 37 touchdowns and nine interceptions as a sophomore in 2017, then 2,663 yards, 25 touchdowns and six interceptions as a junior in 2018, before suffering a career-threatening knee injury in November 2018. 
The reconstructive surgery required to repair Milton's leg left him sidelined for more than 1,000 days before returning to the field in September 2021. 
Milton was comeback player of year after returning from devastating knee injury
Milton led UCF to a perfect 13-0 record in 2017, including a win over Auburn in the Peach Bowl. He was the Peach Bowl MVP, came in eighth in the Heisman Trophy voting and was a finalist for the Manning Award. He broke single-season UCF records for passing yards, touchdowns, passing efficiency (179.29) and yards per attempt (10.2).
He came in sixth in the Heisman Trophy voting a year later, in his first season under Heupel, helping lead UCF to an 11-0 regular-season record. He was a two-time American Athletic Conference Player of the Year and in 2021 was named the Mayo Clinic Comeback Player of the Year after coming back from the devastating knee injury. 
Heupel has maintained continuity on his coaching staff through his first two seasons at Tennessee, but in December lost former offensive coordinator and tight ends coach Alex Golesh to South Florida, where he was hired as head coach.
Heupel promoted from within to replace Golesh, elevating quarterbacks coach Joey Halzle to offensive coordinator and promoting Alec Abeln from offensive analyst to tight ends coach.