Hendon Hooker talks Tennessee's QB future with Joe Milton, Nico Iamaleava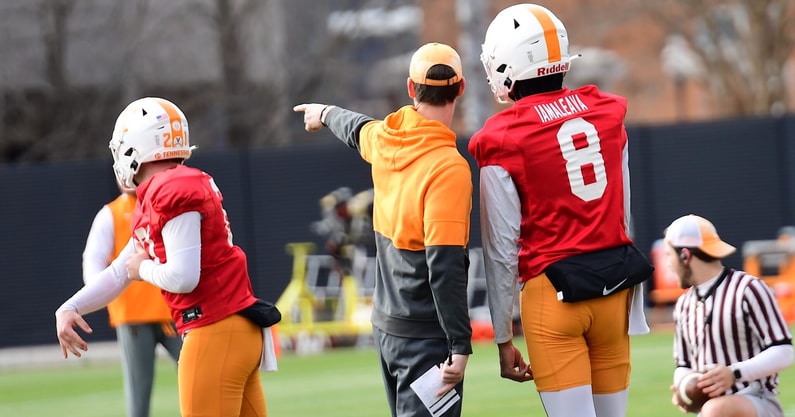 Hendon Hooker is just like everyone else. The former Tennessee football quarterback can't wait to see what the Vols have in five-star freshman Nico Iamaleava, the No. 1 overall prospect in the 2023 recruiting class according to the On3Sports ratings.
First, though, Hooker is eager to see how his former Tennessee roommate, Joe Milton, runs the offense as the Vols' quarterback during his final season in Knoxville in 2023.
"Nico is a special kid," Hooker said during an appearance Wednesday on Nashville's 104.5 The Zone on Ramon, Kayla & Will at the Senior Bowl in Mobile, Ala. "I'm excited for his journey and his growth. Coming in and replacing that second quarterback spot is a big step for a freshman. 
"It's also a blessing. To be able to get those reps in practice and be able to come in, I'm expecting Joe to throw some bombs early and get Nico in there in a couple games. So I'm excited to see his development."
Tennessee enters 2023 with Joe Milton, Nico Iamaleava at quarterback
The 6-foot-6, 200-pound Iamaleava, out of Long Beach, Calif., committed to Tennessee last March. He enrolled in Knoxville in December, joining the Vols for bowl practices ahead of the 31-14 win over Clemson in the Capitol One Orange Bowl in Miami.
Milton led the Vols (11-2) to the bowl win by throwing for 251 yards and three touchdowns, completing 19 of 28 passes. He passed for 147 yards and a touchdown in the 56-0 win at Vanderbilt in the regular-season finale on November 26, when he replaced Hooker as the starter after Hooker went down with a torn ACL in the loss at South Carolina.
In nine appearances last season, Milton threw for 971 yards and 10 touchdowns, completing 53 of 82 passes. He threw for over 100 yards in seven games, despite playing behind Hooker. 
"I'm excited to watch my man Joe throw that thing around," Hooker said during the Nashville radio appearance Wednesday. "I told him I'm coming to the spring game in a Joe Milton jersey and he better autograph it or we're going to have some problems. I'm excited for him, I'm excited for his supporting cast. 
"He's got some wideouts coming in and we've got some weapons coming in also from the transfer portal, also some freshmen. Nico is going to learn a lot from Joe. I'm excited to see him take the reins when Joe is gone after next year."
Tennessee added eight players out of the NCAA Transfer Portal, including Oregon wide receiver Dont'e Thornton and UC Davis tight end McCallan Castles. 
Hendon Hooker: Josh Heupel puts 'confidence' into Vols
In 11 games this season, Hooker completed 69.6 percent of his passes, throwing for 3,135 yards, 27 touchdowns and two interceptions, leading the Vols to an 8-0 start before losing at Georgia. 
Hooker in two seasons at Tennessee passed for 6,080 yards, 58 touchdowns and was intercepted just five times. He completed 68.8 percent of his 632 pass attempts with the Vols, quickly proving to be the ideal trigger man in Josh Heupel's uptempo offense.
Milton and Iamaleava are in good hands under Heupel, according to Hooker, who described the Tennessee head coach as a key in his development with the Vols.
"That's my righthand man," he said. "Love him to death. Everyday we would come in. When he first got there, he would always look at me and say, 'Come on, man, smile. Smile and have fun.' I would be so serious. He would be like smile, have fun, relax. Play your game. I want you to go out there and have fun. 
"That's what he encourages all of us to do. Just having that confidence from him boosted my confidence and just encouraged me to put confidence into my teammates as well."