Josh Heupel on Tennessee football recruiting: 'People can see the momentum we have'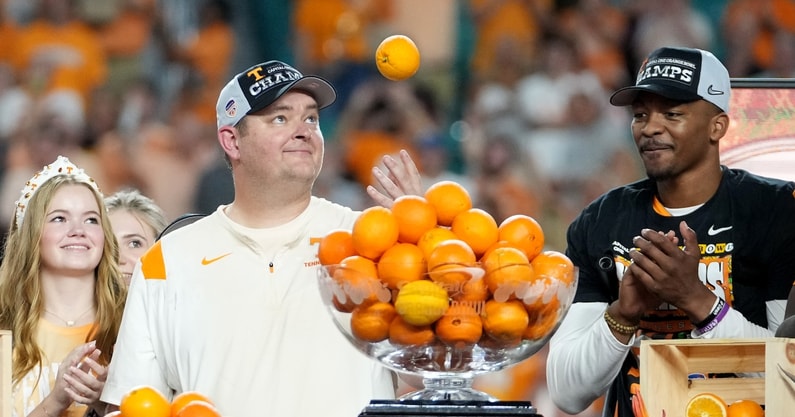 When Josh Heupel first got to Tennessee, hired as the program's new head coach in January 2021, the NCAA Transfer Portal had decimated the roster. An NCAA investigation hovered over the program after the ouster of former head coach Jeremy Pruitt and his staff.
All Heupel could do at the time was sell his vision to the prospects he was recruiting.
"Our first recruiting cycle here," Heupel said this week during an appearance on Josh & Swain, "we get here really the beginning of February. I got named (head coach) at the very end of January. 
"You're talking about what the culture was and you're saying this is what it's going to look like." 
Over the last two seasons, that vision has come to life. 
Josh Heupel has won 18 of his first 26 games at Tennessee
Heupel took a shorthanded roster in 2021 and won seven games, taking Tennessee to a Music City Bowl matchup with Purdue. All he did last season was lead the Vols to an 8-0 start, including home wins over Florida and Alabama, while climbing to No. 1 in the first College Football Playoff Top 25 of the season in November.
The season ended with 10 wins in the regular season for the first time since 2003 and 11 wins — after beating Clemson 31-14 in the Orange Bowl, Tennessee's first trip to a New Years Six bowl game in the College Football Playoff era — to finish with 11 wins for the first time since 2001.
Now Heupel's sales pitch is no longer just a vision. It is results.
"Now," Heupel said, "they've had a chance to experience it, see it when they're here on campus, watch it on TV, watch it live and in person and understand we're going to play the most exciting brand of football in college athletics. Extremely aggressive in all three phases of the game. 
"We're going to let our guys pin their ears back and go play with an aggressive nature. So, the conversations, it's like two worlds that are completely separated and so far apart from each other, as far as where we're at now and where we started." 
'This is such a unique environment right now and we're able to recruit at an elite level'
Tennessee's 2021 recruiting class, with the turbulence from the end of the Pruitt era clouding the program, finished 20th nationally in the rankings and was seventh in the SEC. The Vols finished 15th overall and fifth in the SEC in 2022. 
They were 13th nationally and fifth in the SEC in 2023, with the group headlined by five-star quarterback Nico Iamaleava, the No. 1 overall player in the class, and five-star defensive lineman Daevin Hobbs.
Heupel's 2024 recruiting class is currently ranked No. 9 national and No. 5 in the SEC.
"People can see the momentum that we have," Heupel said. "They understand that we'll continue to improve. And when we get people here on Rocky Top, they get a chance to see the university, see the city of Knoxville, feel the energy of our fanbase. Man, this is a really unique environment right now and we're able to recruit at an elite level."