Tennessee RS sophomore RB reportedly expected to enter NCAA Transfer Portal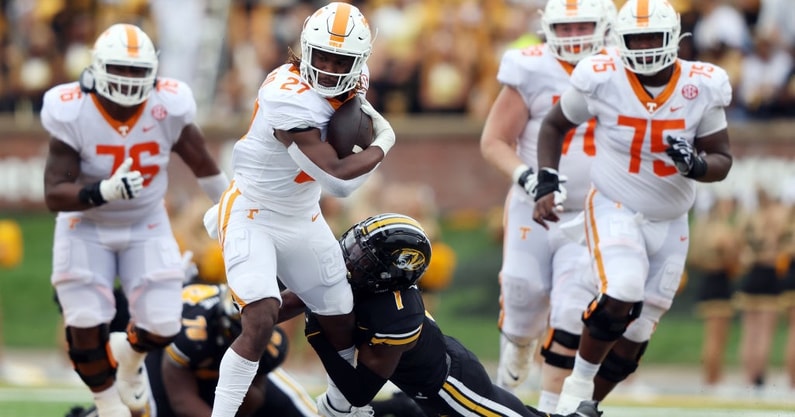 Tennessee redshirt sophomore running back Len'Neth Whitehead is entering the NCAA Transfer Portal.
The 6-foot-2, 220-pound Whitehead, out of Athens Academy in Athens, Ga., has struggled to stay healthy during his time with the Vols. He played in six games last season, rushing 32 times for 2017 yards and two touchdowns, but missed time due to injury.
Whitehead was sidelined by a foot injury during his senior year of high school and was still in the rehab process when he enrolled at Tennessee. His freshman season ended with a shoulder injury. His sophomore season was slowed by injuries, too.
An upper-body injury in August required surgery that ended his redshirt sophomore season during fall camp.
Whitehead was a four-star prospect in the 2020 recruiting cycle, ranked No. 191 overall, No. 22 among running back and No. 20 out of the state of Georgia. 
Understanding the portal
The winter transfer portal window opened on December 5th and runs for 45 days. The spring portal window runs from May 1-15. 
Players don't have to pick a school they are going to during those specific dates but those are the span of dates on when a player can enter the portal. 
Those dates don't apply to graduate transfers who can enter the portal whenever they wish. Also, if there's a head coaching change, players can enter the portal outside of those dates. 
Players who enter the portal in the 45 day winter window are trying to be somewhere for the spring semester. 
For Tennessee the spring semester starts on January 23rd which is late compared to many schools around the country. Tennessee a year ago started a winter mini-term class that runs the first 3 weeks of January. 
A year ago according to the NCAA 950 football players went into the portal. In 2020, there were less than 600 players who transferred. Coaches and media around the country feel like this year  there will be a record number of players who go into the portal as one time transfers. 
In fact some college coaches have said December is going to be total chaos with the early signing day and with the transfer portal becoming college football's version of free agency thanks to NIL. 
Vols have benefitted from the portal
The transfer portal can giveth and it can taketh away. For Josh Heupel it's been much more of a positive than a negative for the Vols.
In fact the portal has accelerated the rebuild of the program the last two years. Every knows the impact of Hendon Hooker or the last two season's via the portal. Quarterback transfer Joe Milton will be making his fourth career start in the bowl game. 
Tennessee found left tackle help this past off-season in Gerald Mincey. Bru McCoy as a transfer has had a big impact. McCoy is the team's second leading receiver with 619 yards and 3 touchdowns. 
Defensively, transfers Kamal Hadden, Brandon Turnage, Wesley Walker, Juwan Mitchell,  and D.J. Terry have all started games this fall helping Tennessee go 10-2. Their first 10 win regular season since 2003.