Vol commitments and targets on the rise in On3 rankings update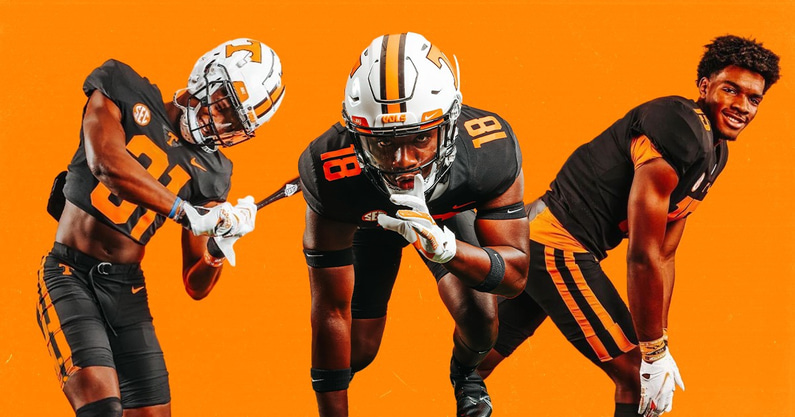 Tennessee saw a handful of commitments to the 2023 class make a jump in the latest rankings update on Monday.
In-state pass rusher Caleb Herring jumped over 40 spots going from #98 overall to #56. The younger brother of current Vol Elijah Herring has everything college coaches look for. He is explosive and quick twitch. His length is super impressive. Ultimately his success will come down to putting on weight. He has the frame to do so but at the moment he will need to add pounds before and once he arrives on campus.
"He plays all over their defense," On3 Director of scouting and rankings Charles Power said. "He can play in space and cover the slot receiver. I think he project longterm as a LEO, pass rusher type. These rankings are an NFL draft type projection. It's really a 3-4 year down the line projection. I think from watching him as a senior it points toward a really high upside."
One of the biggest jumps in the On300 rankings was that of Nathan Leacock, who comes in at #146 after previously being outside the On300. Leacock has been on a tear each Friday night and his dominance caught the eye of Power.
"When I saw him previously you could see the tools and the traits," Power said. "I think there was room for improvement in terms of the playmaking ability and finishing ability. I think he is getting progressively better. I think Tennessee got a steal. He went from a mid to high 3-star into the top-200 which is a big jump for a wide receiver because it's such a loaded position."
Another Vol pledge to make a massive jump is defensive lineman Tyree Weathersby. The Georgia product also went from outside the On300 to coming in at #157.
"He's very disruptive making a ton of plays behind the line of scrimmage," Power said. "The athleticism and ability to disrupt and make a ton of plays really jumped out to us. He had that look of someone who was ascending going into his senior year and he has made considerable strides as a player."
Tennessee will host North Carolina defensive lineman Daevin Hobbs this weekend for an official visit. The once thought to be North Carolina lean looks like he will head to the SEC. Alabama, Georgia and Tennessee appear to have the most traction at the moment. Hobbs rose up to become the final 5-star in the latest update.
"If I told you the number of high school games I've watched this season you probably wouldn't believe me" Power said. "I think Daevin Hobbs has really had the performance that made me go 'wow!' I think the progression he has made is incredible. He was around 245 coming out of high school basketball season. He is up to 270 now and he can really run. I don't think he has ever run over 4.8. He plays tight end and defensive line. You don't see 270 rolling downhill very often. You can see the pieces coming together. He has defensive end athleticism in the body of what I will say will be a 300 pounder. He is getting better and better. We are excited about him."
Having taken over a program covered in doubt, Josh Heupel and his staff deserve a ton of credit for their growth and momentum.
"I thought Tennessee's class in 2022 was one of the more underrated classes," Power said. "A lot of that had to do with James Pearce and Josh Josephs, players we were higher on naturally. That's how we do it, we are looking at the individual. When I step back, you have to be impressed with what they have done. That '22 class parlayed into '23. Several of these Tennessee commits rose up which is a testament to the evaluations they are making. Nathan Leacock was a great evaluation by Tennessee. Tyree Weathersby was a great evaluation by Tennessee. I think when you combine that with getting a big win like getting Nico, it all kind of ties together and makes for a pretty strong recruiting class."