Vols vs. Panthers: The match-up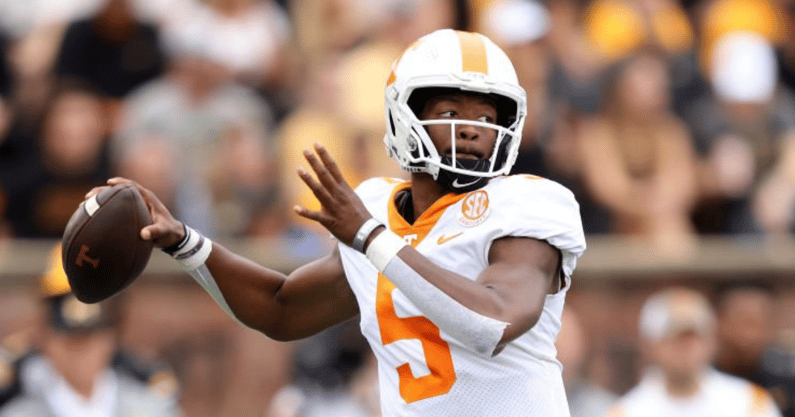 No. 24 Tennessee travels to face No. 16 Pitt this week in what is a huge match-up for Josh Heupel's squad. The Vols will be looking for a momentum generating road win over a ranked team to jump start their season. Let's dive into the match-ups.
VOLS' PASSING GAME vs. PITT SECONDARY
TENNESSEE: This is the game last year where we all started to get a glimpse of what Hendon Hooker could do. A year later Hooker is established as one of the most productive and efficient quarterbacks in college football. His experience, poise and playmaking ability will be a big deal on Saturday. The question mark here is at receiver. Cedric Tillman is a proven commodity. Bru McCoy got his Tennessee career off to a nice start with three catches for 42 yards last week. Jalin Hyatt started in the slot and made a touchdown catch. All told Hooker completed passes to seven different receivers last week. Can the Vols spread the wealth like that on Saturday? We'll see. The bigger question is can they deal with press coverage on the outside? If Tillman and McCoy can use their size and strength to create separation at the line there will be opportunities for big plays. Look for the tight ends to be involved here after only being targeted once last week. Pass protection will be critical against Pitt's front seven.
PITT: West Virginia's J.T. Daniels, a Georgia transfer, didn't have a ton of success against Pitt in his first start for the Mountaineers. Pitt made it tough for him to find open guys, limiting him to 23-of-40 passing for just 212 yards with two touchdowns and one interception. The Panthers also largely kept the big plays to a minimum, giving up a long completion of 32 yards. As noted above, Pitt will bring their corners up and try to play physical at the line. Tennessee will have to make them pay. M.J. Devonshire brings a ton of experience at one corner spot and sealed last week's win over West Virginia with a 56-yard pick six. The Panthers led the ACC with 16 interceptions last fall, but the also gave up 264 yards passing per game, 12th in their conference. Just about everyone is back from that secondary, with the starting line-up consisting of four seniors and a junior.
EDGE: TENNESSEE
VOLS' GROUND GAME vs. PITT FRONT SEVEN
TENNESSEE: We say it all the time; no matter how much hype Josh Heupel's passing attack gets, the offense starts with the ground game. Keep getting 4, 5 or 6 yards a carry, stay in favorable down and distance situations and keep moving the chains. When Tennessee does that is when the offensive tempo can really impact the game. Tennessee got off to a solid but not spectacular start last week, rushing for 218 yards in the opener. But the Vols averaged just 4.3 yards per carry. Jabari Small and Jaylen Wright are both bigger this year with some good weight added and it showed in the opener. They'll need to pick up some tough yards on Saturday. Perhaps more importantly, an offensive line with four starters back needs to create some push against a Pitt front seven that came into 2022 with a solid reputation but got gashed a bit in week one.
PITT: Pitt's defense was ferocious against the run in 2021, surrendering just 89.6 yards per game on the ground, tops in the ACC and sixth nationally. The Panthers have two experienced playmakers in the front four in tackle Calijah Kancey (7 sacks, 13 TFLs in 2021) and senior defensive end Habakkuk Baldonado who led Pitt with nine sacks last year to go along with 12 TFLs. The Panthers don't return the same kind of experience at linebacker, but do bring back senior Sirvocea Dennis (team high 87 tackles, 9.5 TFLs, 4 sacks). There's definitely some proven performers here, but West Virginia racked up 190 yards per game on the ground last week and averaged a robust 5.8 yards per carry. Was that just a week one thing? Or are the losses at linebacker a roadblock to repeating last year's success? We're going to find out more on Saturday.
EDGE: TENNESSEE
VOLS' SECONDARY vs. PITT PASSING GAME
TENNESSEE: Perhaps the biggest question mark on the team. Is a pass defense that gave up more yards than any team in the SEC last year significantly improved? It was difficult to tell after the opener. Tennessee did come up with a couple of picks and didn't have a ball thrown over their heads, but the jury is most definitely still out. Corner play looked a little spotty at times, but it didn't result in any big plays. Kamal Hadden had a solid opener and could push to enter the starting line-up at one corner spot this week. Safeties Jaylen McCollough and Trevon Flowers are two of the most experienced guys on the entire roster but they need to be playmakers if the secondary is really going to take a step. After not recording a sack in week one the front seven could really give the back end a boost if they can affect the quarterback this week.
PITT: Pitt lost as much as anyone in the country from last year's passing attack. Quarterback Kenny Pickett heard his name called in the first round of the NFL draft and Biletnikoff winner Jordan Addison took his receiving talents to USC. Enter former USC quarterback Kedon Slovis to take Pickett's spot while the receiving corps will try and replace Addison's production by committee. Senior Jared Wayne is a big target (6-foot-3, 210 pounds) with experience (6 TDs, 658 yards in '21). Arkon transfer Konata Mumfield led the Panthers in week one with with 5 rec. for 71 yards. Former Tennessee player 'Bub' Means (known as Jerrod in Knoxville) had three catches for 41 yards in the opener. Slovis got off to a big start in his first game in a new system. He completed just 16 (of 24) passes, but picked up some chunk yards in those attempts, finishing with 308 yards passing and one touchdown.
EDGE: PITT
VOLS' FRONT SEVEN vs. PITT GROUND GAME
TENNESSEE: Solid debut for the front seven but they weren't really tested while giving up just 74 yards rushing to Ball State. Byron Young, a preseason All-SEC selection, is going into this game with a bullseye on his back. If the Vols are going to generate some pass rush he's the most likely candidate to provide it. Aaron Beasley and Jeremy Banks both had a nice opener at linebacker. They'll need to be at their best against a Pitt team that will be stubborn in trying to establish the run. It's a big test for an interior defensive line that has plenty of guys that have been spot players but now are being leaned on more than ever before. If Tennessee can set a tone in the trenches and put the pressure on Pitts passing game that's going to be a big plus for the Vols. Omari Thomas is a guy that many believe is ready for a breakout year. This would be a good spot for him to make those believers look like prophets.
PITT: People who are high on the Panthers point to a veteran offensive line as a big reason for that. The Panthers bring back all five starters from last year's unit which has totaled 152 career starts as a group. Left tackle Warren Carter is a four-year starter and All-ACC candidate. After rushing for 504 yards as a freshman Rodney Hammond Jr. inherits the starting running back job. He went for 74 yards and 2 TDs in the opener on 16 carries, but he was also dinged up a bit and could be limited. Israel Abanikanda shared the load with Hammond Jr. last week, going for just 15 yards on eight carries. Overall the Pitt ground game, and the offensive line as a whole, against West Virginia was a huge disappointment given the expectations. Pitt rushed for just 76 yards on 38 attempts (2.0 ypc) and gave up five sacks to the Mountaineers. Even with the lost sack yardage (42) taken out it was not a productive day on the ground for a team with so much experience back up front.
EDGE: PITT
SPECIAL TEAMS
TENNESSEE: Tennessee is solid in the kicking game with Paxton Brooks and Chase McGrath back to handle those chores. Brooks punted twice in the opener, averaging a solid 46.5 yards per attempt. McGrath made his only field goal attempt from 33 yards out after going 12-for-16 in 2021. The Vols are looking to replace a star in the return game in Velus Jones. Trevon Flowers had two fair catches in his only two punt return attempts last week. Jimmy Holiday looks like he has potential but had just one kickoff return for 16 yards last week.
PITT: Pitt is a breaking in a freshman punter in Sam Vander Hear. He averaged 42.8 yards on five attempts last week in his debut. Sam Scarton made 17-of-21 field goal attempts last fall but lost a fall camp battle for the job to sophomore Ben Sauls who handled kickoffs last fall but has yet to attempt a field goal in a game. Pitt did nothing of note in the return game against West Virginia but did allow a couple of decent punt returns in the 12-18 yard range. Tennessee blocked a punt against the Panthers last year, so something to maybe keep an eye on.
EDGE: TENNESSEE
ONE MAN'S FEARLESS PREDICTION
Maybe I'm reading too much into Pitt's performance against West Virginia, but I really like Tennessee's chances here.
I just think Tennessee is going to be able to score, and score some more. I look for Pitt to have some offensive success as well, but at the end of the day I just don't think they can keep up.
Again, maybe too much of that opinion is based on what happened against West Virginia and maybe the Mountaineers are way better than I'm giving them credit for.
Three things from Pitt's opener really jump out at me though. Gaining only 74 yards in 38 rushing attempts with a long of 14. Giving up five sacks. Allowing West Virginia to average 5.8 yards per carry against a defense that gave up just 89 yards per game on the ground last year.
If Tennessee comes close to averaging 5.8 yards per carry it's going to be a long day for the Pitt defense because that's going to mean the Vols are picking up first downs, playing fast and the whole playbook will be at Josh Heupel's disposal.
Caleb Slovis hit the ground running, throwing for over 300 yards in his Pitt debut. That looks like the obvious concern for a Tennessee secondary that was simply bad last year and has some new faces in big roles this fall.
I think Hendon Hooker is the 'x-factor' on Saturday. He wasn't ready for the moment in this game last year when he was forced into action due to injury. He's more than ready for it this year.
Tennessee 41, Pitt 31