Rising Alabama CB Jayden Coleman recaps first Texas A&M visit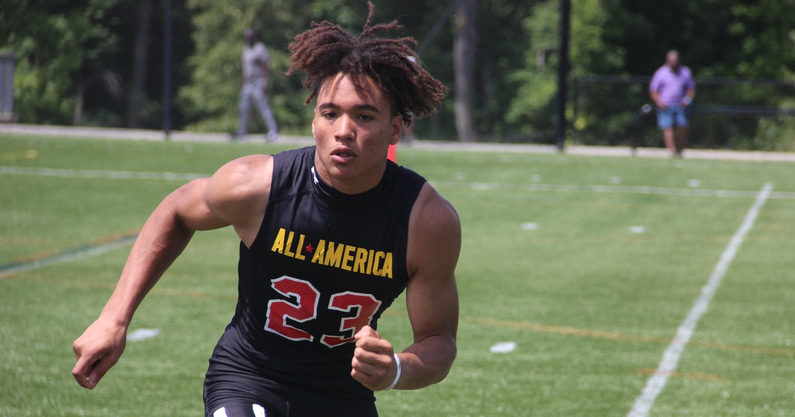 2024 Phenix City (Ala.) Central defensive back Jayden Coleman was offered by Texas A&M earlier this spring and made his way down with his teammate, 2024 wide reciever Cameron Coleman (no relation), for their first visit to College Station.
Coleman camped in front of the staff on Friday and stayed through the weekend for an unofficial visit, which gave him his first chance to see the campus and meet with the staff.
"It was great," he said. "It was definitely above my expectations."
The rising junior had a chance to work out in front of defensive backs coach TJ Rushing, defensive assistant Antonio Cromartie and the staff on Friday going up against an impressive group of wide receivers in attendance on Friday.
"They taught me some new techniques and they fixed up a couple things I was struggling with, so that was one good part," he said. "I think it was good to be coached by them."
Heading into the visit, Coleman had primarily been in contact with Rushing and running backs coach Tommie Robinson, who hails from Phenix City. The visit gave the junior a chance to connect with the rest of the staff and he felt the love from the program while in town.
For Coleman, having Robinson on the staff gives Texas A&M a bit of a home away from home feeling.
"I think we have a very tight relationship right now," he said. "If I need anything, I'll call him. I'm glad I get to go down there somebody who's from my city is down there to."
Coleman had the chance to sit down with Jimbo Fisher, who laid out the opportunities available to him at Texas A&M and had the opportunity to explore College Station for the first time and enjoyed the small-town vibe.
Upon landing the offer from Texas A&M last month, the Aggies were already a top three school for Coleman, after visiting, they only solidified their place in his mind.
"They made a very big jump," he said. "One of my top three schools."
Outside of Texas A&M, Arkansas and Ole Miss are two other programs standing out to him. He doesn't have many visits planned out between now in the fall, but is tentatively planning to return to Texas A&M at the end of July for the Aggies' pool party the weekend of July 30th.
He's looking to make a decision during his junior season.
Coleman is currently unranked in both the On3 Consensus and On300 rankings. The sophomore has an On3 NIL Valuation of $6.1K. The On3 NIL Valuation is an index that looks to set the standard market value for both high school and college-level athletes. The NIL valuation does not act as a tracker of the value of NIL deals an athlete has completed to date. It rather signifies an athlete's value at a certain moment in time.