Texas A&M freshman LB Ish Harris announces he's entering the transfer portal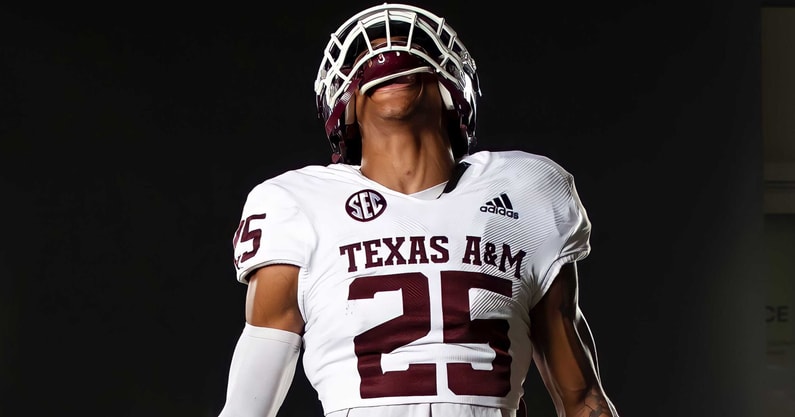 Texas A&M true freshman linebacker Ish Harris has announced he's planning to enter the transfer portal when it opens Dec. 5, the second player to announce his intentions to leave the program following Texas A&M's season-ending win over LSU.
"First and foremost I would like to give thanks to God for his infinite grace and blessings he has bestowed on my family and I. I would like to thank my family for their continuous support. A big thank you to my coaches, teammates and the entire staff at Texas A&M. Thank you to everyone that helped me through my journey. This was definitely an experience I will never forget. After much prayers and consideration with my family, I will be entering my name into the transfer portal on December 5. "
Harris was a four-star prospect out of Pilot Point (Tex.) High, who didn't appear in a single game this season. As a senior at Pilot Point, Harris played both ways, rushing for 857 yards and 14 touchdowns, with 211 receiving yards and two touchdowns, along with 57 tackles, one fumble recovery and an interception returned for a touchdown.
The Class of 2022 linebacker held a total of 18 offers coming out of high school including Oklahoma, Baylor, and more.
Harris is the first member of Texas A&M's historic 2022 class to leave the program.
Transfer portal background information
The NCAA transfer portal, which covers every NCAA sport at the Division I, II and III levels, is a private database with names of student-athletes who wish to transfer. It is not accessible to the public.
Once a player's name shows up in the portal, other schools can contact the player. Players can change their minds at any point and withdraw from the portal. However, once a player enters the portal, the current scholarship no longer has to be honored. In other words, if a player enters the portal but decides to stay, the school is not obligated to provide a scholarship anymore.
The database is a normal database, sortable by a variety of topics, including (of course) sport and name. A player's individual entry includes basic details such as contact info, whether the player was on scholarship and whether the player is transferring as a graduate student.
A player can ask that a "do not contact" tag be placed on the report. In those instances, the players don't want to be  contacted by schools unless they've initiated the communication.