Texas A&M in the top three for Washington IOL Micah Banuelos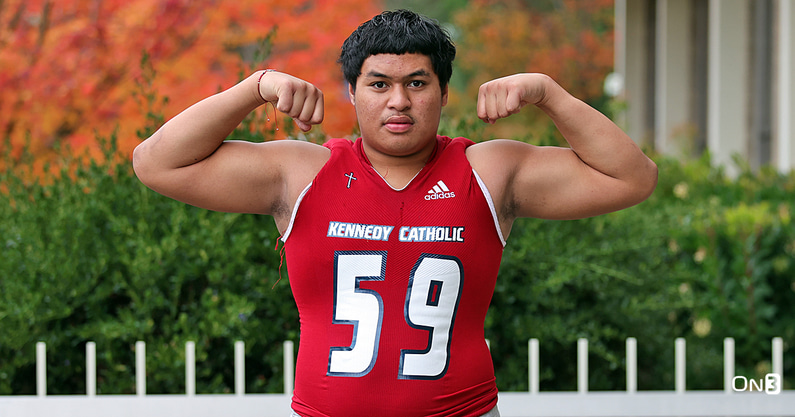 2023 Burien (Wash.) Kennedy Catholic three-star offensive lineman Micah Banuelos is down to three schools: Oregon, USC and Texas A&M.
The three-star took his official visit to Texas A&M back in April for the Maroon & White Game and has yet to return. He's coming off a weekend official visit to USC, but has yet to make an official visit to Oregon.
Former offensive line coach Josh Henson, who's now at USC, began the Aggies' pursuit of Banuelos back when he was in College Station, and Jumbo Fisher and the the staff have picked up where Henson left, maintaining consistent communication with the talented offensive lineman from the Pacific Northwest.
Meanwhile, since moving to USC, Henson has the Trojans trending in Banuelos' recruitment.
"He's my guy," Banuelos previously said of Henson. "He's telling me he wants to make me one of the best centers in the country…He wants me to play center or pulling guard."
He added
"He gets down to business and doesn't sugarcoat anything," Banuelos said of Henson. "A lot of coaches try to sugarcoat it…He tell me the truth..He tells me my reach is better inside, my footwork is better inside."
Banuelos has made just one visit to Texas A&M, the aforementioned official visit back in April, but has tripped Oregon and USC multiple times this year. For the Aggies to beat out the Trojans and Ducks, getting the three-star back on campus at least once before his decision would likely help Texas A&M's chances. As it stands, USC holds a 42.8% chance to land the three-star and are far and away the favorite of the top three schools to land Banuelos, at least per the On3 Recruiting Prediction Machine.
Texas A&M holds just one offensive line commit to date, in 2023 Spring Branch (Tex.) Smithson Valley three-star Colton Thomasson, but are trending well with a couple targets, and remain in the mix for a handful of others like Banuelos. Interior offensive line isn't necessarily a true need for the Aggies this cycle, but offensive tackle is. Landing 3-5 offensive lineman is the goal for the staff this cycle.
Banuelos ranks as the No. 813 prospect and No. 80 interior offensive lineman in the country per the On3 Consensus, a complete and equally weighted industry-generated average that utilizes all four major recruiting media companies. The three-star has an On3 NIL Valuation of $8.9k. The On3 NIL Valuation is an index that looks to set the standard market value for both high school and college-level athletes. The NIL valuation does not act as a tracker of the value of NIL deals an athlete has completed to date. It rather signifies an athlete's value at a certain moment in time.