Texas A&M QB commit Antony Maddox will visit March 25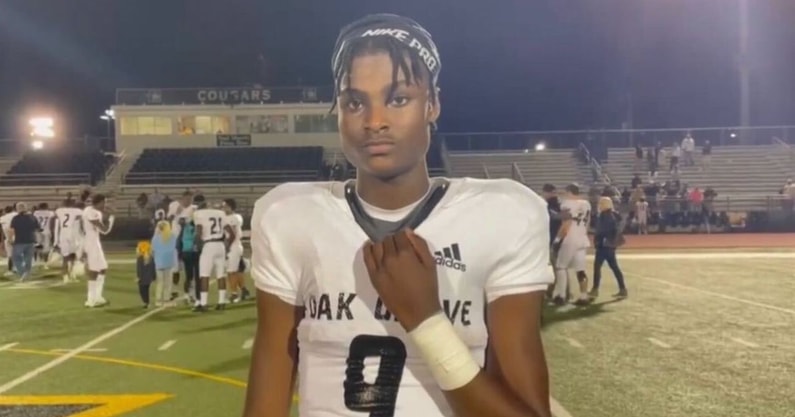 Texas A&M's lone 2024 quarterback commit, four-star Hattiesburg (Miss.) Oak Grove's Anthony Maddox will make a return visit to College Station on March 25.
He went to twitter to announce his plans.
The visit will be the first for Maddox to Texas A&M since he committed to the Aggies on Feb. 6. It will also be the first time for Maddox and offensive coordinator Bobby Petrino to meet and connect in person.
Joining Anthony will be his younger brother, 2025 defensive lineman Andrew Maddox, who also holds a Texas A&M offer. Andrew is ranked in On3's top-100 and is one of only seven defensive lineman in the top-100. With Anthony committed to the Aggies, that puts the Maroon and White at the top of the leaderboard to land Andrew.
On3 is higher on Anthony Maddox than most
On3 rates Maddox higher than other recruiting services, according to the Industry Comparison. Per the 2024 On300, he is a four-star recruit, the No. 274 overall prospect, No. 19 quarterback and No. 6 player in Mississippi.
Maddox is the No. 479 overall prospect in the 2024 cycle, according to the On3 Consensus, a complete and equally weighted industry-generated average that utilizes all four major recruiting media companies. He is also the No. 14 player in Mississippi.
At 6-foot-2, 175-pounds, the Aggies commit holds 15 total offers. 
The Aggies have competition jumping in the mix
Since the time of his commitment, Maddox has received interest and even some offers from other power five programs. It is a sign that Texas A&M may have some competition to hold on to Maddox in the long run.
For those that have not seen, in the last month or so , Maddox has picked up offers from Louisville, Mississippi State, and Miami.
Following the Aggies offer in January, Texas A&M rose to become the leader for Maddox in the On3 Recruiting Prediction Machine. After an On3 Prediction from myself earlier that week, the odds for the Aggies to land him climbed to 99%.
At the current time, it is unsure whether the four-star quarterback will pursue other offers or stay pat with the Aggies. Based on what Maddox has said about the Aggies and his reason for committing, I have a feeling Jimbo Fisher and Bobby Petrino can feel comfortable right now. 
It will be something Texas A&M will monitor, especially now that Maddox is trending, it is likely we see more power five offers roll in in the near future. 
Maddox currently has an On3 NIL Valuation of $23K. The On3 NIL Valuation is an index that looks to set the standard market value for both high school and college-level athletes. The NIL valuation does not act as a tracker of the value of NIL deals an athlete has completed to date. It rather signifies an athlete's value at a certain moment in time.