2022 Big 12 contender or not? Baylor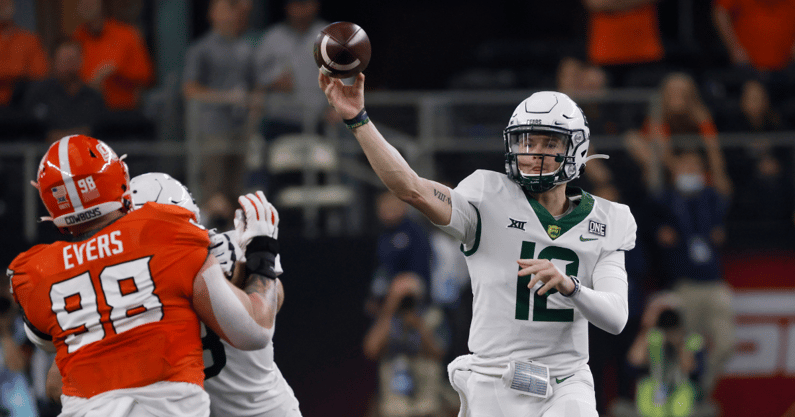 The Baylor Bears are the returning Big 12 Champions and for some, the presumptive favorite in 2022.
The return of four starting offensive linemen, in fact the best four, along with the return of all their best defensive linemen is a strong factor. They also have their quarterback returning, both quarterbacks. Gerry Bohanon who lead them through most of the regular season and in their big Sugar Bowl win along with Blake Shapen who defeated K-State and Oklahoma State to secure the championship.
On the other hand, they lose essentially all of their playmakers at the skill positions. Leading blitzes Terrel Bernard and Jalen Pitre are gone, star outside receiver Tyquan Thornton is gone, and Abram Smith who ran for 1,600 yards and embodied their physical identity is moving on as well.
Can they reload those spots around intact lines? If they can, is that enough to stay atop the league?
Roster infrastructure
Baylor is in phenomenal shape here, which is why they are going to be a favorite for many people in 2022. They do have one big question on offense but let's go over the obvious positive first.
The major positive is the offensive line which powered them (along with Abram Smith and the defense) to a 12-2 season returns all the best players as well as tight end Ben Sims and a few other tight ends who didn't even catch a pass in 2021 but did serve as bludgeons for the run game. They know who they are and what they're doing and now they have time to build depth behind the starters as well.
Here's the tricky part. The following were the quarterback stat lines for Baylor's biggest wins this season.
Oklahoma (27-14): 12-21 for 117 yards at 5.6 ypa with one TD and one INT. Nine carries for 107 rushing yards at 11.9 ypc, 2 rushing TDs
Ok State (21-16): 23-28 for 180 yards at 6.4 ypa with 3 TDs and 0 INT. Nine carries for -9 yards.
Ole Miss (21-7): 7-17 for 40 yards at 2.4 ypa with 1 TD and 1 INT. Six carries for 20 yards at 3.3 ypc.
Bohanon played the OU and Ole Miss games while Shapen was at the helm for the Big 12 title win over Ok State.
Baylor beat Oklahoma with defense and run game, which definitely included quarterback run game, but their passing game wasn't a major component. This is notable because Oklahoma played pretty bad pass defense in 2021. They beat Oklahoma State mostly with defense, but Shapen did convert three drives with touchdown passes before fading down the stretch while playing with an injury.
Bohanon took back over against Ole Miss and had virtually nothing to do with the win, which was achieved via defense and run game. He didn't turn the ball over repeatedly like Ole Miss did, but he didn't really advance it for Baylor either.
So what's the plan in 2022?
I've seen enough to question whether Bohanon will ever offer all that much in the passing game. He's at his best when he's involved as a runner but just failed the first test of whether he could carry a load in the run game and stay accurate and healthy to execute the passing game. He only got 75 carries all year but that was enough to incur an injury which lead him to miss the Big 12 title and I wondered if the velocity on his throws dipped during the season.
Shapen has injury concerns as well, he was injured in just three starts despite not doing much in the run game. At 6-foot-0, 192 pounds he's fairly small and will need to both gain weight and learn to protect himself to be a full-year starter. However, he's got a quick release and is more consistently accurate and getting through progressions than Bohanon.
The best answer is "whatever makes the most of Baylor's better skill talents," which we'll dive more into in the next section. For now I'll just note Baylor also needs to find more "reliably violent" running backs to replace Abram Smith. They have a number of options so I don't expect this to go poorly but it's at least something of a question mark.
The middle of the defense is back for Baylor, which is a major plus. Star nose tackle Siaki Ika is back along with four different guys who played outside of him at a high level, inside backer Dillon Doyle returns after finishing second on the team in tackles, and boundary safety Christian Morgan took the COVID exception year to come back.
The biggest need is to figure out who to feature in their zone-replacement blitzes. Obviously last year it was Bernard and Jalen Pitre, here's how the starting defensive backs stacked up in terms of generating negative plays.
Jalen Pitre (nickel): 18.5 tackles for loss, 3.5 sacks
Christian Morgan (boundary safety): 2 tackles for loss
JT Woods (field safety): 4.5 tackles for loss (five interceptions)
Raleigh Texada (cornerback): 2 tackles for loss, 1 sack
Al Walcott (cornerback): 1 tackle for loss (three interceptions)
For the most part, they were bringing Pitre or a linebacker on a blitz and the secondary was cleaning up behind them. Pitre is off to the NFL, along with JT Woods, and Raleigh Texada has finished his career as well.
So the next nickel will be the weapon off the edge? Well…the next nickel seems to be Lorando Johnson, a converted cornerback who's more of a coverage player. He will still get involved in the blitz package but there are other solutions as well.
At LSU, Aranda had some nickel defenses where he'd play a nickel corner and then bring either safety (usually one or the other) off the edges on the same blitz schemes he'd use for the nickel. Similar story at Wisconsin but instead of always having freak defensive backs they always had linebackers.
So long as one of the safeties or linebackers can become a great blitzer? They'll be fine. The only concern here would be if they are married to having Jones in one of those inside linebacker spots for his blitzing and either they aren't as good in typical inside linebacker play or on the edge.
Space force
I was pretty hard on Baylor's space force last year, ultimately they ended up being good. Connor Galvin and Tyquan Thornton were among the best in the league in terms of offensive space force units (left tackle and deep threat receiver), defensively it was way dicier until Matt Jones moved to Jack linebacker (Edge position) and the D-line got so good down the stretch they could afford to sit back in two-high coverages and protect the cornerbacks.
For 2022 it's mixed.
I keep hearing Garmon Randolph talked up as a Jack/Edge player but I think it'd be a big miss to move Matt Jones from there back to inside linebacker. Every time he gets a chance on the edge, he has a huge impact, so stop moving him inside. If Randolph is really good there then play the Peso package (2-4-5) some to get him snaps. Yet either way, the Bears should be as good or better than a year ago on the edge.
Outside at cornerback I have some questions. Raleigh Texada was a weak spot for years but they struggled to get him off the field. Kalon Barnes was the guy with the athleticism to potentially upgrade the position in a major way but it never happened and now he's leaving.
They have Al Walcott and Mark Milton there for 2021, a pair of senior steady veterans. Neither of them are anything close to the caliber of players Aranda had at LSU and I don't know if they're as good as some of his Wisconsin cornerback crews either. Rush the passer and it'll still work out okay.
Offensively they have both tackles back, including Connor Galvin, which is a massive plus. They need a new deep threat receiver to attack 1-on-1 coverage outside. Favorites for the role include Auburn transfer Hal Presley (mostly waited his turn in 2021) and freshman Armani Winfield.
Can one of those guys replace what they lost in Tyquan Thornton? I honestly don't have even a good guess here. We'll see what the spring game and practice reports can yield in terms of information. This could be the difference between repeating or not though.
Can Baylor contend in 2022?
Baylor will be good at running the football and playing defense in 2022, bank on that. Will that be enough to win the Big 12 again? Probably not, but it's a strong starting point and they'll have additional upside which could make the difference.
I think this will come down to quarterback developments and decisions, the emergence of a game-changing receiver, and then finding another star blitzer from somewhere in the defensive backfield. If Aranda can check off all those boxes, he'll have a very good chance at getting the Bears back to the Big 12 title game.
Are the Baylor Bears the favorite to win the Big 12 in 2022? Discuss for free on the Flyover Football board!