2022 Big 12 contender or not? Oklahoma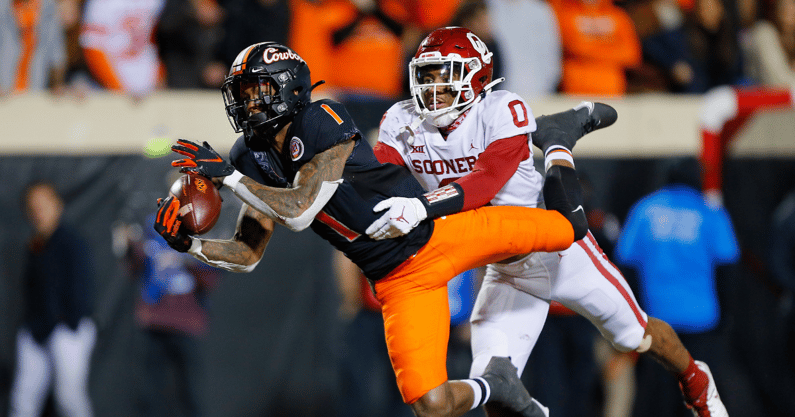 Oklahoma hasn't been in this position in a very long time.
What position, exactly?
The position of experiencing a wholesale regime change and restructuring of the roster and schemes on both sides of the ball in a single offseason. The last time this happened for Oklahoma was in 1999, when they replaced John Blake with Bob Stoops.
The 1999 Sooners went 7-5 while transitioning to the Bob Stoops defense and Mike Leach's Air Raid offense. They made a dozen position switches and worked things out, then in 2000 they won the National Championship.
That'd be a remarkable outcome here for Brent Venables and his staff but you can see how they're following a vaguely similar formula. Hire the defensive coach who made his bones for a long time as a coordinator, then hire an up and comer from a new offensive tradition. Next up is to bring in the left-handed transfer quarterback (check), make a bunch of position changes, and then piece it together for an awesome year two run.
But in the meantime…you have the first year.
Roster infrastructure
This part is really rough for Oklahoma and why it's easy to see a 7-5 sort of year one as a possible outcome. The idea of going 7-5 probably sounds impossible to a lot of Oklahoma fans.
"LOL, 7-5? We've recruited top class after top class, there's way too much talent to go 7-5!"
Folks in Austin once thought as you did, but 7-5 isn't even the bottom of what's possible if you are fitting misshapen pieces together in a new system with a new culture and perhaps have some injuries you can't afford. Oklahoma has been shielded by the negative possibilities of college football by years and years of stability which allowed them to have contingency plans and a well constructed roster, always more or less evaluated and developed for the task at hand. No longer.
Let's review some of the essentials here.
On defense, the Sooners had five phenomenal players in the D-line and inside linebacker Brian Asamoah. The rest of the defense had injuries to excuse some of their performance, but they were pretty bad overall. Especially at cornerback, which I anticipated before the season would be a primary reason Oklahoma did not contend for a National Championship (ended up being one of many things on the list).
Of the front five, inside core of the defense, only Jalen Redmond returns. Isaiah Thomas, Jerrion Winfrey, Nik Bonitto, and Asamoah are all off to the NFL. Also challenging, the veteran safety tandem of Delarrin Turner-Yell and Patrick Fields who played behind them for almost the entirety of the Alex Grinch era are also moving on.
Brent Venables will be establishing a new scheme anyways, but there is precious little experience or proven star power back in the middle of the field.
In his 4-3 defense, a potential depth chart could look like this:
Weakside end: Clayton Smith (98.13 redshirt freshman) or Marcus Stripling (90.33 senior)
Defensive tackle: Jalen Redmond (94.42 redshirt senior)
Nose tackle: Jordan Kelley (88.23, redshirt junior)
Strongside end: Ethan Downs (91.28 sophomore)
Will linebacker: DaShaun White (92.00 COVID senior)
Mike linebacker: Danny Stutsman (88.61 sophomore)
Sam linebacker: Key Lawrence (96.47 redshirt sophomore)
Left cornerback: Woodi Washington (92.25 redshirt junior)
Strong safety: Billy Bowman (97.99 sophomore)
Free safety: Bryson Washington (91.87 junior)
Right cornerback: DJ Graham (88.17 redshirt sophomore)
Obviously I'm guessing at some of this, tell me how much of an idiot I am in the comments.
There's a ton of athleticism in this group, a ton. The questions regard how the pieces fit (can Lawrence play Sam? Is there a nose?), whether the right skills have been developed (can anyone cover in man?), and how well they can play together as a unit.
Obvious issues for Venables in year one will be A) making sure they beef out the D-line to be able to hold the point of attack and B) get all the speed in the defensive backfield pointed the right way. I think the latter point is more promising, it's mostly a question of whether they can hold things down up front without overcommitting the secondary, because these defensive backs have not shown they can cover in isolation.
The offensive infrastructure is in decent shape with the addition of Dillon Gabriel. He's a really gritty kid who can make some plays with his feet and throwing on the move outside of what he can do executing the basics of the Veer and Shoot offense. If you watch him against Cincinnati or Tulsa, while those were the games where his numbers dipped hard and Central Florida struggled, you can tell he's battling in the chess match with the defensive coordinators and trying to make plays where he can.
He's not Caleb Williams but at least he knows this system well and is very experienced, if OU struggles on offense in 2022 the breakdowns will be elsewhere. Or because he was injured.
Wide receiver is promising, despite the loss of Jadon Haselwood and Mario Williams to the portal (to USC with Caleb Williams, surely). Theo Wease and Marvin Mims are back along with guys like Drake Stoops. They'll have at least one guy teams will really struggle to cover 1-on-1 on simple, adjustable routes outside.
Offensive line is where things are potentially dicey.
Marquis Hayes and Tyrese Robinson are now gone and the pieces Oklahoma keeps trying to plug in around the two long-time stalwarts have yet to come together. For next season they have up and comers Andrew Raym (center) and Anton Harrison (tackle) they'd like to see put it together, added an experienced guard in McKade Mettauer through the portal, Chris Murray is back, and then transfer Wanya Morris should theoretically get back to his Tennessee form.
There's talent, it just needs to come together. The nature of this scheme is to make things relatively simple so it becomes a test of execution somewhere on the field of either the offense's or defense's choice. This latter point is probably the trick for next season at Oklahoma, we'll get to that in the next section.
Space force?
Here's how Tulsa ultimately chose to defend UCF's Veer and Shoot from their "Flyover defense."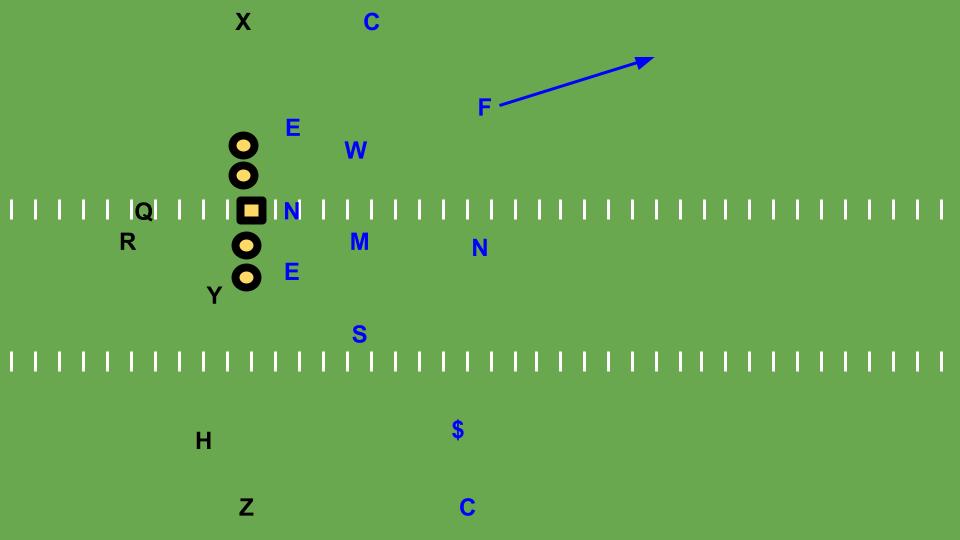 After getting burned a few times early, they started playing more Cover 2 in the boundary. The Sam linebacker would drop into coverage on a pass but otherwise hang in the box and play the edge. The nickel/middle safety here would run the alley and help them outnumber the Knight run game or rob throws to the middle of the field.
Outside they handled the slot and outside receiver in off man quarters coverage that was basically cover zero. The Knights could either try to beat them over the top outside 1-on-1 with the longest throws on the field (and they tried, with limited success) or they could throw long comebacks outside the far hash. Tulsa welcomed it and focused their numbers on stopping the run and limiting easier deep shots or throws up the middle or on the boundary.
This is the defensive calculation you invite with the Veer and Shoot, for the defense to determine where they are comfortable playing 1-on-1 and then for your offense to have to beat them there with a limited collection of plays and options.
Where will defenses choose to make Oklahoma beat them in 2022?
The Sooners may be good enough at receiver and with Gabriel to use the passing game to command attention to either side of the formation. If a healthy Wease is in the boundary and Mims is outside the far hash in the slot, you may want a safety over the top to either side. How about in the box? Can Oklahoma run the ball on honest fronts? Kennedy Brooks is gone, Jeremiah Hall is gone, the O-line is rebuilt, and Gabriel isn't a particularly imposing run game threat so will they be able to get the ball down the field and then convert in the red zone with shorter gains?
Can they run on a six-man box like this one?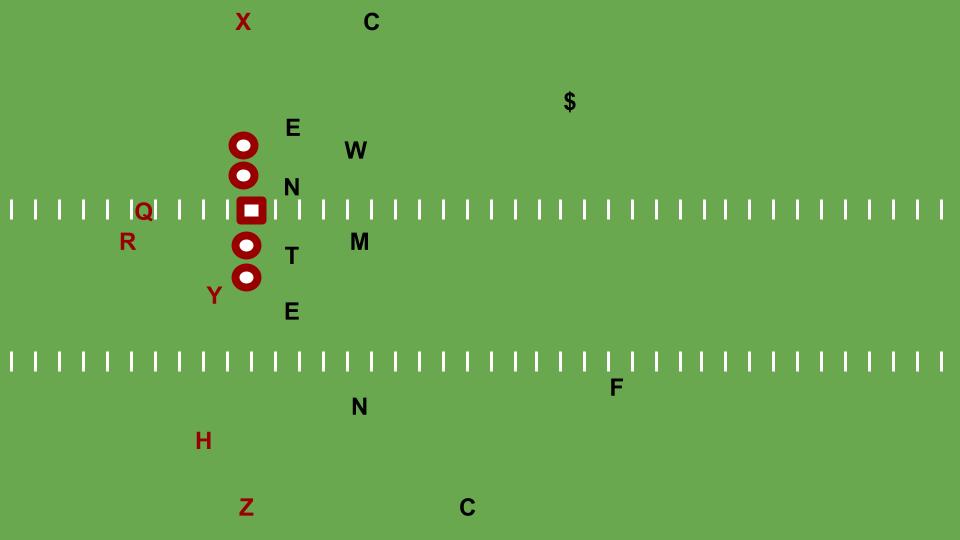 Against teams who can't stop the OU run though, there's a lot of athleticism outside at receiver, outside at tackle, and then enough arm and knowhow from Gabriel to deal damage.
Defensive space force is another matter. The Sooners don't have a proven man cornerback, the best option is either Billy Bowman or Woodi Washington, either of whom might end up at safety. On the edge they may have a good pass-rush from Ethan Downs, Marcus Stripling, or particularly Clayton Smith, but we haven't seen it yet.
Venables favorite way to play defense is to attack teams with varied linebacker blitzes from speed around the edges, but I'm not sure there's a Sam or Will on the roster with the speed to really scare anyone here. I'm not betting against Venables finding someone and making hay somehow I'm just saying, if there's a Rocky Calmus or Roy Williams on the roster point them out. This is definitely the plan for Jaren Kanak but he's likely a year or two away.
Alex Grinch recruited speed but he didn't recruit for Venables' defense. He wanted to do work with a lightning quick defensive front, not the linebacker corps. Venables will fix this issue but it'll take a little time.
Can Oklahoma contend in 2022?
The best way to prognosticate a team's future is to take all the unknowns and assume they break about 50-50. The unknowns with Oklahoma are a lot more numerous for 2022 than normal so they just don't fare as well in this calculation.
Will the offensive line gel? How will everyone take to the new scheme on offense? Can they build a power run game to prevent opponents from sitting on their receivers in two-deep coverages? How will the defense come together? Can they adjust to the new scheme and playing style? Will all the players they'll be counting on come through?
I think it's fair to expect Oklahoma to be good on offense next season, the level of returning receiver talent paired with Dillon Gabriel is going to blast some opponents. Upside will depend on Gabriel staying healthy (otherwise, yeesh) and developing a strong run game and pass protection with the retooled line. Most likely they'll have a good unit but not strong enough to win a Big 12 Championship without a strong defense.
Defensively, I think it looks a lot tougher.
Again, loads of speed and athleticism but the pieces all have to be fit together and figuring out the right combinations could take time.
I think the teams' sheer athleticism combined with Gabriel's experience as a signal-caller will keep Oklahoma in the hunt but it's hard to see them breaking through for a Big 12 title. Big 12 defenses are wise to this offensive scheme, the new staff has an awful lot to sort out between incoming and outgoing transfers and putting together a recruiting board while installing new systems and evaluating existing players, and the rest of the league is importing quarterbacks as well.
I've observed this a number of times and the sheer volume of tasks for first-year staffs always seems to make it next to impossible for their teams to maximize. Especially when they are choosing to instill a new culture, system, and roster first and foremost rather than trying to plug along with what was working before. Venables isn't going to air up the tires and just drive this car, they are going to drop the engine out and overhaul everything.
I expect around eight wins and then a surge into 2023 if they can diagnose and resolve the issues they find while road-testing the new Sooner machine.
Can Oklahoma contend for a Big 12 Championship in 2022? Discuss for free on the Flyover Football board!