2022 Texas vs. Iowa State Preview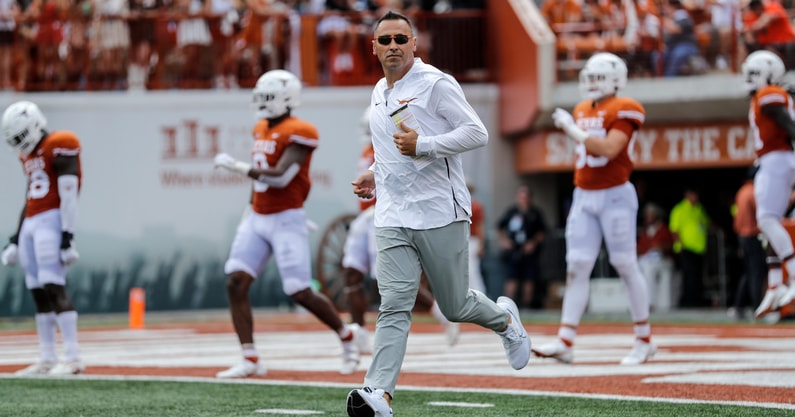 The 3-3 Cyclones are 0-3 in conference play, losing three league games in a row by a grand total of 11 points. Close losses and tough breaks (their FG kicker missed three against Kansas) are one of the reasons they're still considered a Top 25 team nationally by FEI, suggesting that the scoreboard or record doesn't adequately reflect their overall quality. Take that, Bill Parcells!
[Get FOUR MONTHS of Inside Texas Plus for $1!]
Their problem is a distinct asymmetry between their offense and defense. Averaging 14.7 offensive points per game over three Big 12 contests will help a team find their way to the loss column, even as they held Kansas and Kansas State to 14 and 10 points, respectively. Baylor, with the help of some Big 12 officiating, was surprisingly effective on offense and we'll explore their relative success later in the preview. This is a very good Cyclone defense paired with a moribund offense, but unlike the Oklahoma Sooners, who showed up to the Cotton Bowl with a big 'ol can of quit that they couldn't wait to pop the top on, the Cyclones understand that this game is their season inflection point and they will play extremely hard for 60 minutes.
Offense
They average only 106.3 yards per game rushing on the season and QB Hunter Dekkers has been erratic as the Iowa State passing game averages less than 10 yards per completion. Their inability to run on early downs has turned them into a very average passing offense that struggles to protect the passer and that's not where Iowa State has had historical success under Campbell. The ISU offensive line has struggled in pass protection all year, but they could be adequate with better skill personnel around them and the ability to play action effectively. In short, Iowa State's problem is their complete lack of big play capability and that constricts everything they try to do.
WR Xavier Hutchison is their best skill player, but he's a big bodied possession receiver. The other wide outs are carbon based life forms who put little pressure on the defense down the field. Hutchison already has an amazing 57 catches, but the rest of the ISU receiving corps in aggregate has only 60. Historically, Iowa State has always had the one designated fast guy who could murder a defense deep (pre injury Tarique Milton, Hakeem Butler) but that individual isn't in Ames this year. That deep speed was also complemented by outstanding tight end play attacking the middle of the field, but the 6'6″ chain movers like Kolar and company are long gone.
RB Jirehl Brock is a 220 pound FBS average starter. Block it for four, he'll give you four and a quarter. The drop off from Breece Hall to Brock has been profound. Hall dropped 30-70 yard runs on the regular. Brock isn't that guy.
Finally, QB Hunter Dekkers struggles to get the ball downfield, in no small part due to his protection. However, despite his solid athleticism, he has poor pocket feel and will try to make lemonade out of a lemon play call that usually ends in a sack, turnover, or ugly incompletion. His best chance at playmaking is the short passing game and getting outside of the pocket.
Gameplan
The biggest mistake that Texas can make in game planning Iowa State is to respect them too much and concede much of anything. Play it straight on early downs, but on on critical downs, bring some bad intentions and an interesting wrinkle and dare the Cyclones to make a play. It's also important that the Longhorn edges set the edge against the running game and Dekkers on the move in their passing attack. The interior Longhorn DL is going to win. Let those wins result in sacks, QB hits, pressures, tackles for loss. Texas cannot consent to being ball controlled by an inferior offense.
Defense
The Cyclones are masters of the flyover three safety deep defense. This is the defense that confounded Sarkisian against Arkansas and Iowa State last year, but this game will reveal whether that was a Sark problem or a Jimmy/Joe issue. I have my suspicions, but we'll see. Oklahoma tried to run that scheme last week and it's useful that Ewers and the Texas OL got the scouting look, but the Sooners aren't proficient at anything defensively and Iowa State has much better, smarter, and physically tougher personnel.
Why did Baylor's very average offense have some success against them? They attacked their scheme effectively in a variety of ways. Blake Shapen is a poised, accurate QB and he went 19 of 26 for 238 yards and 3 touchdowns throwing to a Baylor receiving corps I consider one of the worst in the league. They got open running to the right spots (and hitting a wide open flea flicker), not winning 1 on 1. If Texas can duplicate that execution with much better skill talent, they'll be just fine.
Iowa State's defense gives the illusion that they're covering the whole field and keeping everything in front of them. In fact, a good play caller, an accurate, composed QB who can make his second or third read, and personnel who know what holes to attack can take big chunks. Once that happens and the safeties and linebackers stop flying to the ball in run support, you can run on an honest box. There's a big executional element to beating Iowa State's D that isn't about just beating the man in front of you. In basketball terms, they're a "help" defense that does a good job of disguising where the help is coming from. But there are open threes and dunks at the rim for a good offense that knows where to throw the ball.
DL
Will McDonald is a problem up front and if ISU can get pressure with a three man rush, your offense is in for an ugly day. The explosive pass rusher has accumulated 33.5 career sacks while adding 30 pounds to his rangy frame over his time in Ames. Good first step, long, gives good effort, excellent at attacking a tackle's inside shoulder after setting him up with his speed. The rest of the Iowa State front is physical, though not necessarily gifted. Blake Peterson is a big physical bull rusher outside, but not that versatile. Their interior guys are a lot like Texas Tech – short thick guys with motors who bounce around and try to create havoc to keep the next level clean. Not the 340 pound knock back your center space eaters of years past. Majors, Conner and Hutson need to do their jobs and coordinate well and this is a big game for the offensive line overall. If Iowa State can dictate running game and pass protection with light or honest numbers, that's not optimal for passing game success.
LB
O'Rien Vance is their best and most experienced linebacker. The middle linebacker is every bit of 260 pounds and he hits like a ton of bricks, with three forced fumbles on the year. They like to bring him on interior stunts and he's very physical. I've seen him stone 310 pound pulling guards in the hole like they were wide receivers. Gerry Vaughn and transfer Colby Reeder have been solid and they have the ruggedness to hold up against the running game when they play seemingly honest or light fronts.
I question their foot speed, not their physicality or intensity. Texas running backs and the tight end(s) have an opportunity to hurt them in space, particularly outside of the hashes. Make them cover ground and make an open field tackle. Iowa State is going to have to find a tackling solution to various Longhorn RPOs, wheel routes and play action that happen outside.
DB
Iowa State is big on the back end, with several guys well over 6'0. Their three safeties go 6-4, 6-2 and 6-0 and they have a 6-2 cornerback. They can cover ground, but Texas will be quicker than they are. Safety Anthony Johnson has been really good and he's a high effort, high IQ defender. Here's an example of his never-say-die play from last week:
They all tackle well and they're big physical dudes. Corner TJ Tampa (#2. Yes, Tampa 2) has a NFL body and he can carry a receiver up the sideline when ISU puts him on an island. If the Texas offensive line can deliver a great pocket when ISU rushes three and drops eight, there are throws available against their bigger safeties.
Gameplan
Quinn Ewers may get suckered into an interception or miscue, but Texas just needs to block up front and attack the scheme with skill personnel quality that Iowa State has yet to see this year. The more possessions the Texas offense gets, the better off they'll be. Ewers just needs to see the defense and get comfortable with his read progressions. A little tempo and some good early defense will help the case in cracking the Cyclone code.
Final
A great test for Texas. Particularly on offense. Want to level up and put some naysayers to rest? Cut up the best performing defense in the conference running the scheme that humiliated the Horns last year.