2022 Washington Alamo Bowl Postmortem: Offense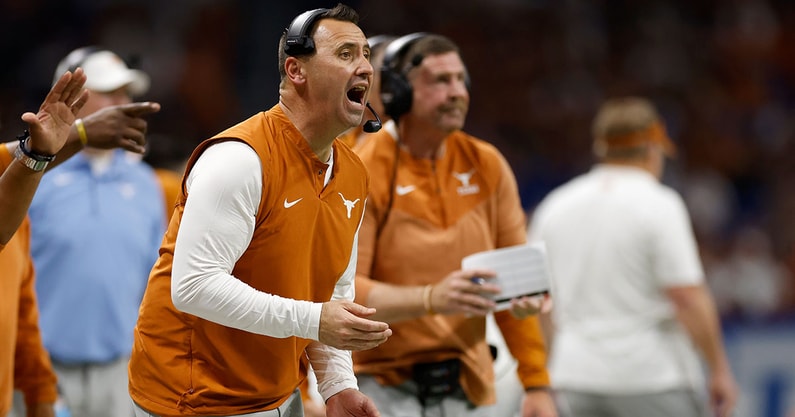 On review, I'm reminded of the scene in Spinal Tap where the heavy metal band, panicked by the absence of a crucial band member, decides to explore a new direction of freeform jazz odyssey in front of a festival crowd.
[Get Inside Texas Plus until the start of the 2023 season for $10!]
Their new direction is not entirely well received.
Absent a crucial band member or two of their own, Texas debuted a pass first, quick throw offense for the Alamo Bowl, but lacked the well-drilled personnel or repetitions to execute it in peak form against a modestly talented but stubbornly disciplined Husky defense bought in on the idea that they could bleed some yards but that Texas would ultimately fail on critical downs. More likely, that's what Washington hoped to be true and as the game progressed, they gained confidence that Texas was actually going to comply and not expose their deficits in team speed. Meanwhile, the Longhorn defense allowed Washington to control the 2nd half clock, the ball and game tempo so that the Texas offense didn't have much time to explore their new symphonic direction. The approach also seemed to neuter some of the fire and passion that the unit had played with late in the season.
The Texas Longhorn offense exploited Washington's zone heavy off coverage to pick up underneath yardage in the passing game (Texas averaged a very healthy 6.5 yards per play on 65 plays), but in the process of doing so, they lost their run game/play action offensive identity and were forced into playing a game of execution on critical downs where they could not match their offensive counterparts who seemed to perpetually keep the chains moving on the Longhorn defense.
Meanwhile, Washington's defense kept the ball in front of them and waited for the Texas offense to make largely unforced errors. For a half, Texas complied. When Texas began to find their footing, receivers dropped big passes and the Longhorn offense found the dying clock increasingly hostile to learning on the go.
A slow first half offensive start was largely owed to the inability to convert on critical downs. After a bad throwaway opening drive wrecked by a Quinn Ewers sack on a blown double team protection by Gunnar Helm and Ja'Tavion Sanders, Texas repeatedly struggled to convert makeable down and distances. Keilan Robinson was stuffed on a 3rd and 1 inside run (prompting the obvious question: why is Robinson running inside on short yardage?) while Jordan Whittington dropped a well-thrown ball on 3rd and 3. Later, Ewers missed Xavier Worthy in single coverage on a 4th and 1 at the Washington 37 yard line.
And just like that, it was halftime. Texas had a field goal on the board, yet only trailed by 10.
Somehow the more athletic and to date more physical unit had been forced into running a precision, incremental offense that they hadn't really run all year. 3rd and 2, 3rd and 3 and 4th and 1 were now passing downs.
Texas looked better executing the Sark Spread offense in the second half, but despite receiving the opening kickoff and immediately marching down for a touchdown to cut the lead to 13-10, they would only see the ball on three more meaningful possessions the entire second half. Two of those three possessions yielded 10 points. The abrupt loss of offensive opportunity and a relentlessly ticking clock was largely attributable to a Texas defense putting on a clinic on how to play statistically competent but losing team defense (defensive post mortem follows – save your comments). However, Worthy not adjusting to a well thrown deep ball on the sideline and then dropping an easy touchdown one play later over a vacated Husky middle didn't help matters much either.
QB
No complaints here. Quinn Ewers played quite well within the game plan. He went 31 of 47 for 369 yards with no turnovers and he took good care of the ball on over 50 drop backs, even scrambling for a pair of first downs. He had a couple of throws he'd like back, but for the most part he was very accurate, poised and on time. He was prepared to run the Sark Spread Jazz Odyssey. The personnel and game planning around him? Less so.
WR/TE
Xavier Worthy played a poor game despite totaling 7 catches for 84 yards. He dropped a sure touchdown, dropped another easy ball in the first half and didn't adjust to or fight on a pair of sideline routes. If you're going to attack a soft zone team underneath, execution has to be on point. Gimmes have to be gimmes on critical downs and the offense must hit the big play lay ups when they finally lure the opposing defense out of their shell. Worthy didn't get it done. 84 yards on 14 targets isn't productive in the passing game when the opportunity for 160+ yards and an easy 6 is there.
Whittington played OK, but had a critical drop on a 3rd down while being relegated mostly to underneath stuff. Casey Cain had his most productive game as a Longhorn and was a capable #3 option. Much of his success was Husky concession or open-for-a-reason play calls. If he can build on it, great.
Sanders and Helm blew a double team in pass protection allowing a sack, but were otherwise solid underneath as receivers. Washington's size on the edge stalemated them as run blockers on outside zone and the Texas offensive brain trust had little interest in exploring Page 2 of how to incorporate Sanders better as a blocker in space.
RB
Texas didn't have much patience or interest in the running game (14 rushes by Longhorn backs) and Keilan wasn't the best option to carry the early load and set the tone on short yardage. He was productive as a receiver catching 6 balls for 40 yards. Brooks ran better and with more authority (he was showing good lean and tackle-breaking late on the couple of goal line runs that cut the lead to 27-17), but we didn't get much chance to see what might click as Texas had gone into full Mike Leach tribute mode. Brooks' 34 yard touchdown catch down the sideline was the longest catch Texas had in over 50 drop backs (47 actual passing attempts) other than the Casey Cain end of game empty calorie snatch.
OL
The Longhorn tackles played very well. Washington's early and late pressure came on stunts inside and some success in limiting the sparse Longhorn running game came largely against the interior OL. Cole Hutson blew a play action block on a hard charging Washington defensive end, DJ Campbell had a bad holding call and Jake Majors had some struggles with push on inside zone. Conner and Hutson didn't pull all that well early, but the Texas offensive brain trust never really tried to counter anything Washington was doing up front. The running game was abandoned fairly early and we're left with little idea of what might have been accomplished from different formations or with different approaches. Texas allowed pressure late on the final hapless 0:30 left in the game drive and that memory may color some perceptions, but Ewers had plenty of clean pockets when the game was still in doubt.
Final
Texas looked like a team learning to play in a new approach passing offense, gaining slow confidence over the course of the game. Unfortunately, they didn't see the ball a lot in the second half as the new game plan fully settled in. Washington was better prepared to win the game en total and that's about more than just the seemingly discrete matchups between individual players and units.