2024 Beckville ATH J'Koby Williams is on the rise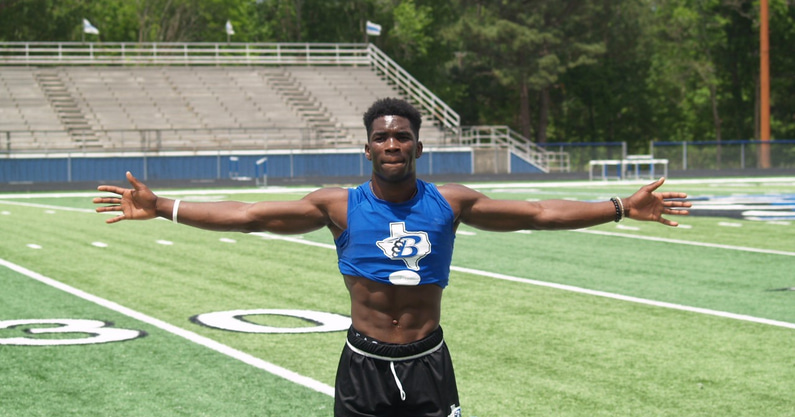 Beckville, Texas, a town with a population of just 847, might be easy to miss. 2024 athlete J'Koby Williams is making sure college coaches won't drive through without stopping.
[Get a FREE 7-day trial of Inside Texas Plus!]
The 5-foot-10, 175-pound multi-sport stud is finally catching the attention of programs nationwide. With six early offers including Texas, Baylor, Texas Tech, and TCU, the running back/wide receiver has been a statistical machine after his first two seasons on varsity for head coach Cody Ross. 
He's notched 2,813 yards rushing and 39 touchdowns on 264 carries, and another 825 yards receiving and 10 touchdowns on 49 catches. Add his basketball exploits and track and field success, and you have a bona fide Power 5 prospect. He'll be in Austin in less than two weeks at the state track meet. 
"Going to state in three events is good for my team and myself," Williams said. "We have a chance to win a state track meet. We did what we needed to do and got it done. We'll have all eyes on us." 
He'll compete in the 110m hurdles, 300m hurdles, and the 4×400 relay. The BHS team clocked in at 3:23.42 at the regional meet in Palestine. His 39.7 300m hurdle time remains his personal best. He almost qualified for state in the long jump and triple jump, but barely missed out. 
His recruitment is only beginning for the 9-2A newcomer of the year in 2020 and 9-2A offensive MVP in 2021. Beckville is seeing more and more coaches come through the region, including representatives from the Longhorns. It's noteworthy when the head coach is your primary contact.
"I was told to call coach (Steve) Sarkisian," Williams said. "When I did, he offered me over the phone. I'm learning more about Texas. (Sark) was telling me how much they love my athleticism and how they want me to visit real soon. I'll be down there this summer, probably in June." 
Baylor and TCU will also get unofficial visits, with Texas A&M and Oklahoma State jumping into the mix as well. 
Beckville will compete in the 2A Track & Field Championships on Friday, May 13 at the University of Texas Austin.