29 players, including several juniors, to be honored on UT senior day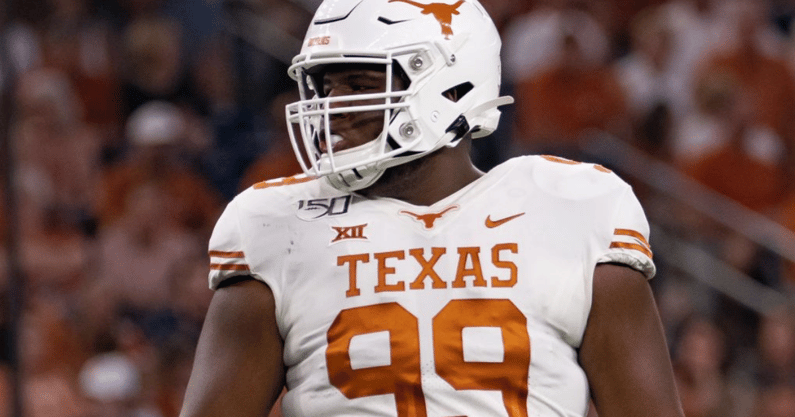 Texas announced it will honor 29 players on Friday for senior day ahead of the Longhorns' season-ending matchup with the Kansas State Wildcats.
[Subscribe to Inside Texas right now and get 50% off an annual or monthly membership!]
Seniors set to be honored include Skyler Bonneau, Cade Brewer, Ryan Bujcevski, Ben Davis, Cameron Dicker, Darion Dunn, BJ Foster, Tope Imade, Jacoby Jones, Derek Kerstetter, Justin Mader, Denzel Okafor, Brenden Schooler, Carlton Smith, Josh Thompson, Ray Thornton, Gabe Watson, and Daniel Young.
Juniors who are electing to go through senior day include Ayodele Adeoye, Kartik Akkihal, Keondre Coburn, Rafiti Ghirmai, Chandler Kelehan, Kai Money, Tremayne Prudhomme, Jarrett Smith, Turner Symonds, Travis West, and Al'Vonte Woodard.
The players being honored have combined to play in 639 games and have started 220 contests throughout their four-year career.
Some notable seniors not listed include DeMarvion Overshown, D'Shawn Jamison, Anthony Cook, and Montrell Estell.
Most juniors going through the process are further down the depth chart or play backup minutes, with Coburn the exception. A fourth-year junior who redshirted in 2018, Coburn has played in 26 games. He has 3.0 career sacks, 9.0 tackles for loss, and 53 total tackles. He has started 10 of 11 games during the 2021 season at nose tackle.
Several seniors have the option to return due to the eligibility relief provided by the NCAA as a result of COVID-19, but their decision to go through the senior day honors indicate their next-level ambitions or desire to move to the next phase of their life.
The decisions by Overshown, Jamison, Cook, and Estell not to go through senior day does not guarantee they will return to the Longhorns in 2022, but it leaves the door open due to the eligibility relief.
Texas head coach Steve Sarkisian said Monday he plans to have discussions with players who have available eligibility after the season is over.
"I don't want them to make any decisions prior to the end of the season," Sarkisian said. "I've had quite a few of those discussions with guys. After this ballgame, I'll try to sit down with each and every one of them and try to do what's in their best interests and what's best for the program.
"Clearly, we have a lot of guys in that scenario. COVID has caused a unique scenario for a lot of schools. For us, we're a little different in that we're a very young team comparatively to the rest of the conference. As much as it is we have younger players, we still have some older players that could potentially come back.
"We've got to work through that. We'll do that after the game."
Jamison has started every game in 2021. He has 113 tackles and four interceptions in his career in addition to one punt return and two kickoff returns for touchdowns.
Cook has 106 tackles, 6.5 tackles for loss, and 2.0 sacks in his career. After starting out at corner and entering the transfer portal, he eventually returned and moved to nickel under former defensive coordinator Chris Ash. He remained at that position under Pete Kwiatkowski.
Overshown moved from safety to linebacker ahead of the 2020 season. He has 153 career tackles with 20.5 tackles for loss, 5.0 sacks, and three interceptions.
Estell has been a backup for most of his career, and moved from defensive back to wide receiver at the end of the 2020 season.