5 quick thoughts: Flop in Fayetteville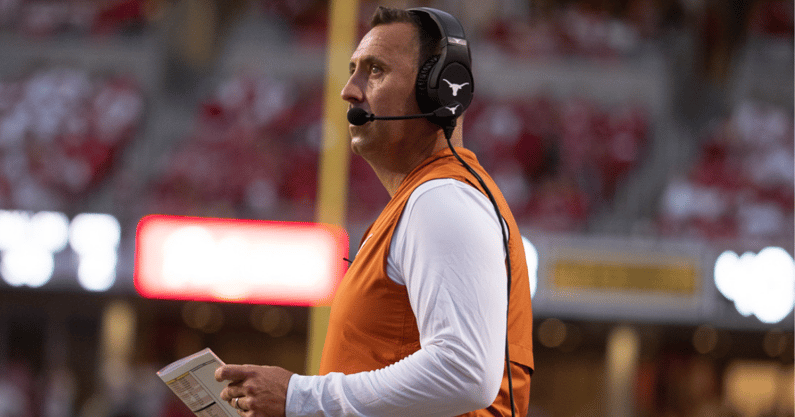 Steve Sarkisian's discussion of this game as a great test of taking on an SEC opponent with SEC size in the trenches in an SEC atmosphere echoes now in the wake of an absolute thumping delivered to Texas by Arkansas.
The Hogs live to beat Texas when they get the chance. The last occasion was in 2014, the one and only bowl game of the Charlie Strong era (Texas Bowl), and the outcome was actually pretty similar. In the Texas Bowl, a Bret Bielema Hog team with a big, talented defensive line (Darius Philon, Trey Flowers) and a power run game completely obliterated Texas 31-7 and it wasn't even as close as the score.
This time around, it was Sam Pittman at the helm facing Sark, but again the Hogs were far and away the bigger, more physical team. Arkansas was playing through the whistle early and Texas didn't quite seem up for it. Nor did the coaching staff, Arkansas befuddled Texas on both sides of the ball with their gameplans. There were moments where the Texas strategy was apparent and plausible for brief moments but always foiled by poor execution before the Arkansas way reasserted itself and controlled the game.
The final score was more or less chosen by the Hogs. The real stat of the game was:
Texas: 41 carries for 124 yards, 3.0 ypc, three rushing touchdowns.
Arkansas: 47 carries for 333 yards, 7.1 ypc, four rushing touchdowns.
Overall it's hard to imagine this game going worse for Texas.
Quick thought no. 1: A great chance to win the game slipped away early
After trading punts, Texas had a chance to break the game open early when Arkansas' punt return man dropped the punt in front of Kitan Crawford. The Texas defensive back immediately scooped up the ball… with a toe out of bounds. Instead of getting the ball inside the Arkansas five, the Hogs were able to run some offense and protect field position with a booming kick.
As it turned out, special teams went decidedly against Texas despite Pittman misidentifying which No. 5 returned punts for the Longhorns. Cameron Dicker missed a 52-yard field goal when the game was still in doubt and had a punt blocked which helped erase any questions about who would emerge victorious. The blocked punt only resulted in an Arkansas field goal rather than a touchdown, but the Hogs would make up those points later on after softening up the Texas defense with repeated body blows in the run game.
Quick thought no. 2: Texas couldn't land any throws to protect Bijan
The lack of RPOs in Texas' approach against Arkansas and Louisiana has been a bit disconcerting. It's hard to protect the running game against certain styles of defense if you can't make safeties pay for closing on the run downhill after the snap. There was seldom any doubt from the Hog linebackers about what Texas was up to and it took some herculean efforts by Bijan to even make any gains early in the game.
The nature of the flyover defense with three deep safeties appears to invite runs, but it's a trap. When the safeties are flying downhill in quarters behind hard-charging linebackers then what appears to be a bubble in the front to run the ball into quickly becomes a swarm of bodies. Getting into 12 personnel doesn't help you because the extra bodies are coming downhill from depth and are hard to pick up. You're either washing out the D-line to make big enough creases the "flyover" defenders can't fill them, or you're getting stopped for minimal gains and facing a lot of third downs.
In this case, it was a lot of third downs.
As I noted in the preview though, Arkansas' preferred coverages can be had when they turn into man coverage down the field. You have a chance to take some shots then and Texas did so in this game with a number of double moves and play-action attempts… nearly all of which were missed.
Hudson Card misfired on a few deep throws, often seeing his throws sail to the right, and Jordan Whittington dropped a deep corner route which hit him in the hands. There were a number of points left on the board in this game simply from the lack of connection on deep throws, to say nothing of how landing some of those could have opened up angles for Bijan Robinson.
Quick thought no. 3: Pete Kwiatkowski's gameplan wasn't on point.
As I wrote on Thursday, one of the main challenges of the "veer and shoot" offense invented by Art Briles and operated currently by his son for Arkansas is defending the alleys. The extra wide splits by the receivers open up a lot of space off tackle and the power run game will fire big, physical backs downhill into those alleys if you don't have a schematic plan to position overhangs there to make stops.
The best option is typically either to drop eight so you get extra defenders to perform this task, or to play man coverage outside with a single high safety to get an extra defender in that fashion.
Pete Kwiatkowski instead played a lot of two-high, quarters coverages in order to have the nickel (or occasionally the Mike linebacker) as an overhang defending the field alley. The downside of this approach? Well there were a few downsides. One significant downside was it left Texas to defend the Hog run game with a 6-man box and they were not up for it.
The menacing Texas defensive front we've been waiting to see was mauled by the big, Hog front and despite the care paid to having overhangs the edges were often played poorly. In particular, Texas was often gashed in the spaces between defenders over-aggressively setting the edge and the defenders inside of them trying to maintain the point of attack.
An easy way to understand the issue is to consider Arkansas was matching Texas' 220-pound linebackers with a 250-pound running quarterback and 270-pound blocking tight end in the box. Getting isolated in the box, mano a mano, was not a good plan. They tried to adjust later by playing two nose tackles inside (T'Vondre Sweat and Keondre Coburn) but were routinely bowled over between the 20s.
Another problem was Texas' off coverage in quarters yielded a number of easy throws underneath for K.J. Jefferson. The big man connected on 14-19 passes for 139 yards at 7.3 ypa with zero touchdowns and a bad pick to B.J. Foster.
Texas' plan was obviously to play bend don't break and make their stops in the red zone…which was actually happening for much of the game, but they couldn't keep it up. A better plan would have been to smother the Arkansas run game and dare Jefferson to beat man coverage with accurate passing. He may not have done much damage to Texas with his arm but he could have done MUCH more damage to Arkansas with a different approach by the Texas defensive staff.
Quick thought no. 4: Quarterback controversy will likely lead Rice week
Casey Thompson's work in this game, while valiant, was basically mop up duty. It doesn't appear Sark is particularly interested in making Thompson the man behind center this season given his refusal to play him when games are really still in question. However, because Thompson was able to go out there and earn a few touchdowns in garbage time, the quarterback battle will be the talk of town.
Now Texas heads into the Rice game under circumstances in which quarterback questions will dominate a lot of the coverage. The Owls are unlikely to help Sark make the decision either and he'll have to feel confident and stick by his choice when they face Texas Tech and then Gary Patterson and the TCU Frogs.
Offensive line questions are going to be the bigger challenge for this team. Arkansas' nose tackle John Ridgeway looked no worse the wear for coming off an appendectomy and the Hogs manhandled Texas' O-line at times.
The Longhorns are going to need much better, more physical play in the run game while also cleaning up some of the pass protection issues. The latter is a fairly normal issue for a line in a new scheme, the former issue is crucial for a staff who wants to feature Bijan Robinson so the quarterback behind center doesn't have to be the savior.
Quick thought no. 5: Narrative disaster for Texas
Texas really wanted a statement win coming off the SEC announcement. The Longhorns will head to the SEC soon and would have liked to have fired a warning shot in this game, albeit against a team which has struggled in the SEC West for years.
Instead, Sark's comments about how the SEC atmosphere is hostile and their trench players big and powerful read less like comments aiming to prime a Texas triumph and more like a warning shot to his own fanbase. Texas certainly wasn't ready to go toe to toe with Arkansas' big men in the trenches. This may or may not be a major issue in the Big 12 this season but it's a problem which will need a solution when the SEC move does occur.