A Saturday Stream of Consci_ _sness: Narratives abound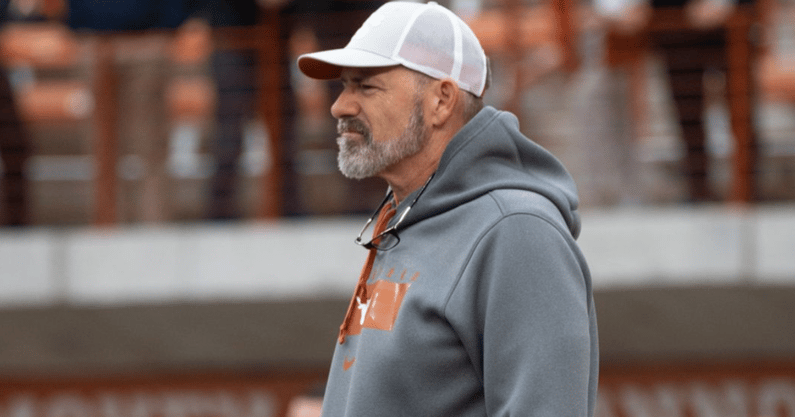 Some reading to kill a little time before Kansas State plays Kansas tonight to determine whether or not Texas can backdoor its way into the Big 12 Championship game.
[Get a FREE 7-day trial of Inside Texas Plus!]
Season finale a microcosm of the entire season
Led by an improved rushing attack and defense Texas does enough to keep opponent more or less off balance. Does that describe the majority of the season or the finale versus Baylor? Yes.
Like much of the season, it wasn't always pretty yesterday — Texas had too many unforced errors and missed opportunities — but Texas battled through and played to its run game and defensive strengths. 
Though yesterday's game sums up much of the season, it wasn't the perfect microcosm. Texas' offensive line wasn't nearly as reliable in pass protection as it had been for most of the season, and the Texas defensive line, though good in run support, didn't create much pressure on the quarterback.
But in the end, it was the run game and defense that led the way for Texas on Saturday and for much of the season, particularly the second half when the passing game lost its way.
One word to sum the season up: Improvement
Let us count the ways: 1. Wins-losses 2. Culture 3. Individual and unit development 4. Statistically 5. During the offseason, during the season 6. On the road
I can't confidently say Sark is building a monster, but Mary Shelley likes how he's fitting the pieces together.
The season's personality benefits the Texas narrative
Given Steve Sarkisian's background and Pete Kwiatkowski's first year struggles at Texas, entering the season it appeared more likely the team would be led by the offense more so than the defense. That's not how it played out, in part because experience benefited the defensive side of the ball. If PK had followed up last season's shot with a similar chaser, there would be more questions surrounding the overall program. At this stage in his career Sark has earned the benefit of the doubt the passing game will get on track. In addition to Quinn Ewers getting his lumps out of the way, the offense will benefit from having more experience on the offensive line. Better quarterback and offensive line play is how you help make up for the losses of Bijan Robinson and Roschon Johnson, and better take advantage of the receivers.
The Texas narrative for this offseason is one of stability. We're unlikely to see a single coaching change. If you were calling for Pete Kwiatkowski's and Jeff Choate's job last year, a good way to consume crow is mixed in with your leftover turkey. In a chili perhaps.
Expectations met
"Seven win" Sark was always unfair given the context of his career, but it would have been even more tiresome to hear all offseason had Texas fallen to Baylor. A three-game improvement is hard to negative recruit. 8-4 is also hard to negative recruit, especially for Jimbo Fisher even before this season where he's likely to earn the dyslexic's version. 
Sark met expectations this season with the team playing tantalizingly well for stretches. Ten wins and a conference championship should be the goal for next year. Texas has an important offseason before then, though.
Next year to be determined by QB play
Everything else, including portal additions this offseason, sets the floor for Texas next year. The ceiling will be determined by how much Quinn Ewers improves. That doesn't mean success and failure is entirely on his shoulders, it's just clear he's going to have a good supporting cast at minimum. 
Even with more questions at quarterback than originally anticipated this offseason, Texas has the developmental jump on a number of national powers who will be breaking in new quarterbacks: Ohio State, Alabama, and Georgia immediately come to mind.
Remember The Alamo?
You're a Texas fan so of course you do, it's the bowl Texas seemingly plays in every year. It's actually a solid bowl, Texas fans are just over the familiarity of it and a city they can visit whenever they choose.
As one Texas legend put it this morning, "The Alamo Bowl is like the Holiday Bowl used to be. We don't want to go there, we already know the names of all the chimpanzees." He's speaking of the San Diego Zoo, but perhaps Sea World is more apropos if we change the mammal.
Most bowls are increasingly meaningless as a way to punctuate a season. However, for a team with a lot of talented youth like Texas, bowl season is a great way to get a jump on next year.
Over the next month we'll be listening for info on players who will see expanded roles next year, particularly on the offensive and defensive lines.